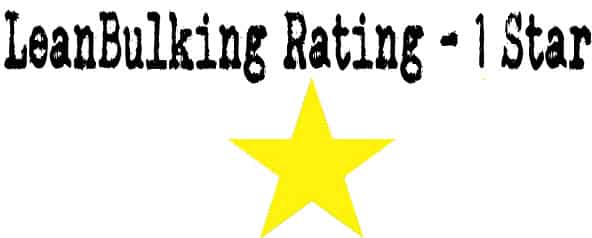 Pro's
Cinnamon can prevent insulin spikes
Con's
Claimed to promote muscle pumps, but no ingredients to support this
No ingredients to promote strength
No ingredients to increase blood flow
Not good value for money
---
---

About The Product
I-Load is marketed as an 'anabolic maximizer' by Pro Supps. It's advertised to deliver these claims; muscle pumps, size, strength and vascularity.
Simply put, these are benefits that are associated with pre-workout supplements; for this reason, we'll be reviewing Pro Supps I-Load under the 'pre-workout' category (we don't have an 'anabolic maximiser category on LeanBulking…).
Anyway, before we begin analyzing the ingredients inside – we'll tell you about the company behind this supplement, for those that are new to supplements.
Who are Pro Supps? 
Pro Supps are a supplements company that have become very popular in the industry. They've gained a great reputation for their pre-workout series (we've also reviewed their Dr Jekyll Nitro X and Mr Hyde Nitro X products).
Their 'about us' section wasn't great, so we didn't learn anything from their website (it was more for advertising jobs than telling us about their company).
Anyway, enough about Pro Supps; let's see which ingredients make up I-Load's nutrient profile below.
---
Pro Supps I-Load Ingredients Explained
Pro Supps I-Load doesn't contain many ingredients, so this should be fairly quick review. Basically, this product caught our attention after we saw it advertised as an 'anabolic maximizer'.
On closer inspection, we found out that Pro Supps I-Load was advertised to deliver benefits seen in pre-workouts. For this reason, we'll be comparing it to other pre-workouts and seeing how it competes with them in this review.
But before we get started, we need to point out that Pro Supps I-Load contains a proprietary blend (we'll explain what they is, and why they're bad below)…
PROPRIETARY BLEND WARNING…
Proprietary blends are mixtures of numerous ingredients that're only shown to you as 1 quantity. As you can see from the 'Hyper Load Matrix' blend on Pro Sups I-Load's ingredient list, the overall amount is 896mg – but you're not shown the dosages of each ingredient inside such as Bitter Melon Extract.
This increases your risk of side effects, and also makes it uncertain whether this pre-workout will work. For this reason, we try to avoid any supplement that contains proprietary blends.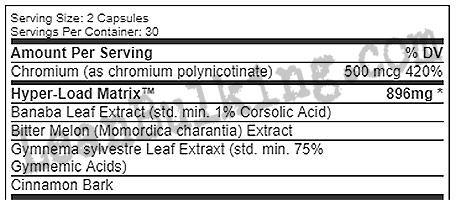 Here's Everything You Need To Know:
Banaba Leaf Extract 
Also known as Lagerstroemia, this is a plant that's used to treat people with diabetes. It's thought to help the digestion and absorption of carbohydrates (resulting in a reduction in blood sugar levels).
However, the studies that show it's effective state that you need to consume a HUGE 3,000mg dosage of Banaba Leaf Extract. As the 'Hyper Load Matrix' proprietary blend's overall quantity is 896mg, it's impossible for there to be an effective amount in Pro Supps I-Load.
What does this mean? Answer: Banaba Leaf Extract will be ineffective due to being severely under-dosed.
Bitter Melon Extract 
Bitter Melon is another ingredient that's believed to reduce blood sugar levels. It's also known as Momordica Charantia, and is a tropical plant commonly found in Asia and India.
But here's the problem; Bitter Melon Extract has been reported to cause numerous side effects (we'll expand on this in the side effects section).
As Bitter Melon Extract is inside a proprietary blend, this puts you at increased risk of suffering from side effects. This is a good example of why you should avoid supplements containing these blends.
Gymnema Sylvestre Leaf Extract 
By now, you won't be surprised to hear that this ingredient is believed to help balance your blood sugar levels.
Gymnema Sylvestre literally translates as 'sweet destroyer', but this herb hasn't actually proven to work in any studies yet.
Not only that, it doesn't back up Pro Supps' claims of improving your muscle pumps, strength, size and vascularity (meaning it's ineffective here).
Cinnamon Bark 
A very popular spice, Cinnamon is more useful than being a great topping for your cinnamon rolls. Simply put, t's shown to help regulate your blood sugar levels (and is used to treat diabetic people for this reason).
But here's the problem; Cinnamon has also shown to be toxic in high dosages. As it's inside a proprietary blend, you don't know the exact dosage inside Pro Supps I-Load – putting you at increased risk of being poisoned.
Ultimately, you don't want to be consuming ingredients that can be toxic. You'll can get enough Cinnamon in your diet through foods; there's no need to consume this in a supplement.
---

---
Side Effects
If you read our analysis of each ingredient inside Pro Supps I-Load, you'll know that all the ingredients are believed to reduce blood sugar levels in diabetic people.
However, this can be bad for those that aren't diabetic. Basically, if you have normal blood sugar levels, this product might actually decrease your blood sugar levels (which can cause harmful side effects).
Not only that, Pro Supps advertise I-Load as being able to improve your strength, muscle size, muscle pumps and vascularity – but there are no ingredients to back up these claims.
The worst thing Pro Supps have done here is add Cinnamon to a proprietary blend; studies have shown that Cinammon can be toxic to your liver in high dosages, meaning you should know the exact amount you consume.
Here's the potential side effects from taking Pro Supps I-Load: 
Liver toxicity (Cinnamon)
Liver damage (Cinnamon)
Too low blood sugar levels (all ingredients)
---
Pro Supps I-Load Review Conclusion
Ultimately, we chose to review Pro Supps I-Load as this was a mysterious supplement that claimed to promote your strength, muscle size, muscle pumps and vascularity (making it seem like the best product in the world…).
However, after analyzing its nutrient profile – we can confirm that Pro Supps I-Load won't deliver these claims. Now, we don't like calling anyone a liar, but it looks like false advertising to us.
One thing Pro Supps I-Load might be useful for, is helping those with diabetes digest and absorb carbohydrates better. However, we don't recommend that anyone takes this product – as it can be potentially toxic to your liver.
[wp-review]
Check Out The Best Pre-Workouts This Year!
Here's the best natural pre-workouts on the market for:
Energy Boosts 
Enhanced Strength & Endurance 
Increased Focus
Skin-Splitting Muscle Pumps