Have you ever been too tired to smash a workout after a long-day at work?
We all have those days when all you want to do is this - sit on the couch and watch TV, instead of making progress in the gym.
But here's what can help you get back on track: A pre-workout supplement.
Why? Well, an effective pre-workout can provide you with key benefits:
Energy Boosts - You'll get off your ass and into the gym!
More Focus - Feel great mind-muscle-connection, making the most of every rep and set.
Intense Muscle Pumps - Your arms and legs will be bulging while you lift weights.
Enhanced Strength - Lift bigger weights than before, for longer
But how do you choose the best pre-workout supplement?
Answer: You've come to the right place - our experts have analyzed the best products on the market for you.
Check it out:
---
Top Pre Workouts
#1 4 Gauge
#2 PreSeries STIMFREE
#3 Pre-Kaged

LeanBulking Overall Rating:

5/5

4.5/5


4/5

Where To Buy:

Buy Here 
Buy Here
Buy Here
Taste:
5/5
4.5/5
4/5

Shipping:

Worldwide, with Free USA & UK Delivery
(Dispatched from both USA & UK in under 1 week - and to APO addresses)
Worldwide Shipping (Dispatched from USA in under 1 week - and to APO addresses)
Depends on Retailer

Company Reputation:

Excellent 
Great
Good

Does It Boost Energy Levels?:

Yes
No
Yes
Mixability:
Excellent – 5/5
Excellent – 5/5
Good – 3.5/5
Artificial Sweeteners?:
No Artificial Sweeteners, Flavors or Coloring
No Artficial Sweeteners, Flavors or Coloring
Yes

Effectiveness:

Excellent – 5/5
Great – 4.5/5
Great – 4/5

Price:

$45.00
(Discounts on multiple boxes)
$49.99 (Discounts on multiple pouches)
$38.99

Side Effects:

None Reported
None Reported
Some Reported

Read Full Review:

Read Review
Read Review
Read review
---
Top 3 Pre-Workout Supplements
#1 4 Gauge by Roar Ambition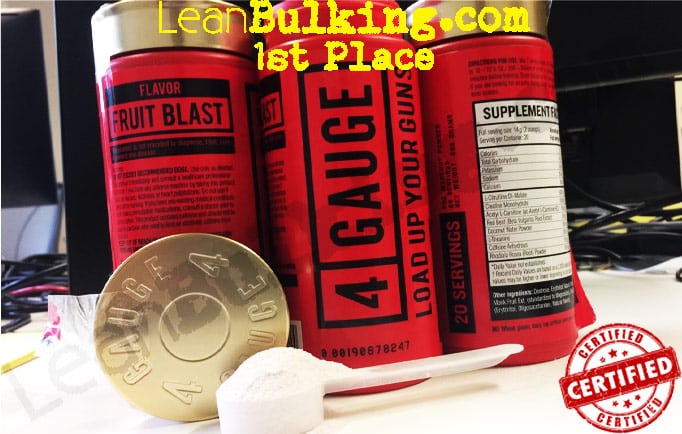 | | |
| --- | --- |
| LeanBulking Overall Rating: |    |
| Ingredients Rating: | Excellent - 5/5 |
| Side Effects: | None Reported |
| Effectiveness: | Excellent - 5/5 |
| Best Deal: |  $37.50 per bottle (with the 'Ultimate Ammo Crate' Deal) |
| Where I Bought From: | www.4Gauge.com |
Here's how 4 Gauge helped me:
More motivated to reach my goals - I packed on muscle mass quicker than before, more efficiently.
My energy levels were through the roof - I was never tired during my workouts with 4 Gauge, and it helped me get there in the first place!
Skin-splitting pumps in my arms - I felt intense muscle pumps and was able to train for longer too.
I set new PB's on my chest press and squat - 4 Gauge helped raise my strength to the next level.
No side effects - I wasn't distracted from my gym sessions by any unwanted jitters, crashes or itchy skin.
Con's:
You can only buy 4 Gauge on their website - can't buy from any online retailers or shops.
Only comes in one flavor - Fruit Blast
Premium price - you have to pay more to get the best product.
Quick Summary
After trying out many different pre-workout supplement's, 4 Gauge is the best we've reviewed so far.
It's made by Roar Ambition, a premium supplements company and costs $45 per bottle normally; but we chose to buy the 'ultimate ammo crate' to reduce the price of each bottle to $37.50.
I know what you're thinking - it's expensive compared to others, but we'd rather pay for a premium product that works.
Not only that, it tastes really good! I've tried other nasty tasting pre-workouts before, so this was a nice change. If I had to describe the taste, i'd say it's like fruity sherbet ice cream in powder form.
4 Gauge comes in explosive packaging, but it gives you clean energy boosts, without the jittery feeling. Most importantly, it took my training to the next level - helping me make serious changes to my physique.
or
---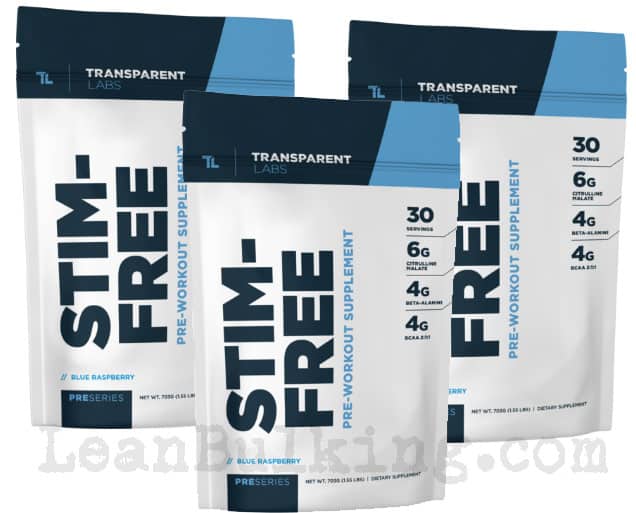 | | |
| --- | --- |
| LeanBulking Overall Rating | |
| Ingredients Rating |  4.5/5 |
| Side Effects |  None Reported |
| Effectiveness |  4.5/5 |
| Best Deal: | $39.70 per pouch (with the 3 pouch deal, saving $28) |
| Where I Bought From: | www.TransparentLabs.com |
Pro's: 
No risk of jittery side effects
Intense muscle pumps while lifting weights
Promotes muscle growth and maintenance 
Enhances strength and endurance
Con's:
Doesn't contain Caffeine (but this might be a positive for those sensitive to stimulants)
No free shipping
Premium price
Quick Summary
We do enjoy taking pre-workouts that contain Caffeine when we're extra tired. But are times (such as late night gym sessions) when you don't want to consume stimulants.
Here's where PreSeries STIM FREE comes in; this is the best stimulant-free pre-workout that we've found.
In fact, this has become our 'go-to' pre-workout that we take when we feel like pumping iron before going to bed or going for a midnight run.
Not only that, this pre-workout contains the best dosage of Creatine (3,000mg) & BCAAs (4,000mg) that we've seen.
Ultimately, even if you have a favorite stimulant pre-workout like us during the day, we recommend adding PreSeries STIM FREE to your stack too - for those late-night sessions without being kept up all night.
or
---
#3 Pre-Kaged by Kaged Muscle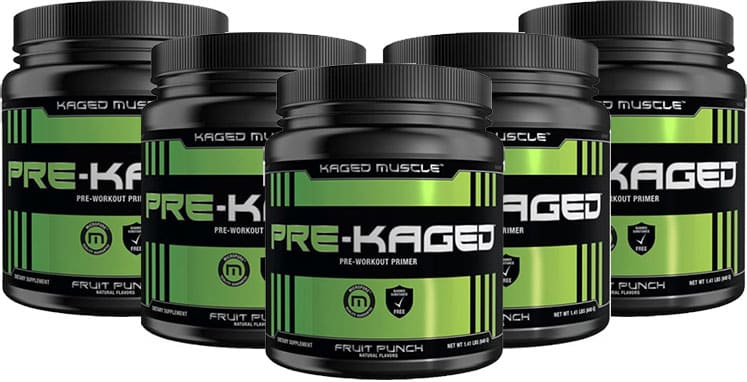 | | |
| --- | --- |
| LeanBulking Overall Rating |    |
| Ingredients Rating |  4/5 |
| Side Effects (5 for zero or low side effects/1 for high side effects) |  Some Reported |
| Effectiveness |  4/5 |
| Price |  $38.99 |
Pro's 
Contains key pre-workout ingredients (Creatine, L-Citrulline & Caffeine).
L-Citrulline dosage 6,000mg.
Coconut Water Powder helps keep you hydrated
31.9g serving size
Con's
Over-dose of Caffeine likely to cause jitters.
Betaine can cause your breath and sweat to smell fishy
Missing key pre-workout nutrients (eg. L-Carnitine)
Quick Summary
We were impressed by Pre-Kaged's nutrient profile; it clearly showed that Kaged Muscle had done their research while formulating this pre-workout.
As a result, after trying Pre-Kaged, we can confirm that this is much better than many pre-workouts on the market. However, it's the little things which make the difference between a very great product and the best ones.
Ultimately, Kaged Muscle had made small mistakes such as over-dosing the Caffeine (putting you at risk from jitters). But as we've mentioned, it's much more effective than many other pre-workouts on the market and deserves it's place in our Top 3 here.
or visit their website: www.biolayne.com
---
Top 3 Pre Workout Supplements
Conclusion
While we have our favorite products on this list, you won't go wrong by choosing any of these 3. We've spent years trying different products out, and 4 Gauge, PreSeries Stim Free, and Kaged Muscle that delivered on their promises.
Ultimately, we always keep a bottle of 4 Gauge around with us – this gets used the most. However, we also use PreSeries Stim Free on a daily basis too; this is great as it doesn't contain any stimulants, so we can still take this late at night without being kept awake all night.
When we get tired of those 2 and want to try something new, then we go for Kaged Muscle, which isn't a bad back-up!
Where do you go from here?
We've shown you our favorite products on the market - and we'll show you exactly why.
Ingredients are the most important features of a pre-workout; simply put, if a supplement's ingredient list is on point, then it'll be a great product. If not, then it's a waste of money - it's really as simply as that.
If you're interested: