Here at LeanBulking.com, we always listen to your requests. And the other day, you asked us to write a review comparing 2 testosterone boosters – Prime Male vs Nugenix Test Booster.
So this is exactly what we're giving you below. Remember that you asked for this review, so don't complain about us being biased about one product – if you've read the individual reviews, you know that there's a clear winner here.
Anyway, we'll show you a table comparing the best features of these testosterone boosters; then, we'll leave you to make your own mind up at the end.
We won't promise that this will be better than the Conor McGregor v Floyd Mayweather fight. But it'll still be quite entertaining regardless. So without wasting any more time…
DING DING…Let's Get Ready To Rumble Below!
---
---

| | |
| --- | --- |
| LeanBulking Overall Rating: | |
| Ingredients Rating: | 4/5 |
| Side Effects: | Very Rarely Reported |
| Effectiveness: | 5/5 |
| Price per box: | $51.75 with the '3 Month Supply' Deal |
| Best Deal: | Buy Now |
What Makes it Stand Out?
Prime Male contains similar ingredients to TestoFuel – which explains why it's almost as effective. For this same reason, most of the benefits are the same – and Prime Male didn't cause any side effects either.
It's a great product, and we're happy to place this second on our list.
Here's the benefits I experienced from using Prime Male:
Improved mood – I felt happier when using this supplement.
Less fatigue, more energy – I recovered from workout's quicker than before. Feeling less sore is definitely a bonus.
Trimmed belly fat – The increase in testosterone levels helped me trim some belly fat.
Lean muscle gains – I managed to add some lean muscle mass while taking Prime Male.
Drawbacks:
Premium price (same price as Nugenix Test Booster)
Mainly aimed at 30-year-old+ men
Not sold in retailers – You can only buy Prime Male from their website: www.PrimeMale.com
Quick Summary
Prime Male is a testosterone booster marketed by Propura. They have an excellent reputation and are endorsed by Hollywood actor and start of Rocky III – Dolph Lundgren.
The main thing we noticed was this; it was aimed at men over 30-years-old, as studies show testosterone levels decline at a rate of 1% per year after this age.
As this fact caught our attention, we were more than willing to try Prime Male – especially after we heard Dolph Lundgren's shining testimonial.
Did Prime Male Work? Yes, it did.
In fact, we felt more energetic and could train for longer in the gym (helping us make more progress on our physique). Ultimately, we were able to trim belly fat, which we struggled to do before. And our sex drive was sky high!
It's aimed at men over 30, but we've seen reviews by customers in their 20's saying it works well for them.
or
---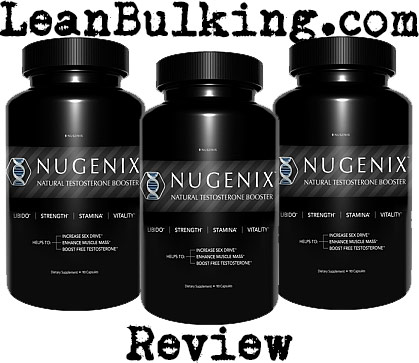 | | |
| --- | --- |
| LeanBulking Overall Rating: | |
| Ingredients Rating: | 2/5 |
| Side Effects: | Very Rarely Reported |
| Effectiveness: | 2/5 |
| Price per box: | $69.99 |
| Best Deal: | Check It Out |
Pro's
Contains Fenugreek Seed Extract
Zinc can boost test levels
Con's
Tribulus Terrestris commonly reported to cause side effects
Missing key test boosting ingredients
Tiny 1mcg Zinc
Most ingredients part of a proprietary blend
Quick Summary
Nugenix 'Free Testosterone Booster' is made by Nugenix. It costs almost exactly the same price as Prime Male (which is why we're guessing you wanted us to compare them.
But unfortuantely, Nugenix is let down by the addition of Tribulus Terrestris & the fact that most ingredients are part of a proprieatry blends (meaning you don't know the individual dosages of most ingredients, which can lead to side effects and makes Nugenix Test Booster more likely to not work).
But on a positive note in this Prime Male vs Nugenix mini review, this does contain Fenugreek Seed Extract & Zinc – which have shown to raise test levels (although there's only a tiny 1mcg Zinc dosage inside).
or
---
To be honest, we told you that there was one clear winner. And don't complain that we were being biased, as you asked us to compare and review these 2 testosterone boosters.
Ultimately, if you look at the ingredient lists of both products, it's easy to see why Prime Male wins here; it's filled with key nutrients proven to raise your test levels, while Nugenix only contains 1 tried-and-tested nutrient (fenugreek seed extract).
For this reason, we're awarding Propura the victory with their test booster supplement, Prime Male.