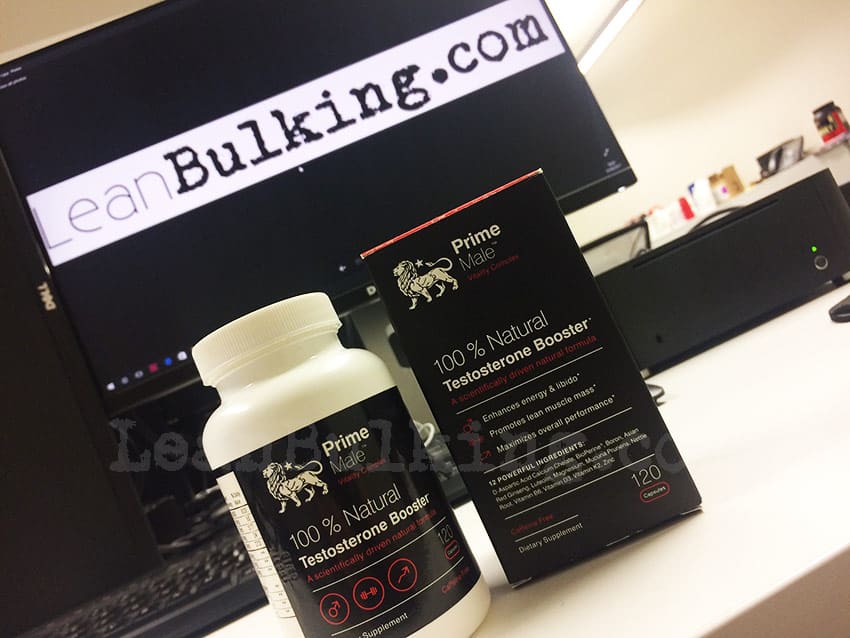 Pro's and Con's
Pro's 
Key testosterone boosting ingredients
Optimal amount of Vitamin D3 (5,000mg)
Has numerous great reviews 
Con's
| | |
| --- | --- |
| LeanBulking Overall Rating: |   |
| Ingredients Rating: |  4/5 |
| Side Effects: |  None |
| Effectiveness: |  5/5 |
| Price per box:  | $69 |
Best Place To Order: www.primemale.com
---
What Makes It Stand Out?
Prime Male is a testosterone booster made by Propura.
It's aimed at the more experienced weight lifters – over the age of 30.
Why?
Answer: Because studies have shown that men lose 1% of their testosterone after they reach 30-years-old.
This supplement has a great nutrient profile, containing many key testosterone boosting ingredients (which we'll analyze in a later section).
Here's the benefits I experienced from using Prime Male: 
Improved mood – I felt happier when using this supplement.
Less fatigue – I recovered from workout's quicker than before. Feeling less sore is definitely a bonus.
Fat loss – The increase in testosterone levels helped me trim some belly fat.
Lean muscle gains – I packed on muscle without putting on much body fat.
---
What Convinced Us To Buy Prime Male?
There's many T-Boosters on the market to choose from – so it's hard to single out the best supplements available.
What Sets Prime Male Apart?
The Answer: Customer Service.
Propura offer numerous benefits such as a 90 day money-back guarantee; in case you don't like it.
This means less risk when buying a product, which was great for us.
Luckily, we really liked this test booster – so we didn't claim this offer.
But the free worldwide shipping will benefit everyone.
Here's some things that we liked:
Money-Back guarantee for 90 days.
Free box and worldwide shipping with the '3 Month Supply'.
4 servings per day – so your body is always 'topped up' with key testosterone boosting ingredients throughout the day.
---
Prime Male's Ingredients Explained
We'll give you a quick analysis of Prime Male's key ingredients: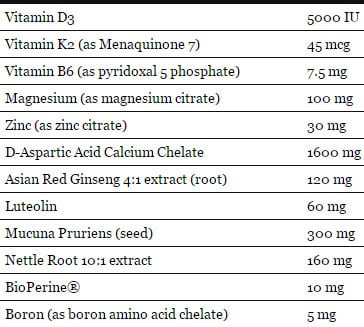 Vitamin D3
Technically a hormone,  it's shown to boost testosterone levels in numerous scientific studies.
It's a key T-Boosting ingredient for one reason – it works.
The only thing you have to watch out for is the dosage.
Prime Male contains an optimal 5,000IU serving of Vitamin D3, so its certain to raise testosterone levels.
D-Aspartic Acid 
D-Aspartic Acid's proven to raise testosterone levels by promoting luteinzing hormone (LH) – which is the precursor to T.
But there's one issue here – it's been slightly under-dosed at 1600mg (optimal dose is between 2000mg-3000mg).
It'll still be effective, but it's better to have servings between 2,000mg-3,000mg for the best results.
Asian Red Ginseng 
This has been used for centuries to boost libido.
It's one of our favorite testosterone boosting ingredients.
Why? 
Answer: Asian Red Ginseng is very reliable and effective.
Nettle Root Extract 
Everyone knows this plant for it's 'stinging' properties.
However, not many know that it promotes free testosterone levels. How?
Answer: It binds with sex hormone binding globulin.
What does this do? 
Answer: Increases the amount of free testosterone available in your body, while reducing estrogen levels.
A great ingredient to have in a test booster supplement.
---
Check the ingredients page of Prime Male's website for more info:
www.PrimeMale.com 
---
Public Opinion on Prime Male
We like checking what others are saying about the products we review.
Why?
Well, it's always reassuring to know other people experienced great benefits using a product you're thinking of buying.
Luckily, YouTube was filled with great reviews.
We've added a few below, so you can see for yourself.
Our Favorite Review:
Our favorite testimonial was a video from Dolph Lundgren – the star of Rocky III and The Expendables.
Take a look:
To Learn More, Visit:
www.PrimeMale.com
Another review:
We also liked a video review by a random user of Prime Male. This also helped convince us to try this testosterone booster.
See for yourself:
---
To find out more, visit:
www.PrimeMale.com 
---
Side Effects
Ultimately, we wouldn't have given Prime Male a 4.5 star rating if it caused side effects – so here's the answer you're looking for:
Prime Male doesn't cause any side effects, due to containing no artificial ingredients.
We've tried some T-Boosters that gave some negative effects.
So being side-effects-free is one of the key benefits that convinced us to try Prime Male.
---
Prime Male Review Conclusion
You can't argue that Prime Male is one of the best testosterone boosters on the market. It's ingredients, and their doses, prove that it's effective.
Ultimately, both of these factors are vital when deciding to buy any supplement. More importantly, we didn't experience any issues or side effects when using Prime Male.
The positive reviews on YouTube and almost everywhere online show that Prime Male is worth trying.
[wp-review]