Pro's
Green Coffee Bean promotes fat loss
Cayenne Powder can boost metabolism
Caffeine raises energy levels
Con's
Missing key fat burner ingredients (eg. Green Tea Extract)
Overdose of stimulants (can cause jitters and crashes)
Rauwolfia reported to cause numerous side effects
Not good value for money
---
---

About The Product
LeanFire Ultimate is a fat burner supplement made by Force Factor; priced at $79.99 for 30 serving containers on GNC.com.
If you're thinking this is expensive…it's because it is. In fact, this makes LeanFire Ultimate one of the most expensive fat burners that we've reviewed.
But it hasn't got a good serving size; the best serving size is 3-4 capsules per day (this keeps your body fuelled with key nutrients needed to burn fat throughout the day). As LeanFire XT only comes with a daily serving size of 2 capsules, this will only fuel you for 3-4 hours (which means it's not great value for money).
Anyway, we'll tell you more about the company behind LeanFire Ultimate, before analyzing this fat burner's nutrient profile.
Who Are Force Factor? 
According to their website, Force Factor was founded by 2 college rowers (from Harvard) in 2009. Since then, they've managed to build a good reputation (especially with their test booster Test X180).
They've even won an awarded given to them by GNC.com (the Rising Star Award). However, they haven't managed to reach the level of Optimum Nutrition yet.
Anyway, we're here to review their fat burner, LeanFire Ultimate…which is what we'll do below.
---
LeanFire Ultimate Ingredients Explained
LeanFire Ultimate contains 9 ingredients; we always find that products containing over 10 ingredients are underdosed – so it's good that LeanFire Ultimate contains under this amount (and we're expecting everything to be dosed well for this reason).
Another good thing from first glance – LeanFire Ultimate doesn't contain any proprietary blends (meaning you can see the exact dosages of each ingredient).
Anyway, we'll take you through each ingredient inside this fat burner; so you can see how effective LeanFire Ultimate really is.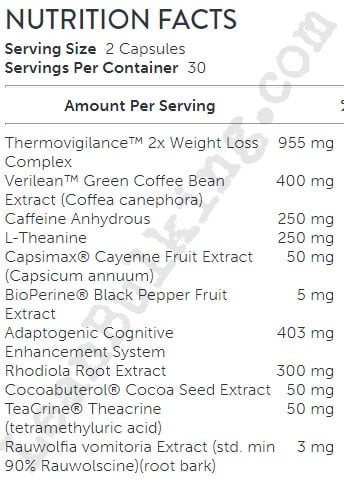 Here's Everything You Need To Know:
Green Coffee Bean Extract 
In case you're wondering what this is; Green Coffee Beans are basically just unroasted coffee beans.
However, they contain high amounts of chlorogenic acid that's proven to raise your metabolism (this is why Green Coffee Beans are known as a thermogenic).
For this reason, this is one of our favorite ingredients in fat burner supplements. It's been dosed quite well (optimal dosages are 500mg per serving), so not a bad job here by Force Factor.
Caffeine Anhydrous 
Again, if you've not bought supplements before, you might not know what Caffeine Anhydrous is – but it's very simple (it's basically just dehydrated Caffeine in powder form so it can be added into supplements).
Caffeine Anhydrous is the best stimulant you can find in fat burners; it's great for raising your energy levels while your cutting calories for fat loss.
But you need to check for the dosages of this in supplements – big dosages (over 100mg per capsule) can cause side effects such as jitters and energy crashes.
Unfortunately, Force Factor LeanFire Ultimate contains 125mg Caffeine per capsule; meaning you might suffer from these side effects.
L-Theanine 
L-Theanine is a great addition with Caffeine – in pre-workout supplements. Why? Because it's shown to form a 'smart-caffeine' which improves your focus in the gym.
However, a boost in focus isn't really needed with fat burner supplements. For this reason, L-Theanine isn't necessary in LeanFire Ultimate – but it doesn't cause any side effects, so it's not bad either.
Cayenne Pepper Extract 
Now, this is a great ingredient. If you've ever eaten anything spicy, then you know that it can make you sweat; well, this raise in body temperature is what boosts your metabolism (as your body works harder to cool itself down, burning calories in the process.
For this reason, we're always happy to see Cayenne Pepper Extract in fat burners – and we consider this a key fat burning ingredients as a result.
---

---
Black Pepper Extract 
Although this is the same stuff you sprinkle on top of your food…Gordon Ramsay loves this stuff (if you've ever watched Hell's Kitchen, you'll know what we're talking about)…
Anyway, this is more useful than you think; Black Pepper Extract is able to improve the absorption rate of other ingredients it's consumed with.
It's never a key ingredient in any supplement, it can make a useful 'bonus' ingredient.
Rhodiola Rosea Extract 
We're not sure why this has been added to a fat burner; it can be great in pre-workouts (due to being able to improve your focus in the gym while reducing muscular fatigue).
However, as we've already mentioned; you don't really need these benefits in a fat burner.
Let's be honest, all we want in fat burners are ingredients that promote fat loss, raise your energy levels or suppress your appetite.
Cocoa Seed Extract 
The reason why Cocoa Seed Extract is added into supplements, is because it contains a stimulant called Theobromine.
But this is a bad thing; as we mentioned before, LeanFire Ultimate already contains an overdose of Caffeine – so Cocoa Seed Extract only makes it more likely for you to suffer from jitters.
For this reason, we always advise you to stick to supplements containing only 1 stimulant.
Theacrine 
Theacrine is another stimulant in LeanFire XT; so this also increases the chances of suffering from side effects such as jitters or energy crashes.
As we've already mentioned, you shouldn't consume supplements containing more than 1 stimulant – to stay safe.
Rauwolfia 
This is a species of tree and shrub that's mainly found in Africa and Asia. However, it's not a good addition to LeanFire Ultimate – because it's another stimulant.
Again, we probably sound like a broken record player by now…but this also raises your chances of suffering from side effects such as jitters. Not only that, Rauwolfia has also been reported to cause more serious side effects that we'll list in the section below.
---

---
Side Effects
We told you that Rauwolfia is an ingredient we avoid in any supplement. But the large dosages of stimulants are also a big problem; this can cause you to suffer side effects such as energy crashes and jitters (which will ruin your day at work or in college…).
For this reason, we always recommend you to choose supplements containing only 1 stimulant (Caffeine Anhydrous).
Here's the potential side effects from taking LeanFire Ultimate: 
Jitters (Over 100mg Caffeine per capsule and Theacrine & Cocoa Seed Extract)
Energy Crashes (Over 100mg Caffeine per capsule and Theacrine & Cocoa Seed Extract)
Anxiety (Rauwolfia)
Drowsiness (Rauwolfia)
---
LeanFire Ultimate Review Conclusion
As you can see from the list of potential side effects – we wouldn't recommend taking LeanFire Ultimate.
On a positive note – we're glad that Force Factor didn't include any proprietary blends (so you can see the exact dosages inside this fat burner).
However, we simply can't justify the $79.99 price tag for LeanFire Ultimate; the highest rated fat burners on the market all cost less than this.
[wp-review]
Check Out The Best Fat Burners This Year!
Here's the best natural fat burners on the market for:
Faster Fat Loss
More Energy 
Suppressed Appetite
Raised Metabolism