Pros
Green Tea Extract is shown to promote fat loss
Green Coffee Bean Extract can improve insulin resistance
Capsaicin is proven to boost your metabolism
Cons
Every ingredient is part of a proprietary blend
This means that you're not shown the exact dosages of each ingredient
Missing tried-and-tested appetite suppressants (eg. Glucomannan or African Mango)
There are better options available, in our honest opinion
---
---
About The Product: Melaleuca NutraTherm Fat Burner
Melaleuca NutraTherm is a fat burner supplement sold in 30 serving containers.
It comes with a daily serving size of 2 capsules, which isn't ideal; studies show that serving sizes of 3-4 capsules spread throughout the day is better at keeping your body in fat burning mode.
There isn't much information available about this product online. With only a handful of reviews out there, we thought that we would provide you with more details using clinical studies and our honest opinion. And most importantly whether it's worth trying out.
We'll analyze Melaleuca NutraTherm fat burner's supplement facts (AKA. nutrient profile) for you in the next section. But first, let's try to find out more about the company behind it.
Who is Melaleuca? 
Melaleuca calls themselves a 'Wellness Company' and have been around for a long time – since 1985.
Without being disrespectful, for a company that's been operating for such a long time, they haven't become a household name. So, we don't believe that they are able to compete with the bigger brands such as MuscleTech or Optimum Nutrition just yet.
However, every company needs 1 or 2 highly rated products to really push themselves on the market. Is Melaleuca NutraTherm Fat Burner the best option to help you lose weight or get shredded?
This is exactly the question that we'll answer in the next section, below…
---
Melaleuca NutraTherm Fat Burner Ingredients Explained
We actually prefer supplements to contain fewer ingredients, as long as they are dosed optimally. So, we don't have a problem with the fact that Melaleuca NutraTherm only contains 3 ingredients.
However, one thing that we do have an issue with is that every ingredient inside Melaleuca's fat burner is part of a proprietary blend.
What is a proprietary blend? 
For our readers new to supplements, we'll quickly explain what proprietary blends are – and why we don't like them.
Basically, proprietary blends are mixtures of numerous ingredients that are shown to you under 1 fancy title. Furthermore, you're not shown the exact dosages of the ingredients inside them.
In fairness, Melaleuca hasn't given their proprietary blend a fancy name such as 'Metabolic boosting formula' or something along those lines. So, we do appreciate that they have clearly shown that they've added a proprietary blend without trying to cover it up.
Unknown dosages of ingredients = increased risk of side effects & waste of money 
That is a big statement that we've made above. But it's simply our honest opinion.
Ultimately, you should know that each ingredient only works when consumed in its optimal dosage. There is no exception to this rule.
So, the main issue is that ingredients in proprietary blends might not be contained in their effective dosages. Think about it, we believe that if a company spends cash on dosing ingredients correctly, they will want to shout about it.
As a result, we are inclined to believe that the ingredients in proprietary blends are mostly contained in ineffective dosages (just our honest opinion). And, the fact is that there is nothing to dispute this.
However, there are positives to Melaleuca NutraTherm fat burner…
Every ingredient in this fat burner has shown to work in clinical studies
The good news is that Melaleuca has actually completed some great research while formulating NutraTherm fat burner.
Why? Because the 3 ingredients that have been included in its nutrient profile (Green Tea Extract, Green Coffee Bean Extract, and Capsaicin) have all shown positive results in human studies published in respected journals.
Anyway, we'll expand on this as we take you through all 3 ingredients in Melaleuca NutraTherm. By the end of this review, you'll have a good idea of how safe and effective this fat burner really is.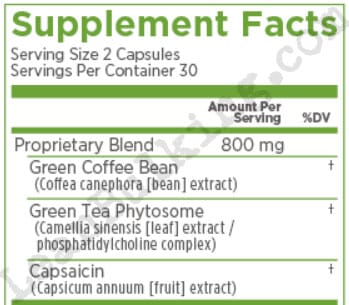 Here's Everything You Need To Know About Melaleuca NutraTherm Fat Burner:
Green Coffee Bean Extract 
If you're completely new to supplements, you might be wondering why these coffee beans are green. Well, coffee beans are green in their unroasted form, where they contain much more nutrient such as Chlorogenic Acid.
What does Chlorogenic Acid do? Well, it's shown to help improve your insulin resistance, which helps you on your fat burning journey; this helps to reduce the effects of carbs on your blood sugar levels, which basically helps to keep you in fat burning mode.
Not only that, there have been several studies conducted that suggest Green Coffee Bean is indeed effective at promoting fat loss. We've included one study below so that you can see for yourself: https://www.ncbi.nlm.nih.gov/pmc/articles/PMC2943088/
However, as you will see from the study above, while Green Coffee Bean Extract is shown to work, its effects are not significant enough on their own.
Ultimately, this is why we consider Green Coffee Bean Extract to be a key addition to a fat burner when consumed alongside other effective nutrients.
Green Tea Extract 
Green Tea Extract is definitely one of our favorite ingredients in any fat burning supplement.
Why? Because everyone knows that it is good for you and helps to promote fat loss.
In fact, there are a few studies that show that Green Tea Extract is actually beneficial to almost every organ in your body. Not bad, eh?
However, it's due to containing high levels of catechin that Green Tea Extract is an effective thermogenic nutrient; catechins are proven to help people lose unwanted body fat, alongside a clean diet and training program.
I'll include a clinical study that proves Green Tea Extract works: https://www.ncbi.nlm.nih.gov/pubmed/15640470
The study above used human subjects. Nagao et al provided the participants with 690mg dosages of Green Tea Extract for a period of 12 weeks, which resulted in them losing a respectable amount of body fat.
We've seen other studies that suggest the lower effective limit for Green Tea Extract is around 500mg. So, we look for fat burners containing at least this amount.
Unfortunately, as this ingredient is part of a proprietary blend in Melaleuca NutraTherm fat burner, you're not shown the exact dosage of this ingredient. But considering that there is only an overall amount of 800mg in this whole product, we believe that it's unlikely that it contains an optimal dosage of Green Tea Extract (in our honest opinion).
Ultimately, this is a great example of why we don't like when companies include proprietary blends in their supplements.
Capsaicin 
In case you're wondering, Capsaicin is the molecule naturally found in chili peppers (such as Cayenne Peppers) that is responsible for their 'heat' or 'spice'.
Think about the last time you ate a chili pepper. If you consumed enough, then you would have been sweating and probably asking for a glass of milk to cool you down.
Well, this increase in body temperature is exactly how Capsaicin works to boost your metabolism; as your body works harder to cool itself down and regulate its temperature, it burns more calories in the process.
So, you can't really argue against Capsaicin. It works. And we shouldn't have to show you clinical studies to prove this – just eat a chili pepper and find out what happens…
For this reason, we always consider Capsaicin or any chili pepper extract to be a key addition to a fat burner supplement.
However, as we mentioned earlier, the main problem is that Capsaicin is included in Melaleuca NutraTherm's proprietary blend. So, we're left guessing whether it contains an effective dosage in this fat burner here.
---
---
What Is Melaleuca NutraTherm Missing?
We feel that we've been quite critical of this supplement in this review. But, remember that this is simply our honest opinion of this fat burner.
Instead of leaving you hanging, though, we'll provide details on which ingredients we think would have taken Melaleuca NutraTherm to the next level.
Glucomannan 
Glucomannan is a soluble fiber that's been eaten in countries such as Japan for decades. It is known as the 'broom of the intestines' because of its ability to clear them out and help reduce your 'bad' cholesterol levels.
You can see this study, which proves that Glucomannan is effective at lowering your cholesterol levels: https://www.ncbi.nlm.nih.gov/pubmed/7872224
However, the reason why we believe that it is a key addition to any fat burner is this: Glucomannan is a fiber that safely expands in your stomach to help you feel full for longer.
Ultimately, if you're not as hungry between meals, then you won't be reaching for the nearest junk food or sugary snack. And a decreased calorie intake will help you lose body fat as much consuming thermogenic nutrients (if not more).
We'll include a study that shows that Glucomannan is effective at promoting fat loss: https://www.ncbi.nlm.nih.gov/pubmed/15614200
The study above provided subjects with 0.8g (800mg) servings of Glucomannan daily. So, if you're looking for Glucomannan in fat burner supplements, make sure that it contains at least 800mg per serving.
Caffeine Anhydrous 
If you're wondering what 'anhydrous' means, then it simply means that caffeine has been dehydrated into powder form so that it can be added to supplements.
Everyone knows that caffeine is able to do one thing extremely well: help to keep you awake and alert by increasing your energy levels.
Well, this is exactly why Caffeine Anhydrous is a great addition to any fat burner supplement; as you decrease your calorie (and possibly carb) intake in order to lose body fat, your energy levels will naturally dip.
Ultimately, Caffeine Anhydrous helps to keep your energy levels high when you would otherwise be feeling fatigued.
However, coffee lovers will also know that consuming too much caffeine leads to side effects such as jitters and energy crashes. As a result, it's important to know your tolerance levels and consume dosages accordingly.
Personally, we've found that consuming a maximum of 100mg dosages of Caffeine Anhydrous per capsule serving of fat burners is ideal. So, we try to avoid fat burners containing any more than this.
The bottom line is that in an effective dosage for you, Caffeine Anhydrous will help you work towards your fitness goals.
---

---
Melaleuca NutraTherm Fat Burner Side Effects
As you should know by now, Melaleuca NutraTherm fat burner only contains 3 ingredients overall.
While they are part of a proprietary blend, the 3 ingredients in this fat burner are not stimulants. So, consuming them in unknown dosages won't put you at risk from any side effects.
The only real problem is that this increases the risk of this fat burner being ineffective…
But, we'll give credit where credit is due. Melaleuca NutraTherm does not contain any potentially harmful ingredients.
---
Melaleuca NutraTherm Fat Burner Review Conclusion
We're actually quite disappointed that we can't award Melaleuca a higher rating than 3 stars.
If this fat burner did not contain a proprietary blend and instead showed you that it contained effective dosages of each ingredient, then this would have been at least 4 stars.
So, you can see why proprietary blends are a bad thing. You should never consume unknown dosages of ingredients in order to stay safe and ensure you buy an effective product – without wasting your cash, in our honest opinion.
However, we do want to acknowledge that there are some great ingredients in Melaleuca NutraTherm fat burner. In fact, we consider all 3 ingredients to be key additions to any fat burner when dosed correctly.
Bottom Line: If Melaleuca NutraTherm did not contain unknown dosages of Green Tea Extract, Green Coffee Bean Extract, and Capsaicin, then this would have competed with the best fat burners for women on the market. But for now, we believe that there are much better options such as our favorite fat burner, Instant Knockout, in our honest opinion.