Pros
Contains key fat burning ingredients - Proven to work nutrients help you cut weight.
Suppresses Appetite - Fewer sugar cravings means lower calorie intake.
No Side Effects - 100% natural ingredients means zero risks of side effects.
Great Results - Instant Knockout really helped me cut stubborn fat on my belly, to reveal my abs (see more about my personal experience in this review).
Cons
Only available on Instant Knockouts website - you cant buy this fat burner from any retail stores.
Premium Price - $59.99 (£35.00) is more than other fat burners, but wed rather pay more for a product that works.
Green Coffee Bean Extract under-dosed by 20mg.
| | |
| --- | --- |
| Ingredients Rating: |  5/5 |
| Side Effects: |  None |
| Effectiveness: |  5/5 |
| Price Per Box: | $46.25 (when buying the 3 bottles +1 Free Package for 4 month supply) |
| Best Deal: | Buy Now |

About The Product 
Instant Knockout is a fat burner supplement made by Roar Ambition. It comes in 30 serving containers for $59.99 (£35.00), with a serving size of 4 capsules throughout the day.
You can reduce the price per box to $46.25 when buying the 4 box Ultimate Shredding Stack deal - which is what we did. With this deal, we received free shipping, which is always a bonus.
Ultimately, fat burner supplements are great for those wanting to lose body fat and get 6 pack abs.
Who is Roar Ambition? 
Roar Ambition is a premium supplements company that markets a testosterone booster, pre-workout, and this fat burner. Theyre well-known for their high-quality products, and weve liked what weve seen from them so far this year.
We put their customer service team to the test, and they responded very quickly to answer our questions.
From what weve seen, Roar Ambition havent been around as long as Optimum Nutrition or some of the other big boys - but we like their customer service and seen great results with Instant Knockout.
---
What Makes It Stand Out?
On Instant Knockouts website, it states that this fat burner was originally made for UFC fighters - and we saw a video with Diego Sanchez giving his positive experiences while using Instant Knockout. This made us want to try this fat burner, and see whether it really was good enough for the pros.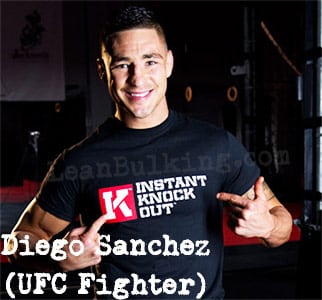 When it arrived, the first thing we noticed about Instant Knockout was that it came in a really cool fist-shaped bottle (as you can see from the picture above). Most fat burners come in plain, boring packaging - so we liked that Instant Knockout set itself apart this way.
Also, we were intrigued about the Glucommanan (Konjac Root) in Instant Knockout - its not an ingredient commonly seen in fat burners, but we know that it expands in your stomach to suppress hunger (keeping you feel full for longer). In fact, we often eat Konjac root noodles for this reason.
Heres what convinced us to try Instant Knockout: 
Boost In Metabolism - when aiming to shred body fat, increasing your metabolism is great. We saw that this fat burner contained cayenne pepper, green tea extract and green coffee bean extract (which all help raise your metabolism).
Helps you to get abs -Id been trying to get my abs back for a while now, but felt I could benefit with some help.
Contains Glucomannan - as weve mentioned, we enjoy eating glucomannan because it helps us feel full for longer. We know that it works, so we were excited to see how effective it was in a fat burner supplement.
100% Natural Fat Burning Ingredients - there are no synthetic ingredients in Instant Knockout, which reduces your risk of suffering from side effects.
Sensible Dosages of Caffeine Per Serving - weve experienced jitters with other fat burners before, but Instant Knockouts caffeine dosage is equal to drinking half a cup of coffee.
Made in cGMP and FDA approved facilities - Its good to know Instant Knockout is made under strict regulations, to make sure its safe and works.
Used by professional UFC Fighters - Diego Sanchez is one of the athletes that uses Instant Knockout to make weight before a fight.
---
---
Instant Knockout Ingredients Explained
The most important features of a gym supplement are its ingredients. Basically, if a fat burner contains great ingredients in optimal dosages, then itll be a great product.
On the other hand, if a product contains ineffective ingredients, then itll be a waste of money. Thats why its important to see whats inside the products youre interested in.
Luckily for you, we know a thing or two about nutrients - so well show you how effective Instant Knockout really is.

Heres Everything You Need To Know:
Green Tea Extract 
Everyone knows green tea is good for your health. I remember my mom telling me when I was a kid, that green tea melts fat - she might have told me carrots make you see in the dark, but this was one thing she wasnt lying about.
Simply put, green tea extract contains catechins (which is an antioxidant shown to boost your metabolism and promote fat loss). Taking green tea extract in supplements are great because some people dont like drinking it as tea.
Regardless of how you consume green tea, make sure you consume 400mg-500mg of it - studies have shown that this is the optimal dosage to help you lose fat.
For this reason, Roar Ambition has clearly done their research by adding a great 500mg dosage of this ingredient in Instant Knockout. No problems here.
Green Coffee Extract 
This is simply unroasted coffee beans and has shown to promote fat loss due to containing chlorogenic acid. Basically, this has shown to promote fat loss, improve your blood pressure levels, and improve your metabolism - all great benefits in helping you reach your fitness goals.
The optimal dosage of green coffee bean extract starts at 120mg - however, Instant Knockout contains 100mg, meaning its under-dosed by 20mg. This isnt much, but adding 20mg couldve made Instant Knockout more beneficial.
Cayenne Powder
Cayenne is a form of chili thats shown to boost your metabolism. Simply put, that spice you taste when you eat chilies is what raises your body temperature (which raises your metabolism).
To experience its benefits, its recommended to consume cayenne powder at least 3x per day, in dosages between 30mg-100mg. Instant Knockout contains an optimal 100mg, which should help raise your metabolism, and therefore promote fat loss.
---
---
Glucomannan 
Also known as Konjac, this is our favorite ingredient inside Instant Knockout. We often eat Konjac noodles to suppress appetite - simply put, glucomannan expands in your stomach, making you feel full for longer (which helps keeps us away from junk food).
Glucomannan isnt usually seen in fat burner supplements, so we were intrigued when we saw this on Instant Knockouts ingredient list. We knew it worked when adding konjac to our meals, but we werent sure whether it would be effective when orally supplemented.
The science told us it should work - and we werent disappointed. being honest, konjac doesnt taste great, so consuming it in Instant Knockout was a lot easier for us.
Ultimately, this is part of the reason why we like Instant Knockout so much; Glucomannan helps set this fat burner apart from others on the market.
Caffeine 
Caffeine can be one of the best ingredients in a fat burner when dosed correctly. If youve ever consumed too much coffee at once, youll know caffeine can cause jitters and energy crashes.
As a general rule, we recommend staying away from fat burners that contain over 100mg of caffeine per capsule. Instant Knockout contains 75mg per capsule, which is the equivalent of drinking half a cup of coffee - so we didnt experience any side effects.
The only bad thing about fat burner supplements is that you should avoid tea and coffee when taking them (as these products contain high amounts of caffeine themselves). We solved this problem by drinking decaffeinated tea and coffee.
Black Pepper Extract 
This is the same stuff you add to your food. Its not a key ingredient in any supplement, but its shown to improve the absorption rate of other ingredients its consumed with.
For this reason, Black Pepper Extract is more of a bonus ingredient, but theres nothing negative about having this in Instant Knockout - it simply helps to make sure that you experience the benefits of every ingredient inside.
---
My Personal Experience
Here at LeanBulking.com, we always try to test the products we review - so we ordered Instant Knockout, and were glad it arrived within a week. Youd be surprised by how many other products took over a week to arrive at our door, so this was a good start for this fat burner.
We always take one capsule at first, to ensure we dont experience any side effects or allergic reactions. After finding it safe, the next day we began taking the full 4 capsule servings of Instant Knockout.
Week 1
The first things we experienced when taking Instant Knockout, was the energy boosts from the caffeine, and the glucomannan working to suppress our appetite. Basically, when Im cutting body fat, I enjoy intermittent fasting (eating my last meal at 8pm, and eating my first meal at 12 midday).
As you can imagine, usually Im starving by 12 midday and feel low in energy from not eating. However, I felt much better when taking Instant Knockout and was able to reach 12 midday without dreaming of food too much.
Ultimately, this helped me cut down my calories, and allowed me to focus on my full-time job more.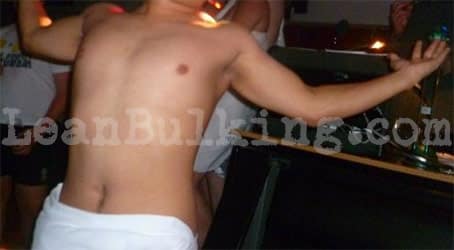 Week 1: Topless at a toga-party, no abs here. I wasnt tensing here to be fair, but trust me, there were no abs.
Week 3
After managing an all-time record 700 calorie deficit per day, Id managed to cut down a surprising amount of belly fat. My top 2 abs were coming through, with some progress on the middle 2 abs.
I kept my training routine in the gym the same, and continued trying to lift the same weights - I felt that Instant Knockout helped give me a slight boost in energy, but the main thing was keeping my hunger cravings to a minimum.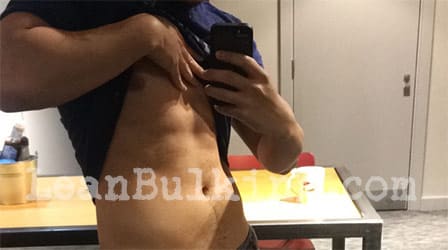 Week 3: Top 2 abs starting to come through.
Week 5
I continued doing the same thing through my third month on Instant Knockout. Again, the main benefits were the energy boosts from the caffeine and the suppressed appetite from the glucomannan.
During this week, Id kept the same 700 calorie deficit - but made sure to reach my protein macros every day. Throughout my diet, I hadnt cut down on carbs though; I simply just kept my calories to a maximum of 1,800kcal per day.
What was strange, was that I found my chest losing fat and getting defined faster than my belly - but this is more down to genetics (you cant spot reduce or decide where your body is going to lose fat).
My middle abs had come through a bit more, but not as much as Id hoped.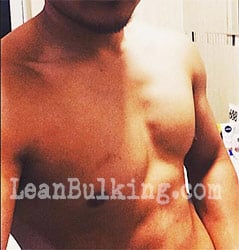 Week 5: Not much development on my abs, but my chest was more defined.
Week 8
Finally, the last week on Instant Knockout that I recorded for this review. Id cut my calories down to a 700kcal deficit throughout my 2 months on this fat burner - if I was going to spend money on a supplement, I was making sure my diet was on point.
Getting abs takes at least 8 weeks, which is still a very short amount of time - You just need to pick the right fat burner and get off the sofa!
However, I was very happy with what Id achieved. I found that Instant Knockout raised my energy levels when Id usually be tired from reducing my calorie intake, and also suppressed my appetite which helped keep me away from junk food.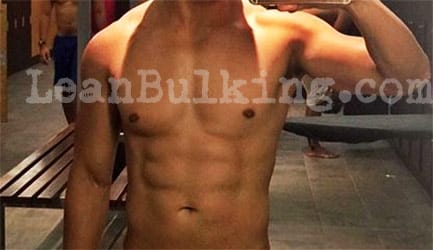 Week 8: Not quite my dream abs, but almost there!
Verdict 
Instant Knockout isnt a miracle pill - itll deliver benefits to help you achieve your fitness goals, but it wont just work without you putting the effort in.
In all fairness, the first picture wasnt the best of me (Id forgotten to take one, so had to resort to a topless photo from a party that week). But I didnt have any abs at that point.
By the end of the 3rd Week, due to my serious reduction in calories (700kcal deficit per day), Id managed to make great progress - with 2 of my abs appearing.
The end of the 5th Week saw more progress on my chest, which wasnt a bad thing (I was hoping to lose more fat around my abs, but you cant change genetics, unfortunately).
By the end of my 8th Week, all 6 of my abs had appeared - Id managed to lose 1% body fat every week.
Theres nothing better than looking in the mirror and seeing rock hard abs! Id worked so hard to get there before, but Instant Knockout helped me cross the finish line, and I believe it can do the same for you.
Bottom Line: Getting abs took hard work and determination, but this fat burner helped reduce hunger cravings and gave me energy boosts when I needed it the most. If you want to shred fat, then Instant Knockout is the best fat burner for the job.
---
What I Bought: The 3 Bottles + 1 Free for 4 months supply from Instant Knockouts website, which you can buy here.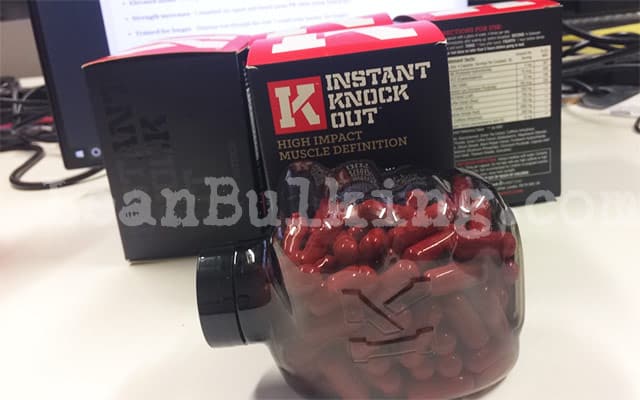 ---
Side Effects
One of the best things about Instant Knockout, is that I didnt experience any negative side effects during my 2-month journey.
I imagine this is because Instant Knockout contains a sensible amount of caffeine - meaning I was never in danger of suffering from jitters or energy crashes.
The 4 servings spread throughout the day was great for splitting up the overall caffeine dosage, which also kept my energy levels at a good level too. I was never kept up at night (I was actually exhausted by 10-11pm, and managed to sleep really well every night).
---
---
Instant Knockout Review Conclusion
Instant Knockout has become my favorite fat burner on the market this year. Id tried other fat burners in the past, but experienced side effects due to the large amounts of caffeine in them.
For this reason, I spent a while searching for highly rated fat burners that had a sensible dosage of caffeine.
This is when I came across Instant Knockout, which I saw was used by professional UFC fighters. Im a big fan of the sport, so I decided to give it a go.
My favorite things about Instant Knockout are:
Great dosages of caffeine per capsule (75mg, which is a cup of green tea)
Glucomannan (Basically, the glucomannan expands in your stomach and keeps you feeling full for longer - reducing your cravings for junk food and sugar-filled snacks).
*Remember, if youre starting with low body fat, then youll get there quicker than 8 weeks. If you start with a higher body fat percentage than I did, it might take you slightly more than 8 weeks - be realistic. But regardless, through hard work and following a clean diet plan, everyone can achieve a 6-pack physique.
Instant Knockout Review
Bottom Line
As long as you know that Instant Knockout isnt a miracle pill, youll experience benefits to help you on your fat burning journey.
Before taking this fat burner, I was eating glucomannan (aka. konjac) noodles as part of my diet - but it doesnt taste very good, so having it as part of a pill was a lot easier for me.
After a few months of serious dieting (with a deficit of 700kcal per day and training in the gym 6 days per week), Id managed to see my abs.