We've recently seen tons of new 'Instagram Models' appearing online. Many have managed to gain a strong fan base due to sculpting amazing figures – one of them is Genesis Lopez.
Boasting over 3 million followers on her Instagram profile and inspiring countless others to lead a healthy lifestyle, Genesis Lopez has become one of the most respected fitness icons of her generation. In fact, we've even included her in our Best Female Fitness Models list alongside other big names in the industry, such as Cass Martin.
Although there are countless 'Instagram stars' rising from South America, Genesis Lopez' impressive glutes and figure help her stay above the competition; after looking at her pictures, it's easy to see why her booty is her trademark.
As a result, we wanted to create a wiki-style profile as a tribute to this Japanese/Cuban/Brazilian sensation. We've spent hours researching in order to piece together this detailed profile of Genesis Lopez, along with some pictures that help show-off her hard-work.
Check it out:
---
Genesis Lopez Age & Body Stats:
Full Name: Genesis Mia Lopez (aka. Miss Genii Fitness)
Date of Birth: 1988
Place of Birth: Brazil
Height: 5'6″ (170 cm)
Weight: 135 lbs (61 kg)
---
Genesis Lopez – Female Fitness Model Profile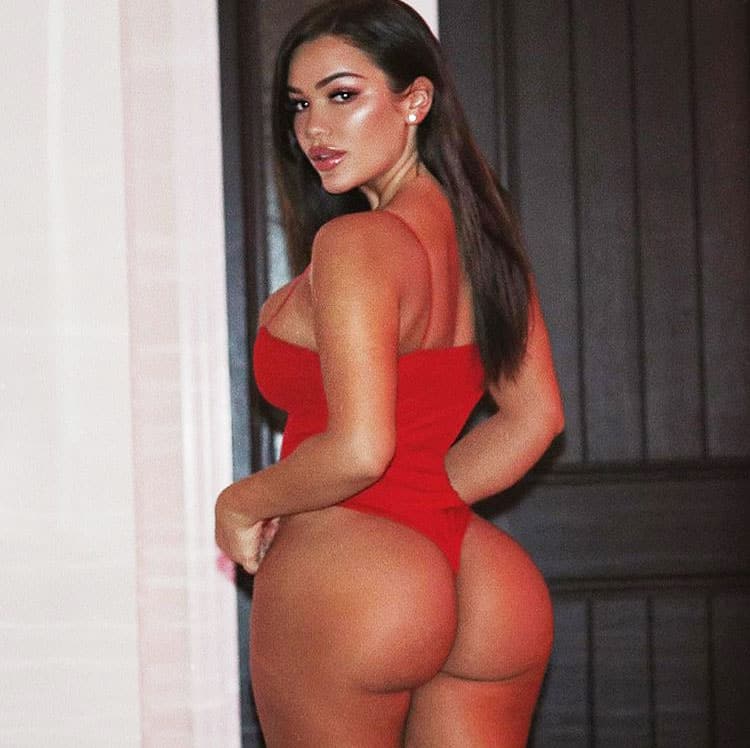 Japanese/Cuban/Brazilian Ancestry
There is a lot of mixed information online about Genesis Lopez' birthplace. Some say she was born in Brazil, while others state that her birthplace is Miami, Florida (USA). We don't want to spread any wrong information, so we'll simply say that we don't know this info.
However, what we did find out was that Genesis Lopez isn't just Brazilian. She actually hails from Japanese/Cuban & Brazilian ancestry, which has helped create her unique look – and might be responsible for her booty-building potential.
One thing is for sure: Genesis Lopez possesses some incredibly good genetics.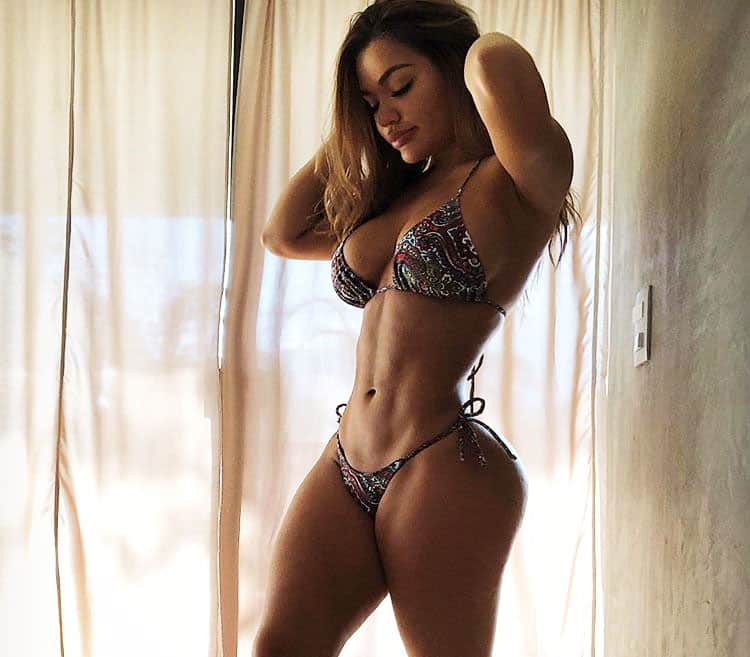 Social Media/Fitness Icon
Everyone starts somewhere and Genesis Lopez didn't begin with an impressive, toned figure. Her body is the result of years of training, with snippets of her workouts shown on her Instagram profile.
Genesis Lopez posted her first picture on Instagram on the 26th April 2016. It was clear at this point that she was something special, but looking at these initial uploads, you can also see that she has improved her bootylicious figure – something that might have seemed impossible back in 2016.
After uploading a couple of model photoshoots on social media per month, she was quickly found by the fitness/bodybuilding community. Many forums started talking about Genesis Lopez, with many admiring her aesthetics. As a result, it wasn't long until she started quickly accumulating thousands of followers.
Check out her first Instagram post below:
The Trademark Booty
Even in her early pictures, it was clear that Genesis Lopez had amazing genetics. She was toned with a tight waist, but had managed to maintain a big booty; since the mid-2010's, the fitness community seems to have gravitated towards shaping glutes, so Genesis was certainly one of the fitness models that was spearheading this movement in the early days.
With many of her booty pictures gaining thousands of likes on Instagram, it was a no-brainer for her to focus on her most prized asset. This helped substantially increase her following and between 2016-2018, Genesis had grown both her booty and fanbase; during this period, she had surpasses the 1 million mark – a proud achievement for any active social media sensation.
By the end of 2018, Genesis Lopez had cemented her place as one of the best female fitness models. As a result, her name began appearing in many lists, including our own, with her incredible figure & glutes becoming synonymous with her legacy.
---
Genesis Lopez Workout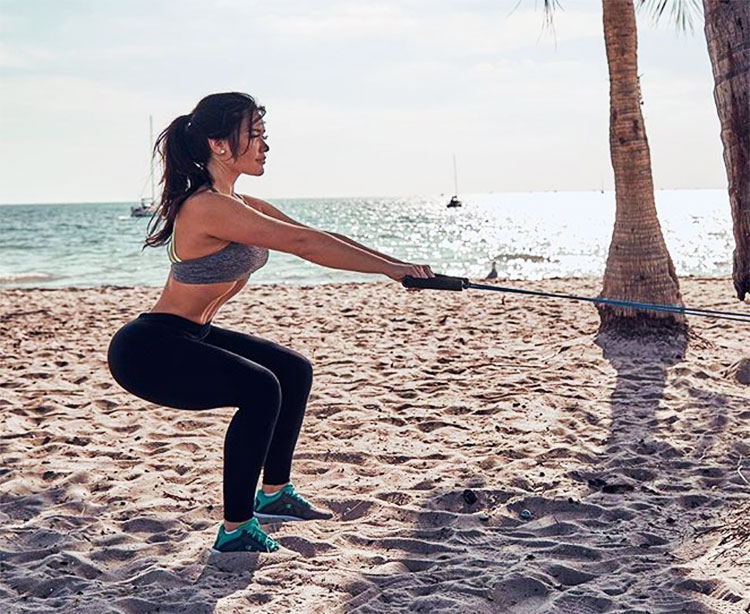 Many of her haters will just think that Genesis Lopez maintains an impressive figure simply because of her genetics. But, this is completely untrue – it's clear that this fitness model has spent years training in order to sculpt her body.
As a result, we began researching the types of exercises she performs as part of her workouts. Of course, what works for one person might not work for another, so don't just think that you'll build a booty like Genesis Lopez simply by following the same workout routine – you can certainly get close with the right mindset and work ethic, though.
With this in mind, let's take a look at some of Genesis Lopez' workout routines seen in her Instagram posts:
Genesis Lopez Home Booty Workout
Glute Kickbacks: 6 reps per leg x 4 sets
Crossover Lunges (with light dumbbells): 6 reps per leg x 4 sets
Dumbbell Stiff-Leg Deadlifts: 12 reps x 4 sets
Jump Squats: 12 reps x 4 sets
Hip Thrusts: 12 reps x 4 sets
Jump Rope: 1-minute sprints x 4 sets
Genesis Lopez Lower Body Workout:
Bench Taps: 1-minute sprints x 4 sets
Bench Side Lunges: 6 reps per leg x 4 sets
Jump Squats: 6 reps x 4 sets
Romanian Lunges: 6 reps per leg x 4 sets
Weighted Hip Thrusts: 8-12 reps x 4 sets
Stiff-Leg Deadlifts: 12 reps x 4 sets
Genesis Lopez Upper Body Workout:
Barbell Bicep Curls: 8-12 reps x 4 sets
Barbell Skull-Crushers: 8-12 reps x 4 sets
Incline Bench Bicep Curls: 8-12 reps x 4 sets
---
Genesis Lopez Diet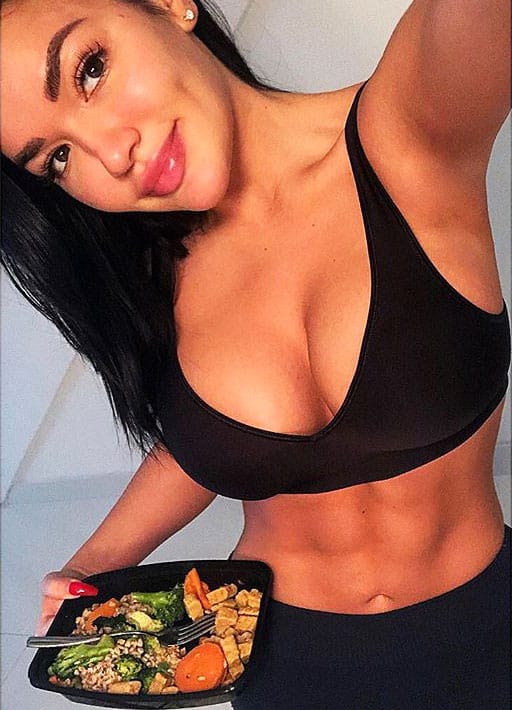 It's important to switch up your diet in order to prevent yourself from hitting a 'plateau'. This is something that Genesis Lopez seems to be fully aware of, as she often switches up her diet plan.
This fitness model showcases different periods of following a 'paleo diet' and 'vegan diet' through her Instagram posts; Genesis states that she enjoys a paleo diet when trying to lose body fat and tone-up.
There's a saying that 'your body is built in the kitchen'. Well, Genesis offers similar motivating messages to her followers, with one post aiming to spread the importance of nutrition being captioned "Nutrition is key to building your body properly!"
We'll be honest. We couldn't find much more information on Genesis Lopez' diet online; there were sites out there that had made imaginary diet plans, but we didn't want to provide you with false info.
As a result, from looking at her meals on her Instagram posts, here is what we've evaluated:
Genesis Lopez' Typical Meal:
Protein source: As mentioned, Genesis sometimes follows a vegan diet, so her protein source will differ depending on this.
Complex Carbs: Genesis seems to be a big fan of complex carbs, with her meals always containing sources such as sweet potato and quinoa.
Green Vegetables: Such veg as Brocolli, asparagus and green beans seems to be a consistent feature of Genesis' diet plan.
Low Fats: While many bodybuilders and fitness models add healthy fats to their meals, Genesis seems to keep her fats low all-year-round.
---
Genesis Lopez – Female Fitness Model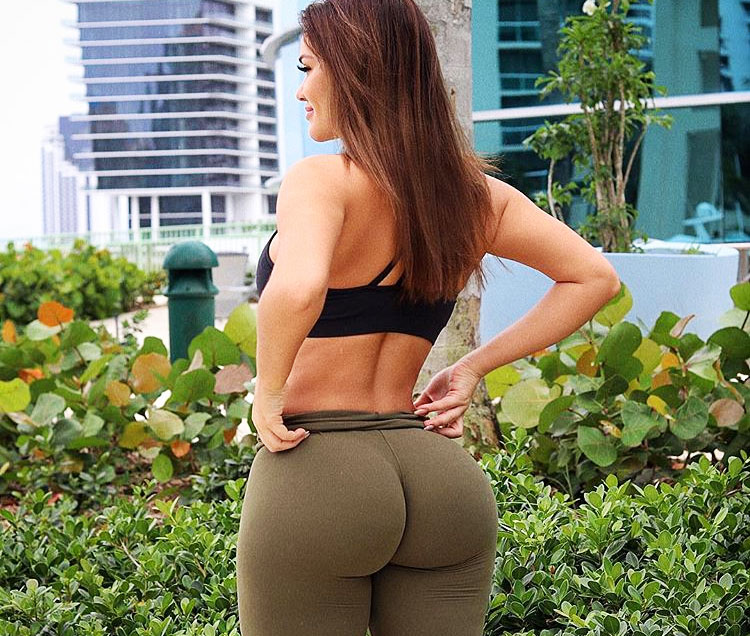 Genesis Lopez is undoubtedly a fitness icon and inspiration to millions of men & women around the world. She leads by example by following a fit and active lifestyle, showing her followers what can be achieved through hard work and a well-controlled diet.
In an industry where there are hundreds of upcoming athletes being found every year, Genesis consistently stays relevant; her incredible figure will be hard to beat and she has consequently established herself as a leading figure in the 'booty' movement.
So, we hope that you've enjoyed our tribute profile for Genesis Lopez. Let us know your thoughts in the comments, or if this female fitness model has helped inspire you to work towards your goals!