Pro's
Vitamin D3 is our favorite testosterone boosting ingredient
Fenugreek is very reliable
Panax Ginseng Extract is a key T-boosting herb
Con's
Tribulus Terrestris is ineffective and can cause side effects (read side effects section for more info)
Vitamin D3 is significantly under-dosed at 20oIU
Contains a proprietary blend (See more info in ingredients section below)
---
---

About The Product
Test X180 is a testosterone booster supplement made by Force Factor.
It comes in 60 capsule containers – it's 1 capsule per serving.
This is bad – ideally, you want serving sizes of 3-4 capsules spread through out your day, so you're always topped up with key ingredients.
Who's Force Factor?
Force Factor is a supplements company founded in 2009 by two former students.
They markete a range of supplements – from fat burners to testosterone boosters.
Can Test X180 compete with the market leaders?
Read on to find out.
---
Test X180's Ingredients Explained 
Straight away, after looking at this product's ingredient list, we've run into a problem.
The problem: Test X180 contains a proprietary blend.
What's a proprietary blend?
Well, it's a mixture of numerous ingredients that are shown to you as 1 quantity – in this case, it's 400mg, which is a tiny amount.
We don't usually criticize a product this early into a review, but 400mg isn't an optimal amount of many ingredients – and there's 5 of them together in 400mg.
Ultimately, this means Test X180 is very likely to be ineffective.
But we'll still analyze each ingredient for you.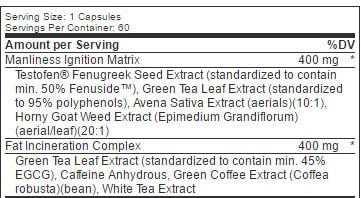 Here's Everything You Need To Know:
Vitamin D3 
This is our favorite ingredient in Test X180 – it works, but only when dosed correctly.
Unfortunately for Force Factor, they've seriously under-dosed this here (the optimal dose of Vitamin D3 is 3,332IU-5,000IU).
There's only a tiny 200IU in Test X180, so there's no way it's effective here.
Fenugreek Seed Extract 
A great herb for raising your testosterone levels. It's proven to work in numerous studies, but it's in a proprietary blend.
This means there might be a tiny amount inside, which wouldn't work.
Panax Ginseng Extract
Been used for centuries to raise libido and testosterone levels.
One thing's for sure – it works.
But again, the problem is that it's inside a proprietary blend, so it might be ineffective.
Cordyceps 
This is a mushroom believed to improve libido and lifespan.
But no studies prove it works.
Tribulus Terrestris 
A popular ingredient in testosterone boosters, but that doesn't mean it works.
Don't be fooled.
It's shown to have no effect on your testosterone levels in numerous studies.
Not only that, it can increase your prostate weight – which would lead to serious health problems.
---
---
Side Effects 
There's one concern about Test X180 – Tribulus Terrestris.
Here's why: 
Tribulus can increase prostate weight.
This can lead to serious health issues, which you want to avoid.
---
Review Conclusion
Test X180 contains some great ingredients:
Vitamin D3
Fenugreek
Panax Ginseng Extract
But here's the problems: 
Vitamin D3 under-dosed at 200IU (optimal dosage between 3,332IU-5,000IU).
Most ingredients part of a proprietary blend – meaning you don't know whether ingredients are dosed correctly.
Tribulus Terrestris can cause increase in prostate weight.
For the reasons above, we don't think it can compete with the best testosterone boosters on the market.
Check Out The Best Test Boosters This Year!
Here's the best natural testosterone boosters on the market for:
Faster Muscle Gains
Quicker Recovery Time
Decreased Belly Fat
Enhanced Energy & Sex Drive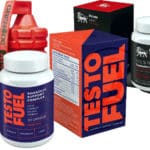 Click Here to See the Full List!