Pros
Fenugreek Seed Extract can boost T levels
L-Citrulline can raise nitric oxide levels
Beta-Alanine can improve muscular endurance
Cons
Beta-Alanine can also cause itchy & tingly side effects
Missing key test boosting nutrients (eg. Vitamin D3)
Caffeine Anhydrous dosage is slightly high (increased risk of jitters)
---
---
About The Product: Alpha King Fury
Alpha King Fury is a pre-workout/testosterone booster hybrid supplement made by Force Factor. It costs $39.99 for 20 serving containers, which puts it against the premium pre-workouts on the market.
Personally, were not fully convinced that hybrid supplements are worth it; we personally set 1 big target at a time with supplements, so we choose specialized test boosters or pre-workouts, depending on our goals at the time.
However, were going to give Alpha King Fury a chance to prove itself to us in this review. Well do this by analyzing its nutrient profile in the next section, but first, well tell you more about the company behind it.
Who is Force Factor? 
Force Factor might not be a household name like MuscleTech or Optimum Nutrition around the world. But they certainly do command some respect; theyre creating a growing list of supplements that are gaining a lot of attention online.
Weve also reviewed their dedicated testosterone booster called Alpha King Supreme. Weve also taken a look at their pre-workout called VolcaNO Extreme, but youre here to learn more about this latest addition, Alpha King Fury.
As a result, well take you through each ingredient in Alpha King Fury below…
---
Alpha King Fury Ingredients Explained
From first glance, theres not a great deal wrong with Alpha King Fury. It doesnt contain many nutrients that have been linked with harmful nutrients, so thats certainly a positive in our opinion.
Were actually happy that Fenugreek Seed Extract has been added here, as its shown to be capable of raising T levels in past studies. So we can see how Force Factor have tried fulfilling Alpha King Furys duty as a hybrid test booster product.
In terms of being a pre-workout supplement, this contains the right ingredients; we like that Force Factor has added L-Citrulline, which has shown to raise nitric oxide levels. And Beta-Alanine can be very beneficial at improving your muscular endurance too.
However, one ingredient that we personally try to avoid is Yohimbine; this has been linked with causing numerous nasty side effects in the past.
Anyway, well expand on this as we take you through each ingredient in Alpha King Fury. By the end of this review, youll have a good idea of how safe and effective this pre-workout/test booster really is.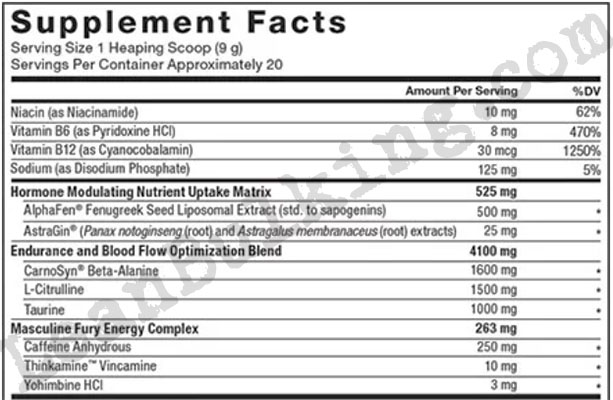 Heres Everything You Need To Know:
Fenugreek Seed Extract 
Fenugreek Seed Extract is a herb thats been used in Ayurveda (traditional Indian medicine). While not all herbs that have been used traditionally work, this has shown to be effective at raising T levels in numerous clinical studies.
As a result, were happy to consider Fenugreek Seed Extract as a great addition to any T-Booster supplement. And as Alpha King Fury does claim to boost T levels, it does fit here.
AstraGin 
In case youre wondering, AstraGin is a patented ingredient thats believed to increase the absorption rate of supplements overall.
The good news is that there are studies that show Astragin does work. However, as its not going to improve your workout or testoterone levels directly, we dont believe that its a key ingredient in Alpha King Fury here.
Beta-Alanine
When we first started testing pre-workout supplements, we were initially against Beta-Alanine being in supplements; this is because it can cause an itchy & tingly side effect known as paresthesia.
However, once you get used to this sensation and realize that its not harmful, then you begin to appreciate Beta-Alanine. We wont lie though, its not for everyone.
So what does it do? Well, this ingredient has shown to improve your muscular endurnace in the gym. So it can be a great addition to pre-workout supplements.
Ultimately, it does depend on whether youre willing to suffer from the slight side effect when taking Beta-Alanine. But as we mentioned, paresthesia isnt harmful, its just a little distracting at first.
L-Citrulline 
L-Citrulline is one of the best ingredients in Alpha King Fury. Its proven to raise your nitric oxide levels, which ultimately leads to enhanced muscle pumps in the gym.
Were also happy to see that Force Factor has included an optimal dosage of L-Citrulline in Alpha King Fury.
If we were to really wanted to be overly critical, then we would state that Citrulline Malate would have been a better addition to this product. But again, this would be too harsh.
Overall, theres no complaints from us here.
---

---
Taurine 
You might be familiar with Taurine as its quite commonly included in energy drinks. But it has no effect on energy levels as its not a stimulant.
So what does it do? Well, Taurine is known for being able to help prevent cramping during exercise, so its certainly not useless.
As a result, we do consider Taurine to be a useful addition to pre-workout supplements as a great bonus.
Caffeine Anhydrous 
Caffeine Anhydrous is the best stimulant that you can find in supplements, in our honest opinion.
Why? Because its a pure form of caffeine; its simply dehydrated into powder form so it can be added into supplements, which is why its called Anhydrous.
However, as coffee lovers will know, consuming too much at once can cause jittery side effects, which isnt ideal.
How much is too much? Well, this is very subjective, but for us personally, over 200mg is too much for us.
The bad news for us is that Alpha King Fury contains 250mg Caffeine Anhydrous, so it might cause us jitters on regular occasions. But for those that need bigger hits of caffeine, this might be beneficial - it depends on your tolerance to this stimulant.
For this reason, we wont make up your mind for you. Learn your tolerance levels and choose pre-workout supplements based on how much you can handle.
Thinkamine 
Well be completely honest; this is the first time that weve seen Thinkamine in a supplement before. But weve completed some research for you - so we hope that you are greatful…
Basically, Thinkamine is Force Factors patented form of Vincamine; this is a nootropic ingredient thats believed to help improve blood flow to your brain (to improve mental performance).
We believe that its been added to Force Factor to help strength your mind-muscle-connection while lifting weights. But to be honest, Caffeine Anhydrous will boost your focus enough to benefit your gym session, so theres no need for dedicated nootropics in Alpha King Fury.
Saying that, were still happy to accept this as a useful bonus addition here.
Yohimbine HCI 
If theres one ingredient that we wish had not been added to Alpha King Fury, then its this.
Why? Because Yohimbine has been linked with causing numerous side effects in the past, so its something that we would rather avoid.
While we cant avoid that there have been studies linking Yohimbine with fat loss, we personally dont think that its worth the risk. Ultimately, if youre main aim is to lose body fat, then you should check out specialized fat burner supplements.
Basically, were a little confused as to why Yohimbine has been added here; Alpha King Fury is a pre-workout/test booster hybrid, but not a fat burner…
---

---
Side Effect
While the majority of the ingredients in Alpha King Fury are mostly safe, Yohimbine has been known to cause numerous side effects in the past.
Well also note that Alpha King Fury contains 250mg Caffeine Anhydrous, which is quite a big dosage; we recommend knwoing your tolerance so that you can see whether you can handle this dosage without suffering from jittery side effects.
Finally, Beta-Alanine can cause a side effect called paresthesia. While this isnt harmful, it can be distracting for those that havent experienced it in the past, but weve learned to get used to it after a few servings.
Here are the potential side effects of taking Alpha King Fury: 
Nausea (Yohimbine)
Anxiety (Yohimbine)
High Blood Pressure (Yohimbine)
Dizziness (Yohimbine)
Jitters (Over 250mg Caffeine Anhydrous)
Energy Crashes (Over 250mg Caffeine Anhydrous)
Itchy & Tingly Skin (Beta-Alanine)
---
Alpha King Fury Review Conclusion
While were not the biggest fans of hybrid supplements that try to do 2 things at once, Alpha King Fury is one of the best hybrid products attempts that weve seen.
Force Factor have done many things right, especially by adding tried-and-tested nutrients such as Fenugreek Seed Extract and L-Citrulline. Not only that, the dosages of most ingredients are optimal too.
However, the main issues we have with Alpha King Fury are the slightly overdosed Caffeine Anhydrous dosage (250mg per serving), and the inclusion of Yohimbine too. Ultimately, its these small issues that let the product down, in our honest opinion.
Force Factor Alpha King Fury Review
Bottom Line
Alpha King Fury contains some great ingredients and with a few small changes it could become one of the best nutrients available.
However, for now, we dont think that its a better replacement that buying a specialized pre-workout and testosterone booster respectively.
See The Best Pre-Workouts This Year!
Here are the best natural pre-workouts on the market for:
Energy Boosts 
Enhanced Strength & Endurance 
Increased Focus
Skin-Splitting Muscle Pumps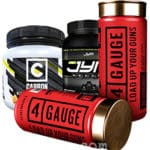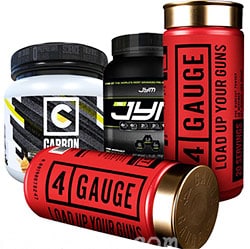 Check Out The Best Test Boosters This Year!
Here are the best natural testosterone boosters on the market for:
Faster Muscle Gains
Quicker Recovery Time
Decreased Belly Fat
Enhanced Energy & Sex Drive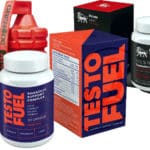 Click Here to See the Full List!