Pros
Fenugreek Seeds Extract can raise T levels
Eurycoma Longifolia might improve libido
Cons
All ingredients in a proprietary blend
Tribulus Terrestris is linked with enlarged prostate
Missing key T-Boosting ingredient such as Vitamin D3
Not good value for money, in our honest opinion
---
---
About The Product: BioxGenic
BioXgenic is a testosterone booster made by what appears to be a company of the same name. It costs $69.99 for 30 servings, which makes it compete against the more premium options on the market.
We chose to review BioXgenic because it has highly conflicting reviews online. Some say it's the best, while others say it's just not very good.
But is the most important question to us is this: is this high test booster worth its big price tag? Well, this is exactly the answer that we'll be answering throughout this review; we'll show you exactly which ingredients are inside and whether they are effective.
But we'll save that for the next section. First, we'll try and find out more about the company behind BioXgenic high test.
Who is BioXgenic?
As we just mentioned, BioXgenic seem to be the name of this test booster and their company. They have released test boosters for both men and women, but we're focusing on the men's T-Booster in this review.
We looked on their online website, but there wasn't much information at all. Except for the fact that this company is based in the USA, which certainly isn't a bad thing.
To be honest, there wasn't much more information available on their site. So let's see which ingredients have been added below…
---
BioXGenic Ingredients Explained
Now, here's where things get a bit messy in our honest opinion. We don't really like consuming unknown dosages of ingredients, so naturally, we're not fans of proprietary blends being added to supplements.
So what are proprietary blends? Well, they are a mixture of several ingredients usually under a fancy title; you're only shown the overall dosage of the whole blend, instead of the individual nutrients. Ultimately, this is a bad thing in our opinion.
Why are proprietary blends bad? Well, this is because consuming big dosages of certain ingredients can cause side effects. So it's always better to know exactly how much you're putting into your body – to stay safe.
Anyway, we'll take you through each ingredient in BioXgenic in this section. By the end of this review, you'll have a good idea of how safe and effective this test booster really is.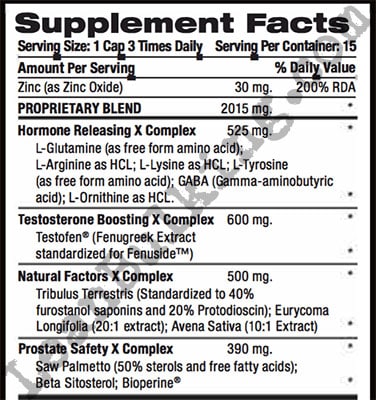 Here's Everything You Need To Know:
Hormone Releasing X Complex 
This is the first proprietary blend in BioxGenic. It consists of 6 ingredients overall; L-Glutamine, L-Arginine, L-Lysine, L-Tyrosine, GABA, and L-Ornithine.
The strange thing is that none of these ingredients aren't mainly known for being capable of raising your testosterone levels. So we're a little confused as to why this is called a 'hormone releasing X complex'.
If anything, this should be a 'nitric oxide boosting complex' because that's what L-Arginine and L-Ornithine are believed to do.
L-Tyrosine is useful at improving your focus while working out. But there's no studies to show that it's able to improve your T levels. As a result, we don't think that this proprietary blend is very effective in BioXgenic.
Testosterone Boosting X Complex
This seems to be the main part of BioxGenic that's designed to raise your T levels. So let's hope that it can get the job done…
However, while it's been titled like a proprietary blend, there is only one ingredient in here; Fenugreek Seed Extract.
In fairness, this is definitely the best ingredient in BioxGenic as Fenugreek Seed Extract has proven to raise T levels in numerous studies. Even more good news is that it's been dosed well here too.
For this reason, we have no problem with Fenugreek Seed Extract in this test booster supplement. Good job by BioXgenic here.
---

---
Natural Factors X Complex 
In our honest opinion, this is the proprietary blend that contains the worst ingredient in BioxGenic (Tribulus Terrestris). It also contains Eurycoma Longifolia, and Avena Sativa.
So why is Tribulus Terrestris so bad? Well, it's been linked with increases prostate weight (prostate enlargement) in the past.
Not only that, Tribulus Terrestris hasn't shown to actually boost your T levels either.
For this reason, Tribulus Terrestris is an ineffective addition to BioXgenic in our honest opinion.
If you're wondering about Eurycoma Longifolia and Avena Sativa; these 2 nutrients aren't able to raise your T levels either, although they might benefit your cholesterol (due to Avena Sativa being oats) and your libido slightly.
In our honest opinion, instead of consuming oats extract, you might as well enjoy some porridge with some peanut butter…at least this will fuel your workout with some healthy fats and protein.
Prostate Safety Complex 
This is the final proprietary blend in BioXgenic. It contains three ingredients; Saw Palmetto Extract, Beta Sitosterol, and BioPerine.
Basically, Saw Palmetto is a common addition in supplements alongside Tribulus Terrestris. Why? Because Saw Palmetto has shown to potentially improve your prostate health.
However, we don't believe that there's anything to prove that it can counteract the effects of Tribulus Terrestris directly. So we would rather not consume Tribulus Terrestris in the first place.
In case you're wondering, BioPerine is basically Black Pepper Extract; this has shown to improve the absorption rate of ingredients due to containing concentrated amounts of piperine.
In terms of Beta Sisterol, the only benefit that this might deliver is improved cholesterol levels.
---
---
Side Effects
While BioXgenic contains 3 different proprietary blends, only 1 ingredient puts you at harm from suffering sdie effects.
If you've read our review, then you'll know that this ingredient is Tribulus Terrestris; this has been known to be capable of causing prostate issues in the past.
As a result, we try to avoid consuming testosterone boosters containing Tribulus Terrestris when we can.
Here are the potential side effects from taking BioXgenic: 
Prostate Enlargement (Tribulus Terrestris)
---
BioXgenic Review Conclusion
We're seen very conflicting reviews online about BioXgenic and now we know why. It does contain some good ingredients (mainly Fenugreek Seed Extract), but the majority aren't effective in our honest opinion.
Ultimately, instead of buying this product, you would probably be better buying Fenugreek Seed Extract as an individual supplement. Better yet, supplementing Vitamin D3 at an optimal 5,000mg dosage will be more beneficial.
However, we personally wouldn't choose BioXgenic as our testosterone booster for the year.
[wp-review]