Again, we've chosen to listen to you (our readers and fans) to deliver on your request of comparing 2 market-leading pre-workout supplements – 4 Gauge and Pre Kaged.
These 2 products really impressed us, with both of them being the highest rated pre-workouts we've reviewed. However, as both contain different ingredients in different dosages, there has to be a winner.
For this reason, we've tried and tested both 4 Gauge and Pre Kaged, to determine which is the safest and most effective supplement available.
Check it out:
---
4 Gauge vs Pre Jym
4 Gauge vs Pre Kaged
4 Gauge
Pre Kaged

Product Picture:




LeanBulking Overall Rating:

5/5

4/5

Where To Buy:

Visit Site
Visit Site
Taste:
Great
Good

Shipping:

Worldwide, with Free USA & UK Delivery
(Dispatched from both USA & UK in under 1 week – and to APO addresses)
Depends on retailer

Company Reputation:

Excellent
Good

Does It Boost Energy Levels?

Yes 
Yes
Mixability
Excellent – 5/5
Great – 4/5
Artificial Sweeteners?:
No – 5/5
Yes – 3/5

Effectiveness:

Excellent – 5/5
Great – 4/5

Price:

$45.00
(Discounts on multiple bottles)
$36.91

Side Effects:

None Reported
Some Reported

Reoccurring Charges?:

No
No

Read Full Review:

Read Review
Read Review
---
4 Gauge by Roar Ambition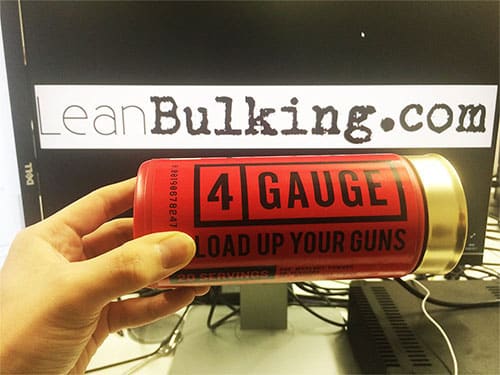 | | |
| --- | --- |
| LeanBulking Overall Rating: |    |
| Ingredients Rating: | Excellent – 5/5 |
| Side Effects: | None Reported |
| Effectiveness: | Excellent – 5/5 |
| Best Deal: |  $37.50 per bottle (with the 'Ultimate Ammo Crate' Deal) |
| Where I Bought From: | www.4Gauge.com |
Here's how 4 Gauge helped me:
Faster progress – I packed muscle on my arms, chest and legs quicker than before.
Clean energy boosts – No more feeling tired halfway through a gym session, and it helped me get there in the first place!
Crazy muscle pumps – Feel the blood rushing to your muscles, and train for longer too.
Broke numerous PB's – 4 Gauge helped take my gym training to the next level.
No side effects – No distractions from gym sessions by any unwanted jitters, crashes or itchy skin.
Con's:
You can only buy 4 Gauge on their website – can't buy from any online retailers or shops.
Only comes in one flavor – Fruit Blast
Premium price – you have to pay more to get the best product.
Quick Summary
If you're looking for intense muscle pumps, energy boosts, as that 'kick' to keep going at the end of your sets, then 4 Gauge is the answer. It delivers all of that, in an explosive shotgun shell bottle.
Created and marketed by Roar Ambition, a premium supplements company, 4 Gauge costs $45 per bottle normally. However, they offer discounts when you buy more – so the more you spend, the more you save.
I know what you're thinking, it's pretty expensive. However, after suffering from jittery side effects with most other pre-workouts, it's worth spending extra to stay safe and get the most for your money.
What does it taste like? Sherbet, and it's quickly become our favorite tasting pre-workout on the market; taste isn't very important, but helps when you don't have to feel sick after consuming it!
Anyway, it makes sense that 4 Gauge comes in a shotgun shell; it provides explosive muscle pumps, but keeps you safe with clean energy boosts, without the jittery feeling.
Most importantly, it gave me that 'kick' to motivate me into training harder than ever – to help make serious changes to my body.
---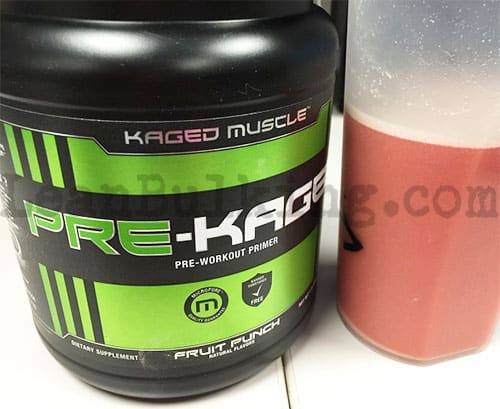 | | |
| --- | --- |
| LeanBulking Overall Rating |    |
| Ingredients Rating |  4/5 |
| Side Effects |  Some Reported |
| Effectiveness |  4/5 |
| Price |  $36.91 |
| Best Deal: | Check It Out |
Pro's: 
6,000mg L-Citrulline
31.9g serving size
Choice of 2 flavors
Con's:
Quite expensive
274mg dosage of Caffeine (those sensitive might suffer jittery side effects)
Quick Summary
Pre Kaged is made by Kris Gethin's company, Kaged Muscle. And you can tell he's used his expertise when formulating this pre-workout, as it's contains optimal dosages of great nutrients.
After trying this product for ourselves, we can confirm that it's in the 'top 3' for the best pre-workouts on the market.
But there are a few things that lets it down; one big negative for us, was that Pre Kaged caused itchy and tingly skin while we were lifting weights.
Why? Because it contains Beta-Alanine which is known for causing this side effect, officially known as 'paresthesia'.
Saying that, it's still one of the better pre-workouts we've tried.
or
 Visit their website: www.kagedmuscle.com
---
Conclusion
Ultimately, this is one of the best battles we've seen; both 4 Gauge and Pre Kaged are amazing products that'll help give you that boost in the gym.
Both contain great ingredients, with 4 Gauge most notably containing an optimal dosage of Citrulline Malate, which really inflates your biceps when curling weights – making you feel great.
However, the 2 bad points with Pre Kaged, is that it contains Beta-Alanine, which causes paresthesia (itchy & tingly skin). And the huge 274mg dosage of Caffeine, which can cause jitters and energy crashes to those sensitive to it.
[wp-review]