Pro's
Optimally dosed natural ingredients
No artificial sweeteners
No jitters or energy crashes
Only 5 calories per serving
Smart-Caffeine combo (L-Theanine & Caffeine)
Con's
Premium Price – This pre-workout costs more than others, but it's also higher quality.
You Can only buy 4 Gauge on this site: www.4Gauge.com
| | |
| --- | --- |
| Ingredients Rating: |  4.5/5 |
| Side Effects: | Not likely unless taken alongside coffee or other caffeinated products |
| Effectiveness: |  4.5/5 |
| Price per bottle: | $37.50 – with the 'Ultimate Ammo Crate' deal |
| Best Deal: | Buy Here |

About the Product
Made by premium supplements company, Roar Ambition, 4 Gauge is new for 2017 – and looks like a hard-hitting product.
We always enjoy reviewing new products, so we were excited when 4 Gauge arrived in its shotgun shell bottle. We were happy to see some key pre-workout ingredients inside, so we'll take you through everything about 4 Gauge in this review.
Who is Roar Ambition? 
Roar Ambition is a premium supplements company that's well-known for its market-leading testosterone booster called TestoFuel.
This company also market a fat burner that's used by UFC fighters, so it's safe to say it has a solid reputation. We've had good experiences with their customer service team, but we'll expand on this later on in this review.
Anyway, we were impressed by the number of positive reviews about 4 Gauge, so we wanted to take a look for ourselves – to see whether it could back up these other reviews.
In this review, we'll take you through our whole journey; from when we ordered 4 Gauge, arrived through our door, and whether it's worth trying out for yourself.
Find out more about Roar Ambition on their website: www.RoarAmbition.com
---
What Convinced Us To Try 4 Gauge
We were impressed with two things:
4 Gauge's ingredient list
Ingredient dosages
But let's be honest here – it's the customer service that really matters – no-one wants to deal with companies that handle their customers badly.
We'd heard good things about Roar Ambitions customer service (which we'd expect from a premium company). So after we had our questions answers by their team, we decided to make the order for 4 Gauge.
Here's why we chose 4 Gauge:
No side effects – this product claims to deliver only benefits, without side effects.
90 Day money-back guarantee – we felt safe, knowing we could get our hard-earned cash back if we didn't like it.
Free worldwide shipping – 4 Gauge arrived through our door really quickly, which we liked to see.
It's made in cGMP and FDA approved facilities -made under strict regulations, so it's safe and reliable.
---
Buying From 4Gauge's Website – Good or Bad?
We've never had a bad experience with Roar Ambition before.
Every product we've tried has come on time, with free delivery – regardless of where you are in the world.
We actually prefer buying directly from Roar Ambition's websites, as we know Roar Ambition are reliable.
Buying from other supplement stores or retailers (like bodybuilding.com or GNC) can be risky.
Why? Because if you don't like a product, then you're less likely won't get a refund from bodybuilding.com or GNC.
Here's Why Buying From 4 Gauge's Website Is Safe:
128 Bit Encryption – the most secure payment method used online.
Only Available On Their Website – you'll never find a better deal than on www.4Gauge.com.
Shipped By Reliable & Tracked Package Delivery Services – you'll receive a tracking number so you can check where it is.
You Won't Be Rebilled For Anything – Roar Ambition has a great reputation, especially for not re-billing anyone ever.
Discreet Shipping – 4 Gauge's delivered securely in plain & unbranded packaging.
No Risk – no risk of wasting money due to the 90 Day Guarantee.
If you're not convinced, contact their customer service team – we asked them a few questions to put our mind at ease.
---
---
4 Gauge's Ingredients Explained
This is the important bit.
A supplement's effective is determined by 2 things:
Why? Because, regardless of advertisement or marketing, a company can't lie about them.
We were impressed by 4 Gauge's ingredient list – as it contained numerous key pre-workout ingredients. Also, the dosages are mostly optimal.
Here's Everything You Need To Know: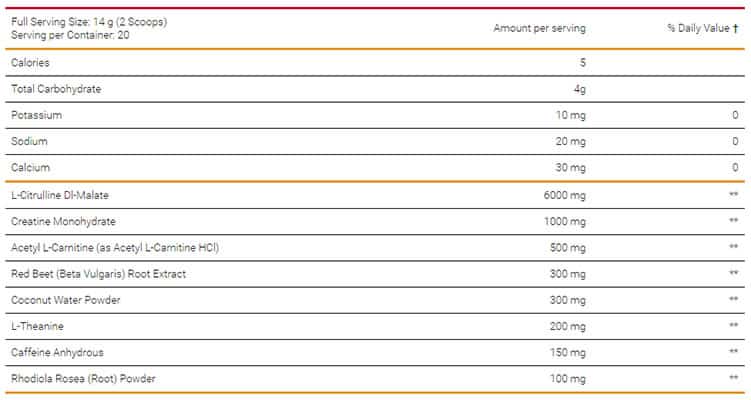 Citrulline Malate
This has shown to enhance muscle pumps in the gym in doses between 6,000mg-8,000mg.
4 Gauge contains 6,000mg Citrulline Malate, so this explains why it's effective.
So how does it work? Answer: Citrulline Malate turns into nitric oxide in your kidney.
Simply put, this causes your blood vessels to dilate (vasodilation), which results in increased blood flow and your muscles inflating while you perform bicep curls or squats.
As Arnold Schwarzenegger said – "The greatest feeling you can get in a gym or the most satisfying feeling you can get in the gym is the pump." 
Creatine Monohydrate
There's a reason why this has been used by bodybuilders since the 1990's – it works.
Creatine Monohydrate is added into many products, but it is most commonly taken separately.
It's slightly under-dosed in 4 Gauge, but this allows you to take Creatine with your protein shakes – so whether it's good or bad depends on your preferences.
One thing's for sure – it's a key pre-workout ingredient, as it's proven to boost your strength and endurance in the gym.
Acetyl L-Carnitine (ALCAR)
Also known as ALCAR, is most commonly used for 2 things:
Boost focus
Reduce fatigue
The enhanced focus will help you make the most of every rep – improving 'the mind-muscle-connection' (MMC).
This should lead to better results in the gym. These two benefits make ALCAR one of our favorite pre-workout ingredients.
Beetroot Extract
This is another ingredient that promotes muscle pumps while you lift weights.
Why? Answer: It's shown to improve blood flow and enhance endurance in the gym. This is why so many athletes include Beetroot in their diets.
Beetroot Extract is an effective ingredient – that's not usually seen in other pre-workout supplements.
Ultimately, this helps set 4 Gauge apart from the average pre-workouts.
Coconut Water Powder
This isn't the most exciting ingredient in 4 Gauge. But it helps you stay hydrated throughout your workout.
How? Answer: Because it contains a high amount of electrolytes.
There are no negatives to having Coconut Water Powder in 4 Gauge, so it's a great bonus ingredient.
Smart-Caffeine Combo (L-Theanine & Caffeine)
Not many companies are aware of this combo, so we were impressed that Roar Ambition had included this in 4 Gauge. This shows us hours of research went into this pre-workout.
So how does it work? Answer: L-Theanine enhances the benefits of Caffeine:
Improved strength,
Endurance
And Focus
This allows you to consume smaller doses of caffeine while enjoying its benefits – keeping you safe from side effects.
Rhodiola Rosea
This herb's been used in traditional Chinese medicine and Scandinavia for centuries. Why? 
Answer: due to its ability to significantly reduce fatigue and improve cognition
These are both key benefits that will boost your gym session, so it's a great ingredient to have in 4 Gauge.
---

Find Out More About 4 Gauge's Ingredients Below:
– www.4Gauge.com/ingredients – 
---
What are others saying about 4 Gauge?
We always enjoy looking at other people's experiences with the products that we review. After reading many reviews online and on YouTube, we were glad to see many positive experiences.
Many specifically liked being able to take a 'double serving' of 4 Gauge –  on days when they needed an extra boost.
We've chosen some short reviews from 4 Gauge customers, so you can see for yourself:
"Hey, guys just wanted to drop a line and let you know how much I am enjoying 4 gauge. I took a leap and bought two bottles. This is by far the best and cleanest energy pre-workout I have run across.
You can immediately tell this is a quality product.
There are no jitters, no crashes, just complete uplifting energy that lasts through the most grueling workouts. My performance has improved greatly and I no longer get that sluggish feeling halfway through…
I actually want to stay in the gym longer!
Training 6 days per week, usually being up at 5:30 am and hitting the gym by 6 am, I have zero issues immediately hitting the weights or cardio and being ready to go with 4 gauge. I have been telling as many people about it as possible.
You have a customer for life with this kind of quality product."
– CLICK HERE To Kickstart Your Fitness Journey –
---
Side Effects
We didn't experience any side effects when taking 4 Gauge. 
We believe that this is due to 4 Gauge only containing 100% natural ingredients – without any artificial sweeteners. However, as with any pre-workout or products containing caffeine, we recommend not taking 4 Gauge close to your bedtime or alongside coffee.
In fact, to stay safe from risks of jitters, we recommend avoiding coffee on days that you take 4 Gauge (this is an extreme precaution but safety first!).
One other thing: we recommend trying a normal serving of 4 Gauge first, before increasing the dosage. It's advertised that you can take a 'double serving' of 4 Gauge, but just assess your tolerance beforehand to make sure. We personally wouldn't go for the double serving option as we have lower tolerance to stimulants.
---
See 4 Gauge FAQ's on their website
– www.4Gauge.com/faq –
---
Our Personal Experience
We were really impressed with 4 Gauge. Everything from its taste, to its results, were great.
As we've mentioned, we didn't experience any side effects – if you take the correct serving, you shouldn't either. Keep reading to find out our experience below.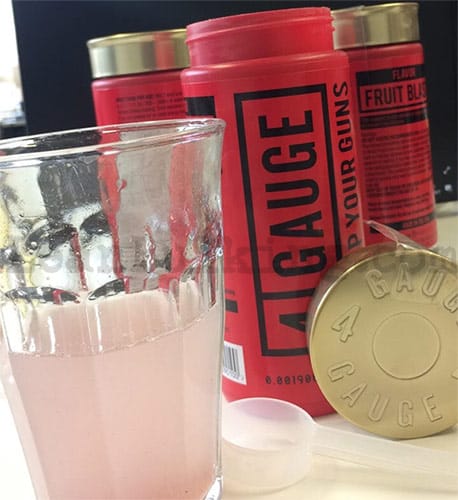 What does it taste like?
So it's flavor is described as 'Fruit Blast' – and we think it's probably the best way to describe it. It's like fruity sherbet ice cream in a powder – slightly bitter at first but tastes great once you're used to it.
It's become one of the best tasting pre-workouts we've tried so far (as of 2017).
How did it help us?
4 Gauge delivered the following benefits:
Intense muscle pumps – our arms and legs were definitely bigger when lifting with 4 Gauge.
Steady energy boosts – great 'kick' without any energy crashes, which sets 4 Gauge apart from other pre-workout's we've tried.
Elevated focus – we like to talk between sets (we're only human), but 4 Gauge really helped us concentrate on our gym session.
Increased strength – perform your best in the gym, great to help you push past a plateau.
As we've mentioned, we didn't experience any side effects, which is very important to us. We've experience jitters and energy crashes with other pre-workouts before, so we were glad to avoid that with 4 Gauge.
The only issue is the price. 
We were slightly reluctant to pay the $45 per bottle price, but this is a premium supplement that can't come any cheaper. After looking at the ingredient list and dosages, everything seemed worth the money – so we bought the 'Ultimate Ammo Stack', which reduced the cost of each bottle to $37,50.
With this deal, we received free shipping too – and after being happy with 4 Gauge, we were glad we bought more than 1 bottle anyway.
---
4 Gauge Review Conclusion
We were first attracted to 4 Gauge after being impressed with its ingredient list. And after trying it for ourselves, we can add that we're happy with how it works too.
It's one of the best tasting pre-workouts we've tried, which always helps. But what really impressed us is this: the great effect it has on your gym sessions.
Simply put, we made great progress in the gym – it made us more motivated to smash the weights and make muscle gains. Ultimately, this is our opinion, but we've reviewed many pre-workouts which have failed to deliver.
[wp-review]