The best pizza I have eaten in the UK.
Dieting all week can be hard – you get to that point when you're sat in the office, dreaming about your next cheat meal. Well, this week, I couldn't stop thinking about pizza.
Now usually I go for the classic Domino's while sitting at home in my pants and watching TV. But this time, I wanted something amazing; I'd cut down my calories to an all-time-low, so my torture deserved a serious reward…
Anyway, I did some research by doing what I love – reading reviews – and found a place called Trattoria Il Forno in Leeds (UK) that had amazing feedback by customers.
The claims that Trattoria Il Forno made the best wood fired pizza in England were enough to convince me to make the pilgrimage to the Italian restaurant. And I wasn't disappointed.
In this 'cheat meal of the week' article, you'll find out:
About The Restaurant
The Food
LeanBulking Rating
Conclusion
---
About The Restaurant
Trattoria Il Forno is situated in a small village in Leeds (West Yorkshire, UK) called Horsforth. Parking wasn't an issue – and I was hungry enough to eat a horse, so this was a definitely positive for us.
So, without any delays, I went inside and was pleasantly surprised.
Appearance
From the outside, it could easily be mistaken for another takeaway in the plethora of kebab shops in the north of England. However, like Doctor Who's Tardis, it revealed itself to be a hidden gem.
It was definitely an authentic looking place – I'm not Gordan Ramsay or an expert food critic (i'm an expert in the supplement industry), but I've been around Italy a few times – albeit once on a rugby tour – and spent enough time eating pizza to spot a decent restaurant.
Anyway, I looked at the menu, but after reading so many great reviews about their bolognese pizza, it wasn't a difficult decision. I ordered a 20″ half bolognese/half chorizo pizza (in order to promote muscle protein synthesis, of course…) and some wedges.
The Food
Time was going very slowly as we waited for our dream pizza to arrive. I couldn't stop looking at the wood fired oven, trying to guess when my pizza was entering the heavenly inferno.
Fortunately, as I was contemplating the meaning of life while drooling, the Italian waiter delivered my HUGE pizza to the table. I'll now post a picture underneath, for you to admire the extent of the gains I made in this sitting – the Hodge Twins would state "All Kinds of Gainz". 
---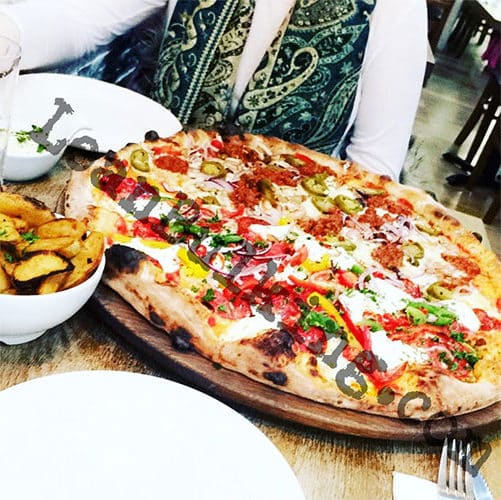 ---
As you can see, this was a big pizza that I could only justify on a cheat meal such as this. Perfect.
Not only that, after I wiped out the whole 20″ bad-boy, I ordered myself 2 scoops of homemade gelato (Blood Orange and Chocolate). As Gordon Ramsay would say – It was f*cking delicious.
This was the first time i'd experienced blood orange gelato, but i'll be returning very soon to have further servings.
This is how good the gelato was – if you know about nutrition, you'll be aware that a heavy glucose load can result in up to a 25% reduction in testosterone levels – which isn't good if you have a penis.
How did I get around this problem? By finishing the whole-damn-thing and popping some of my favorite testosterone boosters baby! No. Big. Deal.
---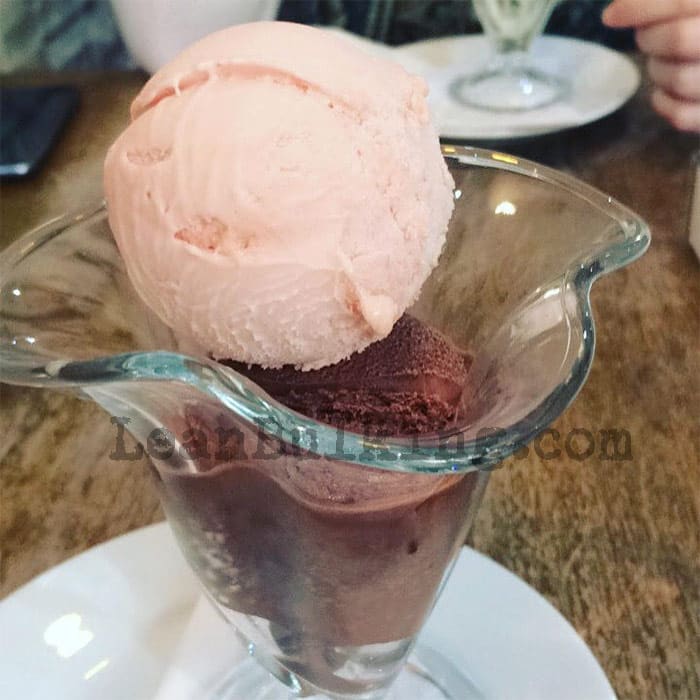 ---

Pro's
Many Parking Spaces Outside – There are literally parking spaces right outside this restaurant (providing you go after 6pm), or there are more within walking distance away (which burns some extra calories tbf…)
Incredible Value For Money – For around £19, you get the best 20″ wood-oven baked pizza in the North of England. Put it this way, it's better value than Domino's too.
Amazing Dessert – The homemade gelato is something special. You HAVE to try the Blood Orange gelato.
Con's
You have to book – It's a small restaurant compared to the bigger chains, so you'll have to book if you want to eat here (but it's definitely worth it).
Not in Leeds City Centre – It's not in the heart of Leeds, but Horsforth is a very nice village about 15 minutes drive away.
Do your eyes deceive you?! No, they do not – I have, indeed, given this restaurant 5 stars. I was extremely impressed by this Italian restaurant. Seriously.
Let's be honest here; Italian restaurants are usually very average at best, and I haven't gone home thinking i'd had the best pasta or pizza before. But that all changed after this trip to Trattoria Il Forno.
Never again will I step inside a Jamie Oliver's Italian, knowing that this gem exists in the country.
---
Conclusion
Reviews don't lie, and I'm more than happy to agree with the majority on TripAdvisor about Trattoria Il Forno – this was by far the best pizza I'd tasted in the UK. 
After dreaming about pizza in the office, while writing reviews and informative articles about supplements and nutrients, I was ecstatic to finish the week on this euphoric high. I'm more than happy to put my seal of approval on this Italian restaurant with a LeanBulking 5 star rating.
Thank you, Trattoria Il Forno – i'll definitely be back soon!