Pros
Optimal dosage of Citrulline Malate (6,000mg)
Great dosage of Creatine (3,000mg)
BCAAs promote muscle protein synthesis (muscle growth)
Neutral
Doesnt contain Caffeine - good for those who want a stim-free pre-workout, but bad for those who love Caffeine.
Cons
Betaine is ineffective (but isnt harmful either).
Beta-Alanine can cause paresthesia (tingling on hands, but isnt harmful).
Can only buy from Transparent Labs website - its not sold in retailers (we were told this was to keep the selling price of products down and the quality high).
---
Learn More About Stim-Free Pre-Workout, Visit:
- www.transparentlabs.com -
---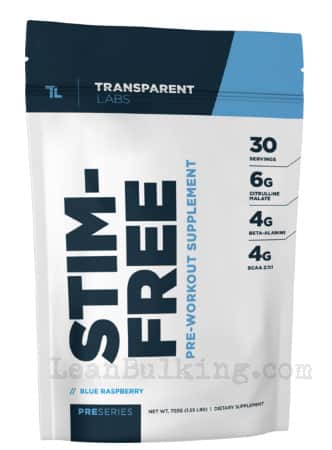 About This Product 
You can guess what this product is from its name - Stim-Free Pre-Workout. Its made by Transparent Labs, a supplement company based in the USA.
This pre-workout comes in 2 flavors - Raspberry and Green Apple. We tried the Green Apple flavor, and it was surprisingly tasty, so this is a nice bonus feature.
How Much Does It Cost? 
The cost of Stim-Free Pre-Workout depends on what you order:
As you can see, the more you decide to buy, the less each individual pouch will cost.
Who Are Transparent Labs? 
Transparent Labs are a supplements company with a great reputation for products without any artificial sweeteners, food dyes, or harmful additives.
One thing we like about this company, is that they ship worldwide, and to military addresses - youll be surprised at how many supplement companies refuse to ship to APO, FPO or DPO addresses.
You can see more about their shipping policies on their website here, but weve never had any problem with Transparent Labs before.
---
Why You'll Like It
One big positive for those who dont like Caffeine or other stimulants in pre-workouts, is that this product by Transparent Labs is  stimulant-free. This completely takes away the risk of suffering from jitters, energy crashes or anxiety.
But were not hating on Caffeine at all - infact, when dosed correctly, its a key pre-workout ingredient. The problem is that many supplement companies add large doses of the stimulant in their pre-workouts, which can cause the side effects mentioned above - the good news is that you dont have to worry about these side effects with Stim-Free Pre-Workout.
Not only that, Stim-Free Pre-Workout contains an optimal dosage of Citrulline Malate (6,000mg) - which means youll be sure to experience skin-splitting muscle pumps while you bi-cep curl and squat. This ingredient is one of our favorites, so were happy Transparent Labs did their research here.
Heres what Stim-Free Pre-Workout claims to promote: 
No Jitters or Energy Crashes
In this review, weve taken a look at this pre-workouts:
Ingredients
Dosages
Side Effects
Our Personal Experience With Stim-Free Pre-Workout
---
For More Info About Stim-Free Pre-Workout
- Visit Their Website: www.transparentlabs.com -
---
What Convinced Us To Try Stim-Free Pre-Workout
We tried many different pre-workouts to review on this website, and were pretty disappointed by most of them. The main issue with the majority of pre-workouts, is that they generally contain too much Caffeine, which caused us jitters and energy crashes (a large dosage is over 200mg per serving).
For this reason, we wanted to try a stimulant-free pre-workout, which didnt contain any Caffeine - to see how effective a pre-workout would be without it.
And were glad that we came across Transparent Labs Pre-Workout, after reading numerous positive reviews about it online.
Heres why we chose Stim-Free Pre-Workout: 
No Stimulants - This means zero risk of suffering from jitters or side effects.
Great Ingredient list - This pre-workout contains great ingredients in optimal dosages.
Good Value For Money - With 6,000mg of Citrulline Malate, 4,000mg of BCAAs, and 3,000mg of Creatine, we knew we were getting our moneys worth here.
Carefully Tracked Delivery - We hate things getting lost in the post, but we felt safe knowing we could track our order.
---
Buying From Transparent Labs' Website – Good or Bad?
From making our order, to Stim-Free Pre-Workout arriving - we didnt have any problems. 
As a first time buyer from Transparent Labs, wed were quite worried whether our order would arrive on time (or at all). Weve had some bad experienced with supplement companies, where our order was lost in the post - we wont name anyone, but just know that it happens.
Fortunately, Transparent Labs didnt let us down - our order came on time, so we didnt have anything to complain about.
We havent had to deal with their customer service team yet (which is a good thing), but weve heard good things about them online.
Heres why buying from Transparent Labs website is safe: 
No reoccurring charges - We didnt have any problems and were billed just the once.
Tracked Order Delivery - Your order wont get lost, as you can track it throughout its journey to your home.
Great Customer Service - Weve read great things about their customer service, in the unlikely event you have to contact them.
If you have any doubt, then weve heard great things about their customer service - ask them any questions on their website here.
---
To Buy, Visit: 
- www.transparentlabs.com -
---
Stim-Free Pre-Workout's Ingredients Explained
The most important feature of any pre-workout is its ingredients. Ultimately, this section will inform you just how effective this product really is - if it has good ingredients, then itll be a good product - its as simple as that.
Youll be glad to hear that this Stim-Free Pre-Workout most has great ingrededients thatre proven to work. In fact, Citrulline Malate & Creatine are two of our favorite pre-workout ingredients, and theyre dosed optimally - which is rare to find, in a market filled with terrible products.
Using our expert knowledge, weve analyzed each ingredient for you - so you can see how effective Transparent Labs pre-workout is.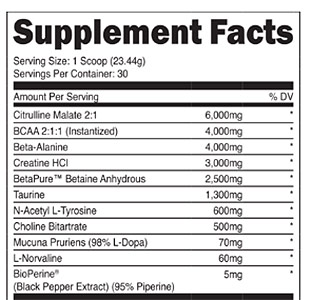 Heres Everything You Need To Know:
Citrulline Malate 
This is one of the best ingredients you can find in a pre-workout supplement. Citrulline Malates been proven to enhance your muscle pumps in the gym, in dosages between 6,000mg-8,000mg.
Transparent Labs has done well to add an optimal 6,000mg here, so your muscles will be pumped up while you curl those weights.
How does it work?
Well, Citrulline turns into nitric oxide in your kidneys - which increases your blood flow and therefore allows more blood into your muscles, effectively pumping it up.
BCAAs 
Well be honest here - BCAAs arent essential in a pre-workout supplement.
However, its shown to promote muscle protein synthesis (muscle growth) and theres no negatives to having this in Stim-Free Pre-Workout. For this reason, were giving it a thumbs up - especially as Transparent Labs have still included key pre-workout ingredients, such as Citrulline Malate & Creatine in this product.
Creatine HCI 
Creatine Hydrochloride is a form of Creatine - youve most probably heard of Creatine Monohydrate before, as its been around since the 1990s.
Again, we have to be honest here: we prefer Creatine Monohydrate, but were part of the older generation stuck in our ways, and were used to supplementing with it.
Simply put, Creatine Hydrochloride is Monohydrates cooler, newer version - its believed to be more water soluble (so itll mix better in less water), and just as effective.
We didnt find any differences between Creatine Monohydrate and Hydrochloride, which is a good thing because Monohydrate is one of the best ingredients available.
For this reason, this gets the thumbs up from us.
Betaine 
This ingredient is believed to enhance endurance, fat mass, and fatigue - while it hasnt shown to deliver these benefits, it does lower your cholesterol levels.
But lets be honest, its not the best pre-workout ingredient in Transparent Labs product. Fortunately, Stim-Free Pre-Workouts other ingredients make up for this.
Taurine 
This is an organic acid that contains sulfur. Its able to reduce cramping by increasing blood flow - meaning its likely to promote muscle pumps too.
L-Tyrosine
A great ingredient for improving your cognition in the gym. When this is added into a pre-workout containing Caffeine, wed say its not necessary as Caffeine enhances your focus - but as Stim-Free Pre-Workout doesnt contain Caffeine, L-Tyrosine plays an important role in replacing its benefit.
How does increased focus improve your workout?
Basically, more focus allows you to form stronger mind-muscle-connection - meaning you make the most of every rep by concentrating on them more. Ultimately, youll make more progress in the gym.
---
To Learn More About Stim-Free Pre-Workouts Ingredients: 
- Click Here -
---
Choline Bitartrate
Were going to honest with you here. This is the worst ingredient in Transparent Labs. It offers no benefit at all - but the good news is that its not harmful in any way.
Stim-Free Pre-Workout contains optimal amounts of important ingredients that are proven to improve your workout; so this isnt really an issue.
Mucuna Pruriens
Also known as Velvet Bean due to the its furry texture - although you wont notice this texture as its in powder form in Stim-Free Pre-Workout.
Its an extremely beneficial ingredient in any supplement; Mucuna Pruriens improves numerous things, from your general health, to your testosterone levels. For this reason, its usually seen in T-Booster supplements, but as it can also reduce stress levels, its useful in a pre-workout too.
L-Norvaline 
This is an interesting ingredient. Its very useful in a pre-workout, and works in synergy with Citrulline Malate, or any other nitric oxide promoting nutrient.
How does it work?
Simply put, your body usually has a limit to the amount of nitric oxide it can produce. However, L-Norvaline allows your body to push past this barrier, and produce even more nitric oxide - which enhances your muscle pumps.
Ultimately, L-Norvaline ensures that you experience skin-splitting muscle pumps in the gym - helping you look look and feel good, but more importantly, train harder for longer.
BioPerine 
This is simply black pepper thats been given a fancy name - yes, the same black pepper that you put on your food and cook with.
It goes well with food, but not many know about its benefit in supplements. Basically, black pepper increases the absorption rate of other ingredients that its consumed with.
This means that the key ingredients that are inside Stim-Free Pre-Workout (such as Citrulline Malate & Creatine) become even more effective.
Black Pepper is a very underrated ingredient, but its proven to be very beneficial in numerous scienfitic studies.
---
---
What Others Are Saying About This Product
As we mentioned at the start of this review - we were impressed by the countless positive reviews about Stim-Free Pre-Workout online.
Many people were happy with its performance, and these personal reviews are what convinced us to try Transparent Labs product. For this reason, weve included a few of the reviews left by customers below.
Take a look: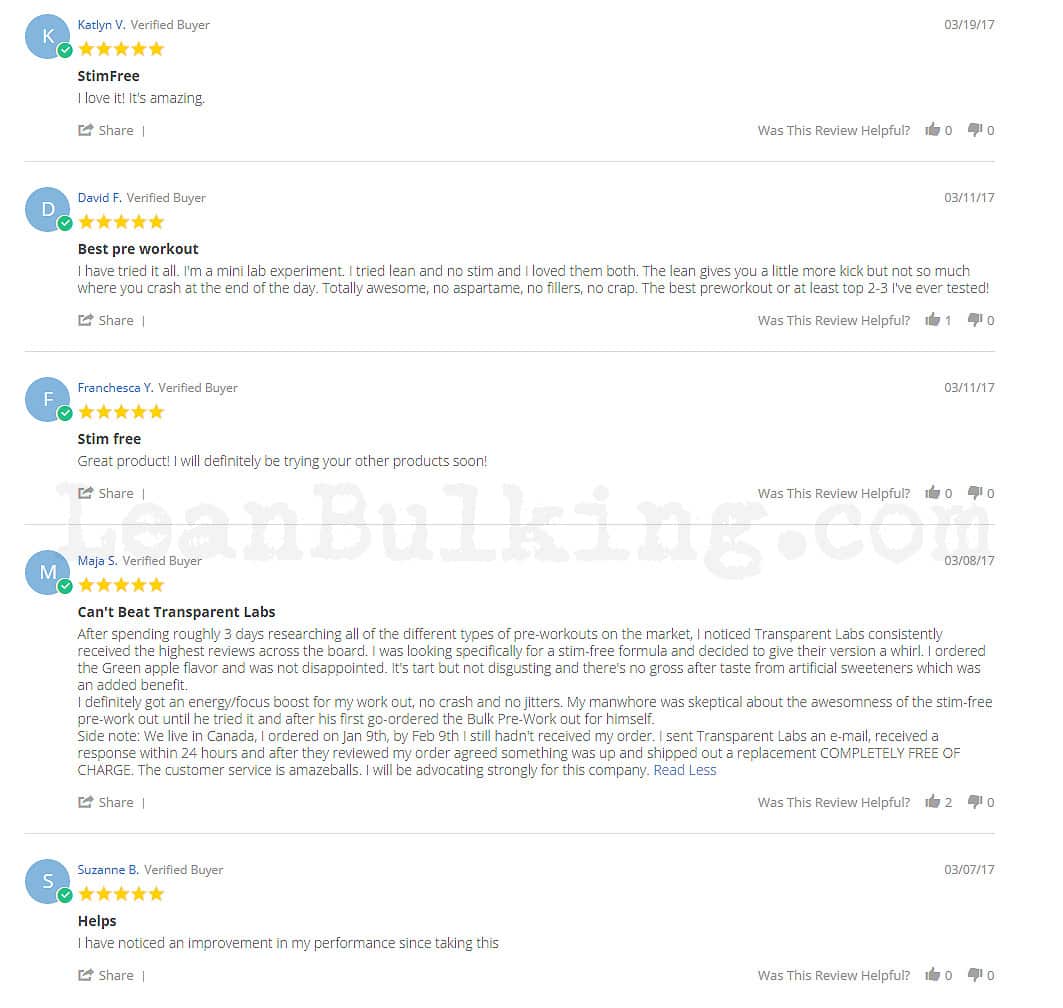 Our Personal Experience
We always try every product that we review - at least for one serving. Obviously, if a supplement causes any side effects, well throw it away and inform you in a review.
With Stim-Free Pre-Workout, we experienced no side effects - which is definitely a sign of a great pre-workout. We believe that this is because this product doesnt contain any Caffeine - although we never experience jitters or side effects after consuming Caffeine doses under 200mg per serving anyway.
Personally, we do enjoy Caffeine in a pre-workout - but its hard to find a supplement that has a correct dosage, without causing side effects. So we also like that Transparent Labs has played it safe and made Stim-Free Pre-Workout great for those sensitive to Caffeine.
---

---
Side Effects
Transparent Labs are a company that prides itself on their products - they aim to avoid artificial sweeteners, food dyes, and harmful ingredients.
For this reason, Stim-Free Pre-Workout doesnt contain any ingredients that can cause any harmful side effects. In fact, one reason why you might be interested in this pre-workout, is because it doesnt contain any stimulants like Caffeine.
Ultimately, without any Caffeine, you have completely no chance of suffering from side effects like jitters or energy crashes - but on the other hand, you might not experience any intense energy boosts either.
If you dont enjoy consuming Caffeine, or are very sensitive to it, then Stim-Free Pre-Workout is a great option for you.
---
Review Conclusion
We had mixed feelings when ordering this supplement - but we had to try it due to the countless positive reviews that we found online.
After trying Stim-Free Pre-Workout for ourselves, we have to agree with other customers and say how impressed we were by it. We usually choose pre-workouts that contain Caffeine (because when Caffeine is dosed correctly - between 150-200mg per serving - it offers numerous benefits), but we were glad that we chose Transparent Labs product to review.
This is definitely the best Stimulant-Free pre-workout that weve tried so far (were writing this in 2017), and we believe its the best option for those wanting to stay away from Caffeine - to avoid potentially suffering from jitters or energy crashes.
PreSeries STIM-FREE Pre-Workout Review
Bottom Line
This is the best non-stimulant pre-workout on the market.
It offers you optimal dosages of Citrulline Malate and Creatine, which are proven to improve your muscle pumps, strength & endurance in the gym.
If youre sensitive to Caffeine or dont enjoy its effects, then you wont be disappointed with this pre-workout.
---
---