| | |
| --- | --- |
| Ingredients Rating: |  5/5 |
| Side Effects: |  None |
| Effectiveness: |  5/5 |
| Price per box: | $48.75 (when buying the Ultimate Muscle Gainer's Package) |
| Best Deal: | Buy Now |
 Pro's
Contains key testosterone ingredients inside
Great customer service from Roar Ambition
Countless reviews proving that it's effective
Con's
Can only buy from TestoFuel's website: www.TestoFuel.com
Contains Oyster Extract, for those allergic to shellfish
---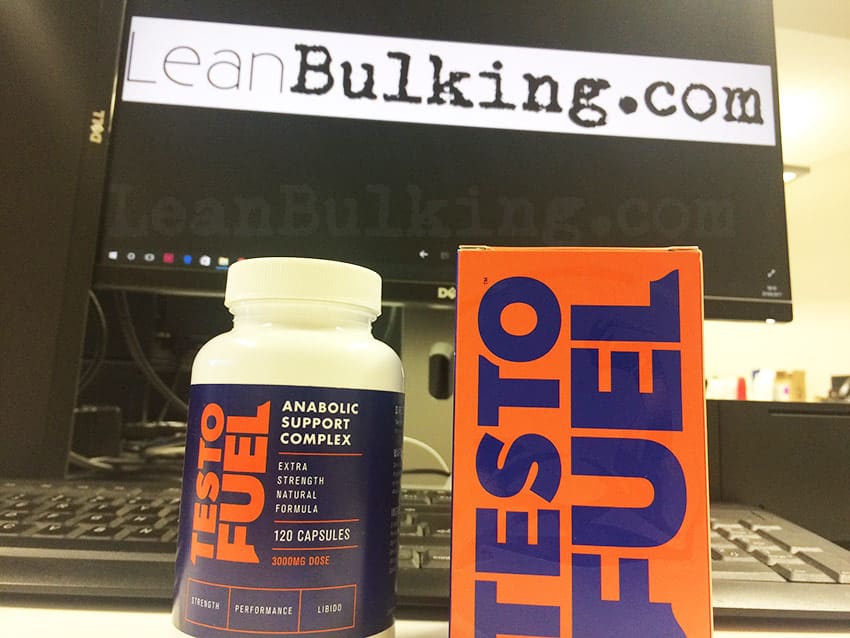 About The Product
TestoFuel is a testosterone booster made by Roar Ambition. It comes in 30 serving containers for $65, with serving sizes of 4 capsules per day; this is great, as clinical studies show that 3-4 capsules spread throughout the day is optimal for keeping your body fuelled for longer.
Listen, we can't ignore that it comes with a big price tag. But if it's any consolation, it's possible to reduce the price of each box when buying the 'Ultimate Muscle Gainer's Package' – where each box becomes $48.75.
Ultimately, that's what we did. But in the end, TestoFuel proved to be worth it's weight in muscle mass and improvements in confidence too!
Here's what comes free with the Ultimate Muscle Gainer's package:
Worldwide Shipping
Nutrition Guide
Workout Guide
Who are Roar Ambition?
Roar Ambition are a premium supplements company that markets 3 products – this testosterone booster, a pre-workout, and a fat burner. From what we've seen from them, their products are highly rated by users and haven't been reported to cause side effects.
This ticks our boxes, and this was a big part of the reason we decided to give TestoFuel a go. Not only that, Roar Ambition offer a money-back guarantee, which reduces the risk of purchasing TestoFuel – it's good to know you can get your hard-earned cash if you don't like it.
Find out more about Roar Ambition on their website: www.RoarAmbition.com
---
What Makes It Stand Out?
100% natural ingredients proven to deliver results.
Most products we've tried came with at least one side effect, but we were glad to avoid them with TestoFuel. We believe this is because of the 100% natural ingredient list, containing some of our favorite testosterone boosting nutrients such as Vitamin D3 and D-Aspartic Acid.
If you need help adding lean muscle, then this testosterone booster could give you that 'kick' you need.
Here's the benefits of TestoFuel: 
Quick muscle gains – My arms gained size faster when taking TestoFuel.
Elevated mood – I felt great and more motivated to train in the gym.
Strength increases – I smashed my squat and bench press PB while using TestoFuel.
Trained for longer – Stamina was through the roof. I could train harder, for longer.
---
---
What Convinced Us To Try TestoFuel?
Even we didn't think it would deliver on it's claims at first – Why? Because we've been disappointed by many products before.
We've all tried numerous supplements that didn't deliver.
But a key factor in convincing us to buy was their 90 day money-back guarantee. 
Why? 
Answer: It's great to know you can get a refund if you don't like it.
Here's some things that convinced us to try TestoFuel:
No side effects – Thanks to TestoFuel's 100% natural ingredients.
90 Day Money-Back Guarantee – I always felt safe, knowing I could get my money back if TestoFuel didn't work for me.
Free worldwide shipping – My delivery of TestoFuel arrived very quickly in USA.
Free box, T-Shirt, nutrition & workout guides – I ordered the 'Ultimate Muscle Gainer's Package' from their website.
Manufactured in cGMP and FDA approved facilities – Every supplement should be made under these strict regulations, to ensure they're safe and effective.
---
Why Buy Direct From TestoFuel?
TestoFuel isn't sold in retailers like bodybuilding.com or GNC – so you can only buy TestoFuel from its website.
But this isn't a bad thing.
Here's why buying direct from TestoFuel's website is safe:
128 Bit Encryption – The most secure & safe method of online payment available, is used on TestoFuel's website.
Roar Ambition's amazing customer service – This premium supplements company offer the best customer service, so any unlikely issues will be dealt with quickly.
Save money – Without any middle men, Roar Ambition keep the price of TestoFuel lower and the quality high.
Great multi-box deals – Roar Ambition offer cut-price deals, saving you money.
No Risk – The 90-Day Money Back Guarantee means you can get your money back if you don't like it.
No Recurring Charges – Roar Ambition have a great reputation for a reason; they don't mess their customers around.
Free Worldwide Tracked Shipping – You'll get a tracking number for your delivery, so nothing gets lost.
The last bullet point is our favorite – it doesn't matter whether you're ordering online from India, Australia, UK, USA, Fiji, Japan, Italy, Spain – you'll always get the best deal directly from the TestoFuel website.
---
Any Questions About TestoFuel?
We've mentioned the great customer service that Roar Ambition provide. We know this, because we've experienced it first hand.
You'll get a quick response from their team, showing you just how premium the company really is. If you have any questions about TestoFuel, click this link to go to their customer support and ask them anything you need.
There's nothing better to reassure you about a product then dealing with the company themselves.
---
---
TestoFuel's Ingredients Explained
Ultimately, 2 things determine a testosterone booster's effectiveness:
Here's where TestoFuel shines.
TestoFuel contains only 100% natural ingredients – which explains why we didn't experience any side effects.
Not only that, TestoFuel contains optimal amounts of each ingredient.
What does this do?
Answer: It helps you'll perform at your best in the gym.
Serving Size:
When looking for a T-Booster, we recommend looking for a product with 3-4 servings per day.
This is exactly what TestoFuel provides.
With servings spread throughout your day, your body will be 'topped up' with key testosterone boosting ingredients.
Check out the ingredient list for yourself: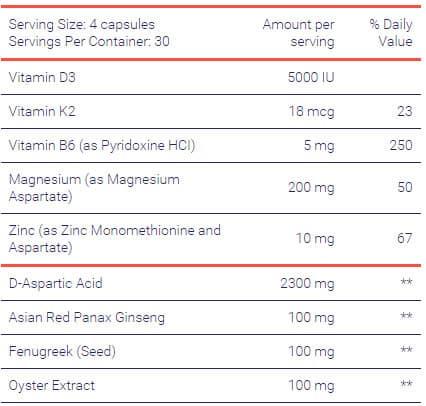 Here's a quick analysis of TestoFuel's key ingredients:

Vitamin D3 
Technically a hormone, Vitamin D3 will raise testosterone levels when taken in 3332IU doses.
TestoFuel contains 5000IU –  so your body's always topped up with this ingredient.
This is a key ingredient in any T-Booster for one reason – it works. 
D-Aspartic Acid 
D-Aspartic Acid's a amino acid that stimulates your brain to release luteinzing hormone (LH).
This is important, Why? Answer: Because LH is needed to boost testosterone levels.
A dose between 2000mg-3000mg will give you the best results.
TestoFuel contains 2300mg – so you'll be sure to experience a boost in testosterone.
Asian Red Panax Ginseng
This plant is sourced from Korea, China, and Siberia.
It's been used for centuries to boost libido and sexual health.
But that's not all.
Asian Red Panax Ginseng has also shown to be effective at:
Strengthening erections
Improving focus
Increasing blood flow
Fenugreek Seeds 
Sourced from the herb, it's been used for centuries to boost libido.
Fenugreek's also shown to be effective in raising T-levels.
Oyster Extract 
Known as an aphrodisiac –  for good reason.
Why? Answer: It's proven to boost testosterone levels due to it's high Zinc content.
---
To find out more, visit the ingredients page on: www.TestoFuel.com 
---
Other People's Experiences
We had a look on YouTube, and saw some other users of TestoFuel giving their personal experiences.
Robby Robinson – Former Mr. Olympia Masters and Golden Era Legend:
It's great to know that TestoFuel is endorsed by a bodybuilding legend, Robby Robinson.
Who is he? Well, Robby was part of the Golden Era of bodybuilding.
He trained with many legends, such as Arnold Schwarzenegger among others.
We found a video of Robby Robinson explaining why his favorite supplement is TestoFuel:
Random TestoFuel User:
This second testimonial is from an unknown user – we found it on YouTube.
He experienced great results using TestoFuel.
Take a look:
---
---
My Personal Experience With TestoFuel
Now that you've seen what other people thought about TestoFuel, i'll give you my own personal experience in this section.
Ultimately, you can see from this review that I was impressed by the looks of TestoFuel; everyone wants to gain muscle mass, but sometimes our genetics or busy lifestyle can stop us from achieving our ideal body.
However, you can make your journey much easier by consuming certain ingredients that'll help give you that 'push' to gainsville.
I was impressed by the scientifically proven nutrients inside TestoFuel
After working as a nutritionist for a long time, I learned that Vitamin D3 was THE most important nutrient to improve your testosterone levels, general health, immune system, and doctors even recommend that you consume Vitamin D3 to combat fatigue.
So after seeing an optimal dosage of Vitamin D3 in TestoFuel (along with other key T-Boosting nutrients), I was finally convinced to try it for myself. And after seeing great results, TestoFuel has become my 'go-to' supplement when I aim to build muscle mass and give my sex drive a 'kick' too.
I took TestoFuel for a total of 2 months (8 weeks)
In case you're interested, I took TestoFuel for a total of 2 months; after this period, I had gained a significant amount of muscle mass – but of course, it goes without saying that I watched my calories carefully, so I managed to maintain a low body fat, but build muscle at the same time.
If you look at my progress pictures, I'm wearing a pink Minnie Mouse top I bought from Disneyworld as a joke; this is to symbolize my lack of gains when starting this muscle-gaining journey, in the hope that I would pack-on serious mass.
My First 2 Weeks 
*What I looked like before taking TestoFuel
Right, so the first couple of weeks during your fitness journey when building muscle mass is always the hardest. Having to eat more of clean foods is always hard, but I find it important not to 'dirty bulk' and consume fast food to ramp-up your calories.
For this reason, my diet mainly consisted of chicken breast, brown rice, quinoa or sweet potato as my carb sources, and heaps of green vegetables. But I did allow myself a few 'cheat-meals' to keep myself from going insane!
Anyway, I didn't really feel the TestoFuel kicking in for the first week at all. But after hearing other reviews, I was calm knowing that it takes around 1-2 weeks for any T-Booster supplement to take full effect.
So not much difference during the first 2 weeks, but I kept working hard regardless.
After 4 Weeks 
By the time i'd been taking TestoFuel for 4 weeks, I'd really felt TestoFuel kick in. I felt happier, less fatigued and just more motivated to complete my training sessions; I asked my friends (who work as doctors), and they believed that it was the Vitamin D3 really helping out, along with the other key nutrients in TestoFuel such as D-Aspartic Acid.
But that's not all; I'd heard about body recomposition (gaining muscle while slightly losing body fat simultaneously), but I thought it was a myth.
However, I felt like I'd managed to pull it off. I looked more toned due to gaining muscle mass around my arms and shoulders too, but 1 thing was for sure – I was gaining serious muscle mass.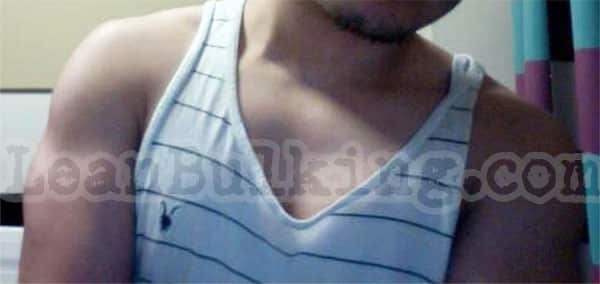 *What I looked like after 4 weeks taking TestoFuel
After 2 Months 
Usually, after 2 months of following a strict diet and working my butt-off in the gym makes me feel a bit unmotivated; I usually don't see the results I want to see, and whether that's due to genetics or because I don't get much sleep is unknown.
However, while taking TestoFuel, I was sleeping better, and I just felt better. I'd heard people taking about a raise in testosterone making them feel amazing, but this was the first time i'd experienced it for myself.
Anyway, most importantly, I'd gained significant muscle mass – definitely more than I usually would without supplementing with TestoFuel.
Honestly, I would usually be focusing on the gains in muscle mass. But I believe that the improvements in my mood, self-confidence and higher sex drive were equally as beneficial while taking this testosterone booster.
For this reason, it's become a great testosterone booster option for bodybuilding.
TestoFuel might be more expensive than other test booster supplements on the market, but you're paying for a quality product that actually works here. Ultimately, I was relieved that I hadn't wasted my money on another ineffective product, and finally made the changes to my body I'd been working towards.
Here's my progress pictures, starting from before I took TestoFuel, to 2 months after: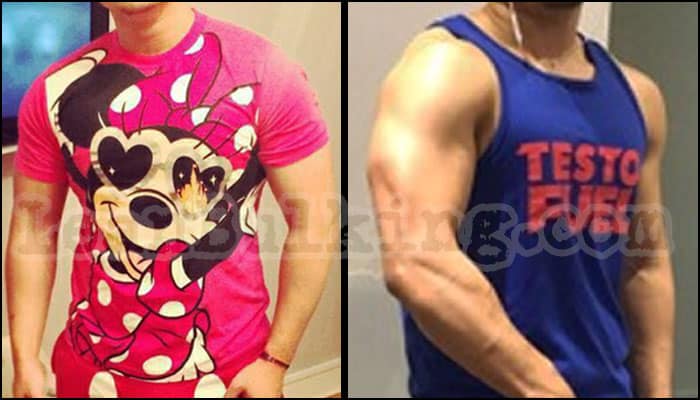 ---
---
Side Effects
TestoFuel only contains 100% natural ingredients, so there's no risks of side effects (unless you're allergic to Oyster).
TestoFuel doesn't contain any banned substances either..
Why is this important? 
Answer: If you're a competitive athlete, you won't have to worry about any drug tests.
Not only that, banned ingredients are usually harmful – so it's great that none are in TestoFuel, to keep your mind at peace during your fitness journey.
---
TestoFuel Review Conclusion
Many people think TestoFuel is the best testosterone booster on the market.
And we agree.
There's a reason why there's countless positive reviews about TestoFuel online. Why?
Answer: Because TestoFuel works.
In case you're interested in what I bought, it was the 'Ultimate Muscle Gainer's Package'.
What do you get with this deal?
With the 'Ultimate Muscle Gainer's Package' – You get:
4 Boxes of TestoFuel
Free Worldwide Delivery
But that's not all. You're also given:
Free nutrition guide
Free workout guide
[wp-review]