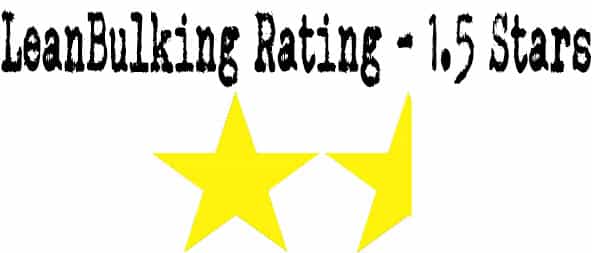 Pro's
Contains Fenugreek
Eurycomia Longifolia could improve libido
Con's
Tribulus Terrestris has no effect on testosterone levels and can cause side effects
DIM can increase estrogen levels
Most ingredient shown to be ineffective
All ingredients are part of 2 proprietary blends (increased risk of side effects)
---
---
About The Product
T-Bomb is marked as MHP's 'Clinical Strength' testosterone booster supplement. It costs $44.95 for 56 servings, with a serving size of 3 capsules per day.
This is a great daily serving size, but we're not sure why MHP has given you 56 servings – it's a strange number, as most T-Boosters come in servings of 30 or 40.
Who are MHP? 
MHP are a supplements company that markets a variety of products, such as pre-workouts, protein powders, and this testosterone booster. They're based in the USA, but we couldn't find much more info about them on their website.
We've reviewed their pre-workout called Vasculore before, which didn't really impress us. Let's see whether T-Bomb can pick up the pieces.
---
T-Bomb 3xtreme Ingredients Explained
We've talked about the strange number of servings MHP offer with T-Bomb 3xtreme already, but the most important feature of supplements are its ingredients.
So we'll leave this testosterone booster's ingredient list do the talking. However, remember that all T-Bomb 3xtreme's ingredients are part of 2 proprietary blends.
What are proprietary blends? 
These blends are mixtures of numerous ingredients that're shown to you as 1 overall quantity. For example, the first proprietary blend in T-Bomb 3xtreme is called 'Clinical Strength 5-Phase Testosterone Boosting and Estrogen Control Complex' and has an overall quantity of 1,084.
Yes, every proprietary blend in supplements usually comes with fancy titles, to make you think they're better than they really are. But that's not the worst thing about them – basically, you're never shown the dosage of each ingredient inside.
This is bad, as it's better to know you're spending your hard-earned cash on effective ingredients that've been dosed optimally – so you're guaranteed to experience benefits.
Anyway, we'll take you through the most important ingredient inside – to show you how good T-Bomb 3xtreme really is.
Here's Everything You Need To Know:
Tribulus Terrestris 
Simply put, we don't like this ingredient. Tribulus hasn't shown to increase testosterone levels in any studies, but has been reported to increase the weight of your prostate (which can lead to serious health issues).
There's no point taking this risk, and we always avoid supplements containing Tribulus for this reason. Not only that, this is part of a proprietary blend – meaning most of this blend could be filled with Tribulus without you knowing, which increases your risk of side effects.
Fenugreek Seed Extract 
Fenugreek is one of our favorite testosterone boosting ingredients for one reason – it works.
It's been used for decades in ayurveda (traditional Indian) medicine, and has been proven to work in countless studies. The results are there for everyone to see, so you can't argue against Fenugreek's effectiveness at raising testosterone levels.
The best thing about Fenugreek, is that it's shown to work in dosages as low as 50mg.
Chrysin 
This is a compound found in bee pollen that's shown to help prevent colon cancer. However, it has no effect on testosterone levels.
Red Clover Extract
Red Clover Extract has shown to reduce anxiety, but has no effect on testosterone levels.
Kudzu Root Extract 
Also known as Pueraria Lobata, it's traditionally used to cure headaches and hangovers. It might make you feel better after a heavy night of drinking, but it's not shown to raise your testosterone levels.
Long Jack
Also known as Eurycoma Longifolia Jack, it's shown to improve libido and erections in a few studies. However, it's had no effect on testosterone levels – definitely not the worst ingredient of the bunch.
But you need at least 200mg of Long Jack to experience its benefits – as it's in a proprietary blend, no-one knows how much is inside MHP's T-Bomb 3xtreme.
---

---
DIM 
DIM is an ingredient we try to avoid, and it's even worse when added into a proprietary blend. Basically, DIM's can reduce prevent testosterone from converting into estrogen in dosages of 100mg (but no natural testosterone booster is strong enough to make your body convert T into estrogen, only steroids are).
Not only that, DIM can actually have the opposite effect and encourage your body to produce more estrogen when consumed in large dosages – as it's part of a proprietary blend, no-one knows the exact dosage of DIM in T-Bomb 3xtreme (meaning your risk of this happening is seriously increased).
Avena Sativa 
This is the fancy name for the same oats you eat in porridge. It can boost your energy like any other carbohydrate can, but won't have much effect on your testosterone levels.
Saw Palmetto Extract 
This is an extract taken from the fruit of Saw Palmetto trees. It can suppress prostate growth, but has no effect on your testosterone levels.
Black Pepper Extract 
There's nothing bad about Black Pepper (it makes your food tastier!), but it's never a key ingredient in any supplement. But it can be useful – Black Pepper Extract's shown to improve the absorption rate of other ingredients it's consumed with, but it won't make a sh*t ingredient great – as most ingredients in T-Bomb 3xtreme are ineffective, it won't do much here.
Testosterone Signalling Amplification Proprietary Blend (625mg) 
This is the second proprietary blend in MHP's T-Bomb 3xtreme. We'll save you time here –  no ingredient in this blend can boost your testosterone levels.
---

---
Side Effects
There are 2 ingredients that can cause side effects in MHP's T-Bomb 3xtreme – Tribulus Terrestris and DIM. For this reason, we usually avoid supplements containing them (we don't want to experience side effects when using our hard-earned cash for these supplements).
Here's the potential side effects from taking T-Bomb 3xtreme: 
Increased prostate weight (Tribulus Terrestris)
Raised estrogen levels (DIM)
---
T-Bomb 3xtreme Review Conclusion
Simply put, we always try to avoid supplements that contain 2 things:
Ingredients that can cause side effects
Proprietary blends
Unfortunately, MHP's T-Bomb contains both, so we can't recommend anyone to try it. The only good thing about this testosterone booster, is that it contains one of our favorite T-Boosting ingredients – Fenugreek Seed Extract.
However, as Fenugreek's in a proprietary blend, there might not be an optimal dosage of it inside T-Bomb 3xtreme for it to work.
[wp-review]
Check Out The Best Test Boosters This Year!
Here's the best natural testosterone boosters on the market for:
Faster Muscle Gains
Quicker Recovery Time
Decreased Belly Fat
Enhanced Energy & Sex Drive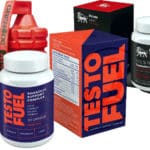 Click Here to See the Full List!