Pros
Caffeine Anhydrous boosts energy levels during a cut
Grains of Paradise might act as a thermogenic (and raise your metabolism)
Contains many B vitamins
Cons
Contains more than 1 stimulant (increased risk of jittery side effects)
Missing key thermogenic nutrients (eg. Green Tea Extract and Cayenne Pepper Extract)
Only 1 capsule serving per day
---
---
About RIPPED FREAK 2.0
If you know about supplements, then there's a high chance that you've seen, or even tested, PharmaFreak's previous fat burner (the original Ripped Freak). As this was so popular, it's almost no surprise to see the second version, RIPPED FREAK 2.0.
You'll already know that RIPPED FREAK 2.0 is a fat burner supplement. It comes priced at around $49.99 for 60 serving containers, which makes it more of a 'premium' product.
But one problem that we have (in our honest opinion) is that RIPPED FREAK 2.0 only comes with 1 capsule serving per day. We much prefer 3-4 capsule servings spread throughout our day, as this has shown to keep your body fueled better for longer, rather than just for a few hours.
Anyway, we'll expand on this and analyze this fat burner's nutrient profile in the next section. But before telling you the results first, we'll tell you about the company behind it.
Who Is PharmaFreak? 
PharmaFreak is an extremely popular supplements company. They're known pretty globally, with their success with the original Ripped Freak having a lot to do with this.
This company was founded by Don Gauvreau and Alex Savva; these are 2 guys that we really respect, and they know their stuff. They both have the relevant qualifications, so it's no surprise that they've succeeded with PharmaFreak.
As well as fat burners, PharmaFreak has also created test boosters (such as Andro Freak), and a pre-workout supplement called Muscle Freak too. However, you're here to learn more about RIPPED FREAK 2.0 – so let's see which ingredients have been added into this fat burner in the section below…
---
RIPPED FREAK 2.0 Ingredients Explained
When looking at RIPPED FREAK 2.0's supplement facts, you can be forgiven for being confused in you don't know about nutrients.
There are loads of different ingredients listed, but half of the label is filled with B vitamins; this isn't a bad thing, as B vitamins are beneficial for your health, but they certainly shouldn't look like main features of a product, in our honest opinion.
Why? Because you can buy very cheap multivitamins that provide you with enough B vitamins. And these aren't what you buy a fat burner for. Ultimately, you want thermogenic nutrients that are able to boost your metabolism in fat burner supplements such as RIPPED FREAK 2.0.
Mainly positive nutrient profile, but 2 stimulants might increase risk of jitters
Now, the good news is that RIPPED FREAK does contain some good ingredients. We're happy that it contains Caffeine Anhydrous, which is able to raise your energy levels while you cut calories and carbs from your diet.
But more bad news is that RIPPED FREAK 2.0 contains more than 1 source of stimulant; this can increase your risk of suffering jittery side effects, in our honest opinion.
Anyway, we'll take you through each ingredient in this fat burner. By the end of this review, you'll have a good idea of how safe and effective RIPPED FREAK 2.0 really is.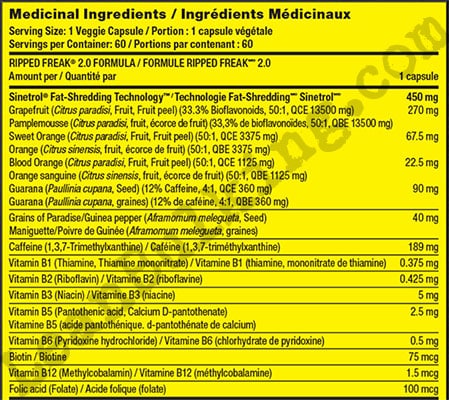 Here's Everything You Need To Know:
Grapefruit Extract
You might be wondering why Grapefruit Extract has been added into RIPPED FREAK 2.0. Well, it's because high amounts of bioflavonoids, which are believed to promote general health and fat loss.
However, there simply needs to be more research conducted on the bioflavonoids in Grapefruit for it to be considered a reliable addition to any fat burner.
For this reason, we would have preferred to see a tried-and-tested thermogenic such as Green Tea Extract instead here.
Sweet Orange Extract
In case you've not heard this fruit referred to as 'Sweet Orange' before, it's basically the normal orange that you will have eaten. It's called this way to make sure people can see the difference between Bitter Oranges.
Anyway, the bad news is that you've probably guessed that oranges can't really promote fat loss like thermogenic nutrients can. But a 'bonus' here, is that Sweet Oranges contain high amounts of Vitamin C, which is known to help cure the common cold and improve your general health.
As a result, we're willing to consider this as a useful 'bonus' in RIPPED FREAK 2.0.
Blood Orange Extract 
Another orange. If you like food, then you'll know about blood oranges. You can find them in gelato (ice cream) and even in blood orange soda – which we're big fans of.
However, in our honest opinion, there isn't enough evidence through clinical studies to prove that Blood Orange is a reliable addition to RIPPED FREAK 2.0 here.
We're open to seeing more studies conducted on this tasty fruit in the future. But for now, we'll repeat that we would have rather seen Green Tea Extract (due to containing high amounts of catechins) in this fat burner instead.
Guarana Seed Extract 
Guarana Seed Extract is a form of stimulant (meaning it can raise your energy levels in a similar way to Caffeine).
This can be a good thing, as many coffee lovers will know. But it can be a bad thing, as consuming too much stimulant can cause you to suffer jitters and energy crashes.
Now, the issue with Ripped FREAK 2.0 – in our honest opinion – is that it contain Guarana Seed Extract and Caffeine Anhydrous; having more than 1 stimulant in a fat burner is simply unnecessary and simply increases your risk of side effects.
Ultimately, there's no question of whether Guarana Seed Extract works. Because it does. In fact, many believe that Guarana Seed Extract contains more Caffeine than coffee – so it contains a lot, but it's hard to determine the exact amount of stimulant (equal to Caffeine) in Guarana Seed Extract dosages.
For these reasons, we prefer consuming fat burners that only contain 1 stimulant – to help us stay safe.
---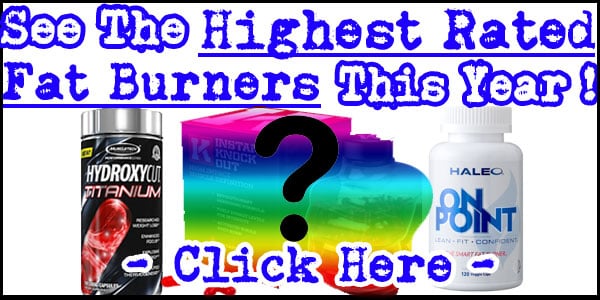 ---
Grains of Paradise 
This is the most interesting addition to RIPPED FREAK 2.0. We're glad to see PharmaFreak trying to do something different and unique here.
So what is Grains of Paradise? Well, it looks like a black peppercorn in appearance but tastes more peppery and 'spicy'; it's for this reason that it's used to season food in African cooking.
However, its spice is because it's extremely peppery. This means that Grains of Paradise doesn't contain any capsaicin like chili peppers (such as Cayenne Peppers) do.
Ultimately, capsaicin is the molecule that is able to boost your metabolism. And it's what makes chili peppers thermogenic.
The good news though, is that Grains of Paradise has been involved with some successful studies for fat loss. One study suggests that it might be effective when consumed in 30mg dosages per day.
As RIPPED FREAK 2.0 contains 40mg Grains of Paradise, they've given it the best chance of succeeding here. We'll keep an eye out for future studies, as this ingredient looks very promising.
Again, we want to praise PharmaFreak for trying something different here.
Caffeine Anhydrous 
As we mention earlier, Caffeine Anhydrous is our favorite stimulant when looking for fat burners or pre-workout supplements. This is because it's easy to keep an eye on exactly how much Caffeine you're consuming – helping you to avoid jitters and energy crashes.
If RIPPED FREAK 2.0 didn't contain any Guarana Seed Extract, then the 189mg dosage of Caffeine Anhydrous could have kept you safe. Although we will point out that this is still a dosage big enough for a pre-workout in 1 serving too; we prefer fat burners to spread out overall dosages into 3-4 servings throughout the day so you don't get a massive hit at once.
Anyway, unfortunately the 189mg dosage paired with the 90mg Guarana Seed Extract might potentially cause us side effects. For this reason, we wish that there was only 1 stimulant in RIPPED FREAK 2.0
B Vitamins 1, 2, 3, 5, 6, 12
We're not sure why PharmaFreak has made such a big deal out of B Vitamins in Ripped FREAK; while they can improve your general health, they can be found in very cheap multivitamins so they're not a main feature of any bodybuilding supplement for us.
The good news is that they are beneficial – there's no doubt about that. So there's nothing wrong with having these B Vitamins in RIPPED FREAK 2.0. But we would have preferred to see Green Tea Extract instead too.
---

---
Does RIPPED FREAK 2.0 Cause Side Effects?
You'll be relieved to hear that the majority of RIPPED FREAK 2.0's ingredients are safe. We doubt that you've ever suffered side effects after eating grapefruit or eating some oranges (unless your allergic, of course).
However, we do have some concerns with the overall dosage of stimulants in RIPPED FREAK 2.0. The addition of both Caffeine Anhydrous and Guarana Seed Extract puts those that are sensitive to stimulants at risk of jitters and energy crashes.
Here are the potential side effects of taking RIPPED FREAK 2.0:
Jitters (Overload of Stimulants)
Energy Crashes (Overload of Stimulants)
---
RIPPED FREAK 2.0 Review Conclusion
The results of our RIPPED FREAK 2.0 review are in…
Overall, it's clear to see that RIPPED FREAK 2.0 is a very respectable fat burner that has a place on the market. Regardless of what we think, there's no doubt that it'll sell, due to the original Ripped Freak being so popular.
We admire that PharmaFreak has chosen Grains of Paradise; this is still quite a new and unknown ingredient for many, but early studies suggest that it might be beneficial for fat loss.
However, we personally don't agree with the addition of both Caffeine Anhydrous and Guarana Seed Extract. In our honest opinion, we believe that only 1 of them is necessary, not both.
[wp-review]
Check Out The Best Fat Burners On The Market!
Here are the best natural fat burners on the market for:
Faster Fat Loss
More Energy 
Suppressed Appetite
Raised Metabolism