Pro's
Con's
Vitamin D3 seriously under-dosed (wont work)
Shilajit banned in certain countries for containing heavy metals
Most ingredients focused towards fat loss, not raising testosterone levels
Missing key test boosting ingredients
Not good value for money
---
---

About The Product
Andro Freak is a testosterone booster made by PharmaFreak. It comes in 60 serving containers, with a serving size of 1 capsule per day.
This isnt a great serving size; studies have shown that 3-4 capsules spread throughout the day is the most beneficial - to keep your body topped with ingredients to help boost your test levels.
Unfortunately, 1 capsule per day wont do much at all (the only supplement that benefits from this serving size are pre-workouts.
Anyway, well tell you about the company behind Andro Freak, before analyzing this testosterone boosters nutrient profile in the next section.
Who Are PharmaFreak? 
If you know about supplements, then the chances are, youll know about PharmaFreak too; theyre one of the big boys of the industry, and have released some extremely popular products such as Muscle Freak in the past.
However, were here to talk about their testosterone booster released in 2017 - Andro Freak. So lets get to the main event and see which nutrients are inside this supplement below.
---
Andro Freak Ingredients Explained
Although Andro Freaks ingredient list looks huge, theres only 6 ingredients worth talking about; these are the ones that well analyze for you in this review.
However, after taking a closer look at the ingredient list for Andro Freak, we see that it only contains 1 ingredient proven to boost your test levels (and even this has been underdosed).
It seems that PharmaFreak have relied on the controversial and very unreliable Shilajit to make this product work…
Anyway, the positive is that PharmaFreak hasnt added any proprietary blends to Andro Freak. Well take you through each ingredient inside - so you can see exactly how effective this testosterone booster really is.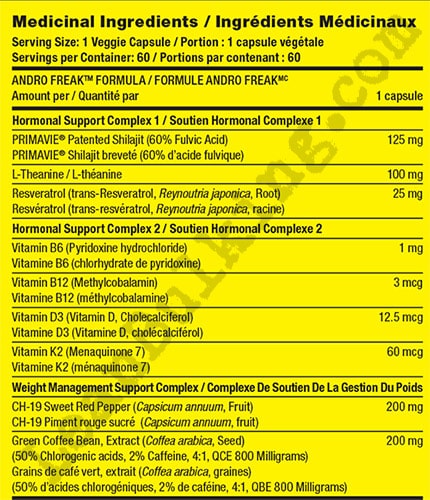 Heres Everything You Need To Know:
Shilajit 
As we mentioned this is both controversial and unreliable; Shilajit has been banned in certain countries, due to containing heavy metals.
Not only that, Shilajit hasnt even proven itself to work in human studies yet. As a result, this isnt a good ingredient to rely on - and as theres only 1 other nutrient designed to raise your T levels in Andro Freak, it seems like PharmaFreak really has relied on this ingredient.
But it gets worse; the ONLY human study thats suggested Shilajit MIGHT work, shows that you need at least 200mg per serving. Andro Freak only contains 125mg, so this makes it even less likely to work.
This isnt a great start by PharmaFreak here at all.
L-Theanine 
While L-Theanine is one of our favorite pre-workout ingredients, its not as useful in a testosterone booster - because it hasnt shown to raise your testosterone levels.
Basically, L-Theanine is great for enhancing the benefits of Caffeine, and forming a smart-caffeine when consumed with it. However, theres no caffeine inside Andro Freak, and theres no real need for L-Theanine to be here.
As a result, this isnt a very useful ingredient inside Andro Freak. Wed have preferred to see a tried-and-tested T-boosting ingredient such as Fenugreek here.
Resveratrol 
Now, this is another controversial ingredient inside Andro Freak. Have you ever heard the myth that red wine can expand your lifespan? Well, this is because red wine contains this same compound - Resveratrol.
However, studies have shown that Resveratrol wont help you live forever, unfortunately.
The bottom line is this; although Resveratrol might improve your general health, it wont raise your testosterone levels (and lets face it - why else are you interested in taking a testosterone booster supplement?).
---

---
Vitamin D3 
We hate to criticize this ingredient, as its actually one of our all-time favorite ingredients in general; studies have shown that it improves your general health and testosterone levels when dosed correctly.
In fact, we (along with other nutritionists and experts) believe that Vitamin D3 should be the 1 ingredient you choose, if only choosing 1 ingredient to raise your testosterone levels - thats how good it can be.
Unfortunately, PharmaFreak has seriously under-dosed Vitamin D3 here; human studies show that a dosage above 3,332IU is needed to raise your T levels…
As Andro Freak only contains 12.5mcg (500IU), its not likely to work here. This is a great example of why companies need to get the dosage right inside their products.
CH-19 Sweet Red Pepper 
This sounds like a complicated ingredient, but its simply a sweet pepper; it contains high amounts of capsaicin, which has shown to boost your metabolism - making it a great addition to any fat burner supplement.
However, its not proven to affect your testosterone levels (meaning its not very useful in a testosterone booster like Andro Freak).
For this reason, we dont consider Ch-19 Sweet Red Pepper to be a key ingredient in any test booster supplement.
Green Coffee Bean Extract 
The last ingredient on Andro Freaks list…but its not exactly ideal for a testosterone booster.
Again, we hate to criticize this nutrient, as its tried-and-tested to be a key addition to any fat burner supplement too. However, as its not shown to raise your testosterone levels, its not as useful in Andro Freak.
In fact, its strange that Andro Freak contains more ingredients proven to help you burn fat, than actually raise your testosterone levels! We had to check the advertising for this product again, where it clearly says testosterone support and not fat burner…
---

---
Side Effects
Most of the ingredients inside are safe, but theres 1 thats been reported to cause side effects - Shilajit.
The worst thing is this; as Shilajit is still relatively unknown, no-one actually knows how harmful this can be yet (so we cant say for sure which side effects it might cause). So well list the side effects that Shilajit has been reported to cause, but be warned that it might cause more.
Heres the potential side effects from taking Andro Freak: 
Allergic Reaction (Shilajit)
Rash (Shilajit)
Increased Heart Rate (Shilajit)
Dizziness (Shilajit)
---
Andro Freak Review Conclusion
For a company with as good as reputation as PharmaFreak, we were expecting a much better testosterone booster supplement than Andro Freak.
As weve mentioned, Andro Freak contains more ingredients to promote fat loss than actually raise your test levels! So, we would have rated this product higher if it was marketed as a fat burner…that should tell you something about this product.
Ultimately, this is why we wont be recommending this to you; there are much better testosterone boosters available for around the same price (around $60).
PharmFreak ANDRO FREAK Review
Bottom Line
As Andro Freak is more likely to boost your metabolism than your test levels, we advise you to look at the highest rated testosterone boosters, if youre aiming to raise your T levels.
See The Best Testosterone Boosters This Year!
Heres the best natural testosterone boosters on the market for:
Faster Muscle Gains
Quicker Recovery Time
Decreased Belly Fat
Enhanced Energy & Sex Drive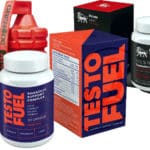 Click Here to See the Full List!