Pro's
Green Tea Extract has shown to promote fat loss
Green Coffee Bean is a key fat burning ingredient
Con's
Missing other key nutrients such as Cayenne Pepper Extract
L-Carnitine's main benefit isn't fat loss
No ingredients to raise energy levels
---
---

About The Product: Beach Ready Fat Burner
Beach Ready is a fat burner supplement made by Yummy Sports. It comes in 80 serving containers for $39.99, but surprisingly for a fat burner, it comes in powder form (instead of the usual capsule form).
As it's in powder form, it comes in numerous flavors – Gummy Wormz, Funky Peach, Nerdiez Delight, and Sour Watermelon.
There's no problem with this fat burner being in powder form. But personally, we find taking 3-4 servings of capsules is much easier than mixing a powdered drink for the same amount of times (although this is personal preference).
However, one thing we don't like is that Beach Ready contains artificial flavoring and sweeteners; this can cause side effects such as headaches, which isn't what you want when paying for a supplement to improve your body.
Anyway, we'll tell you more about the company behind this fat burner – before analyzing Beach Ready's nutrient profile in the next section.
Who Are Yummy Sports? 
If there's a company we know nothing about, then it's Yummy Sports. We couldn't find any 'about us' section on their website, but their ingredient list for Beach Ready contained French, so we're guessing that Yummy Sports are a France-based supplements company.
Anyway, we're also confused about the name of this company and how they package their products – no offense, but Beach Ready fat burner seems like it was created for children, rather than men and women wanting to make serious changes to their bodies.
However, we'll see how effective it is in the next section, where we'll analyze Beach Ready fat burner's nutrient profile below.
---
Beach Ready Fat Burner Ingredients Explained
Beach Ready fat burner contains 9 ingredients overall, which isn't a bad number to have in a fat burner;,we usually find that the best supplements contain between 6-9 ingredients, so this is good.
However, one thing we don't like, is that Beach Ready fat burner contains a proprietary blend (we'll expand on this below).
PROPRIETARY BLEND WARNING…
Proprietary blends are mixtures of numerous ingredients that are only shown to you as 1 quantity. As you can see from the 'Carni-burner blend' in this fat burner's ingredient list, the overall amount is 1,500mg – but you're not shown the dosages of each ingredient inside.
This increases your risk of side effects, and also makes it uncertain whether this fat burner will work. For this reason, we try to avoid any supplement that contains proprietary blends.
Anyway, we'll take you through each ingredient inside Beach Ready fat burner – so you can see how effective this supplement really is.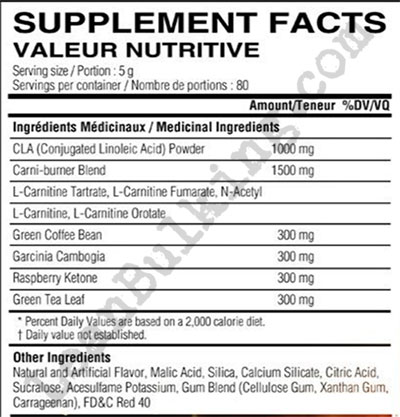 Here's Everything You Need:
CLA 
Also known as Conjugated Linoleic Acid, this is a fatty acid believed to promote fat loss. However, studies have shown that CLA has no effect on helping you lose body fat.
But it's not completely useless; the same studies show that it might help preserve lean muscle mass while you cut.
Ultimately, this means that CLA isn't a key ingredient in any fat burner, but can be useful to supplement individually (personally, if we were to choose a cheap supplement to consume alongside a fat burner, we would choose a good fish oil product, not CLA).
Carni-Blend Burner 
We mentioned before that this is the proprietary blend inside Beach Ready fat burner – so you know why these blends are bad.
Well, it won't be hard to analyze what's inside, because all 4 ingredients are simply different forms of L-Carnitine; this has shown to reduce fatigue while improving your focus, making L-Carnitine a key ingredient in pre-workout supplements.
However, it hardly affects your ability to burn more fat – making L-Carnitine an ineffective addition to fat burner supplements. Ultimately, this makes this whole 'Carni-Burner Blend' ineffective in Yummy Sports (which isn't good, as it contains almost half of the ingredients inside Beach Ready fat burner.
Green Coffee Bean
Now, this is a great addition to Beach Ready fat burner. Green Coffee Bean Extract is basically taken from unroasted coffee beans (which is the reason it's green).
But here's the most important news; Green Coffee Bean has proven to raise your metabolism and help you burn fat – due to containing high amounts of Chlorogenic Acid.
For this reason, you can't argue with the studies that back this ingredient. The only problem is that it's been underdosed in Beach Ready fat burner at 300mg per serving (optimal dosage is 500mg).
As a result, Green Coffee Bean might not deliver its full benefits in Beach Ready fat burner (which is a great example of why companies need dose their products correctly).
---

---
Garcinia Cambogia 
This is a fruit that contains an enzyme called citric acid lysase, which is believed to promote fat loss. However, the bad news is that this fruit hasn't proven to work in any human studies – meaning it's likely to be ineffective in Beach Ready fat burner.
Ultimately, Garcinia Cambogia is an unreliable (and most likely, effective) ingredient inside this product.
Raspberry Ketones
As we hadn't heard of Yummy Sports before, we're guessing that this is quite a new supplements company. So we're disappointed to see that they've added Raspberry Ketones to Beach Ready fat burner.
Why? Because Raspberry Ketones are known for being one of the biggest gimmicks in the industry; it became popular as a 'miracle' ingredient, but since no studies backed-up it's usefulness, it's since become known as a useless addition to any supplement.
Not only that, Raspberry Ketones have been reported to cause side effects – due to being chemically treated with Synephrine.
For this reason, we advise you to stay away from supplements containing Raspberry Ketones (and Synephrine too).
Green Tea Extract 
Green Tea Extract is one of our favorite fat burning ingredients that's proven to work. In fact, every study has shown that Green Tea Extract is able to improve almost every organ in your body, as well as promoting fat loss – making it one of the most beneficial ingredients in the supplements industry.
We even drink green tea every day, regardless of whether we want to lose weight or not for this reason. You can't argue with the studies proving Green Tea Extract is beneficial – and to be fair to Yummy Sports, it's not been dosed too badly either.
---

---
Beach Ready Fat Burner Side Effects
Although the majority of Yummy Sport's ingredients won't put you at risk from side effects, there's 1 that can cause them – Raspberry Ketones.
Simply put, Raspberry Ketones have proven to be one of the biggest gimmicks in the supplements industry; especially after studies showed that they didn't actually help people lose any body fat.
However, the worst thing that people don't usually know, is that Raspberry Ketones are chemically treated with Synephrine. And as you should know, Synephrine can cause numerous side effects and should be avoided when choosing a fat burner.
Here are the potential side effects of taking Beach Ready Fat Burner: 
Jitters (Raspberry Ketones)
Nausea (Raspberry Ketones)
High Blood Pressure (Raspberry Ketones)
---
Beach Ready Fat Burner Review Conclusion
To be honest, our first impressions of this fat burner weren't good; the cartoon style container makes this product look designed for little kids, rather than for grown men and women with ambitions to change their bodies and lives.
And after analyzing Beach Ready fat burner's ingredient list, this product doesn't seem likely to help you reach your fitness goals either. Why? Because it's mostly filled with ineffective nutrients, while only containing 2 ingredients proven to work (Green Tea & Green Coffee Extracts).
The worst thing is that Yummy Sports has added Raspberry Ketones into Beach Ready fat burner; for those that don't know, Raspberry Ketones are one of the biggest gimmicks in the supplements industry – and have shown to be ineffective in numerous studies (meaning it doesn't work).
For these reasons, we can't recommend you to try Beach Ready fat burner.
Yummy Sports Beach Ready Review
Bottom Line
There are much better fat burner supplements on the market, that contain more effective ingredients in optimal dosages – giving you better value for money and results.
---
---