Pro's
Caffeine raises energy levels while cutting calories
Cayenne Pepper Extract proven to boost metabolism
Con's
Every ingredient inside proprietary blend
Contains ineffective ingredients
Overdose of Caffeine (400mg per serving likely to cause side effects)
Not good value for money
---
---

About The Product
SuperHD Ultimate is a fat burner made by Cellucor that was released in mid 2017. It comes in 30 serving containers in a serving size of 2 capsules per day.
This isn't a good serving size; studies have shown that having 3-4 capsules spread throughout the day will deliver the best results, while 2 capsules will only stay in your system for 4 hours maximum.
Anyway, for those new to supplements, we'll tell you about Cellucor. But if you know already, then skip to the next section where we'll analyze SuperHD Ultimate's nutrient profile.
Who Are Cellucor? 
Cellucor are a USA-based supplements company who were founded in 2002. They're main HQ is found in Texas, with their most influential series of products being their C4 pre-workouts.
This is also one of the biggest companies in the industry, so we always get excited when they bring out a new product. So let's get to the main course and see which ingredients will (hopefully) spice up your life below…
---
SuperHD Ultimate Ingredients Explained
SuperHD Ultiamte contains 6 main ingredients, which we'll be analyzing for you in this review. This is a good number of ingredients; we're always happy when companies don't add in over 10 nutrients into their products.
But the most important thing is whether they've been dosed properly. But wait…you can clearly see that SuperHD Ultimate contains a proprietary blend (we'll expand on this below).
PROPRIETARY BLEND WARNING…
Proprietary blends are mixtures of numerous ingredients that're only shown to you as 1 quantity. As you can see from the 'Ultimate Ignite & Fuel Blend' in this fat burner's ingredient list, the overall amount is 952mg – but you're not shown the dosages of each ingredient inside.
This increases your risk of side effects, and also makes it uncertain whether this fat burner will work. For this reason, we try to avoid any supplement that contains proprietary blends.
Anyway, now that you know that proprietary blends are a bad thing, we'll take you through each ingredient inside SuperHD Ultimate – so you can see how effective it really is.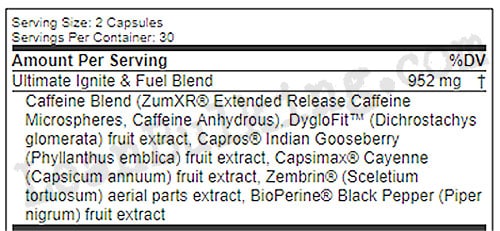 Here's Everything You Need To Know:
Caffeine Blend 
This is one of the worst things you can find in a supplement, a Caffeine blend. But the strange thing is, Cellucor have listed the dosage of Caffeine in their advertisements, but not in SuperHD Ultimate's ingredient list.
From their marketing on bodybuilding.com, GNC and Amazon, we can see that SuperHD Ultimate contains a HUGE 400mg Caffeine per serving.
We have to repeat – this is a HUGE serving that will be very likely to cause everyone side effects such as jitters and energy crashes.
To put this into perspective; most pre-workouts don't even contain 400mg Caffeine per serving, and they're known for having large dosages of Caffeine to give you that 'kick'.
Ultimately, we believe fat burner supplements should be designed to be taken anywhere – from your office to your living room, without any jittery feelings or energy crashes halfway through your day.
For this reason, we always recommend that you choose fat burners containing less than 100mg Caffeine per capsule.
Dichrostachys Glomerata
This is defined as a species of legumes. However, Dichrostachys Glomerata is also believed to be a spice; the reason why Cellucor has added this into SuperHD Ultimate, is to try and boost your metabolism in the same way that Cayenne Pepper Extract would.
But here's the bad news; Dichrostachys Glomerata hasn't proven to work in any study conducted on it (making it unreliable).
In fact, not much is known about this ingredient at all – so we can't state which side effects it might cause either, because no-one knows.
Ultimately, we always recommend supplements that contain tried-and-trusted nutrients. And unfortunately, Dichrostachys Glomerata isn't one of them.
---

---
Indian Gooseberry 
Also known as Phyllanthus Emblica, this is a fruit that's native to India and the middle east (as well as some southeast Asian countries).
It's believed to help lower your cholesterol levels and be effective as an anti-inflammatory. However, the bad news is that Indian Gooseberry hasn't shown to promote fat loss in any reliable study.
For this reason, we consider Indian Gooseberry to be an ineffective ingredient in SuperHD Ultimate.
Cayenne Pepper Extract 
Cayenne Pepper Extract is one of our favorite fat burning ingredients for one reason – it works.
Think about when you last ate a spicy meal. You probably started sweating and wanted to water or milk to cool you down, right? Well, this raise in body temperature is exactly what boosts your metabolism.
As Cayenne Pepper is a chilli, it's able to offer the same effects when consumed in powder form inside a capsule – so your ability to burn fat will be enhanced after consuming this ingredient.
Sceletium Tortusum 
There's a reason why you haven't seen this in a fat burner supplement before – it doesn't work.
Basically, studies have shown that it can help calm your cat and dogs, so it might be useful in this respect. However, there's nothing to suggest that Sceletium Tortusum will promote fat loss.
For this reason, this is another ineffective ingredient inside SuperHD Ultimate.
Black Pepper Extract 
Now, we know what you're thinking – is this the same black pepper that you sprinkle on your food to make it taste better? Yes, it is.
If you've ever watched an episode of Hell's Kitchen, you'll know that Gordon Ramsay loves this stuff. But you might not know how beneficial it can be in a supplement.
Simply put, Black Pepper Extract can improve your digestion and increase the absorption rate of other ingredients it's consumed with.
As a result, it's not a 'key' ingredient in SuperHD Ultimate or any fat burner. But it can be useful (more useful than the ingredient that helps cats and dogs sleep at night anyway).
---

---
Side Effects 
We mentioned that SuperHD Ultimate contains a HUGE dosage of Caffeine (400mg per serving). Well, this will cause side effects such as jitters and energy crashes to almost everyone (unless you drink 6-8 cups of black coffee per day).
For this reason, we always recommend you to consume less than 100mg Caffeine per capsule with fat burner supplements.
The rest of the ingredient inside SuperHD Ultimate seem safe. But Sceletium Tortusum hasn't been researched much, so it's not 100% safe or effective.
Here's the potential side effects from taking SuperHD Ultimate: 
Jitters (Over 100mg Caffeine per capsule)
Energy Crashes (Over 100mg Caffeine per capsule)
---
SuperHD Ultimate Review Conclusion
We won't lie; we were expecting much better things from Cellucor here. When they announced this fat burner was being released in 2017, we were excited – but then we saw that it contained a proprietary blend.
We mentioned near the start of this review why we don't like proprietary blend (and don't recommend any supplements containing them).
Not only that; SuperHD Ultimate only contains 1 tried-and-tested ingredient, Cayenne Pepper Extract. We would have liked to have seen other proven nutrients, such as Green Tea Extract in this fat burner, but that's what makes the difference between an average product, and the best fat burners on the market.
[wp-review]
Check Out The Best Fat Burners This Year!
Here's the best natural fat burners on the market for:
Faster Fat Loss
More Energy 
Suppressed Appetite
Raised Metabolism