Pro's
Green Coffee Bean & Green Tea Extract are key fat burning ingredients
CLA's shown to help maintain muscle mass
Con's
L-Carnitine reduces fatigue more than it promotes fat loss
CLA underdosed at 1,000mg (optimal dosage is 3,200-6,400mg)
No ingredients to raise energy levels while cutting calories
Missing our favorite ingredient – Glucomannan
---
---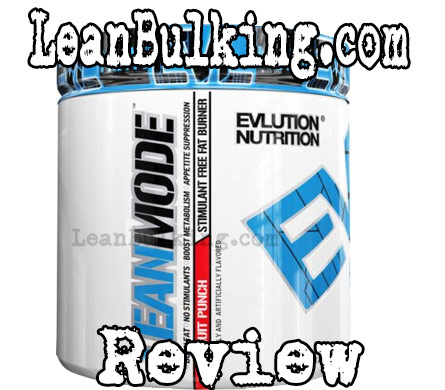 About The Product
LeanMode fat burner is a fat burner by EVLution Nutrition. It costs $22.95 for 30 serving containers in a choice of 2 flavors in powder form – Fruit Punch and Punch Tea.
However, this product is also available in the more usual capsule form.
Who are EVLution Nutrition?
EVLution Nutrition are a supplements company based in Florida, USA. They market a range of products – from this fat burner to pre-workouts such as PumpMode.
Let's see what's under the hood.
---
LeanMode Fat Burner Ingredients Explained
LeanMode fat burner contains 5 ingredients, so this review will be short and straight to the point. Our initial opinion about LeanMode, is that it's a good fat burner – but can it compete with the best fat burners on the market?
We'll answer this question by analyzing each ingredient inside and their dosages.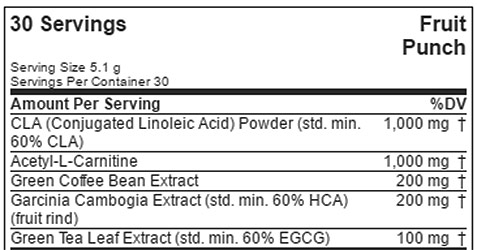 Here's Everything You Need To Know:
CLA 
Also known as Conjugated Linoleic Acid, it's shown to help maintain muscle mass when aiming to lose body fat – which is a good benefit to have in a fat burner supplement.
The only problem is, studies suggest that CLA works best in dosages of 3,200mg-6,400mg; as LeanMode only contains 1,000mg, it's not likely to do much here.
Acetyl-L-Carnitine 
ALCAR is a great ingredient in a pre-workout supplement, as it reduces fatigue and muscle damage, as well as increasing focus. However, while ALCAR's can promote fat loss, it's not the best ingredient for this benefit.
As a result, it's not a key fat burner ingredient.
Green Coffee Bean Extract 
Green Coffee Bean Extract is basically unroasted coffee beans. It's proven to raise your metabolism, encouraging your body to burn fat as fuel. Not only that, Green Coffee Bean Extract is believed to help prevent your blood sugar from spiking too much – which helps to keep your body in fat burning mode.
For this reason, it's one of our favorite fat burning ingredients. Good job here.
Garcinia Cambogia Extract 
This is a tropical fruit that's believed to promote fat loss, as it's shown to reduce fat in rats. However, these results couldn't be replicated in human tests – making it an ineffective fat burning ingredient.
That's basically what you need to know in a nutshell, but if you want to learn more then check out our article on Garcinia Cambogia for weight loss here.
Green Tea Extract 
Green Tea Extract benefits almost every organ in your body, and is proven to promote fat loss by raising your metabolism.
How does it work? Well, Green Tea Extract contains high amounts of catechins; this antioxidant is really what makes this nutrient so effective, and numerous studies has proven it to work – so you can't argue against it.
As a result, this is one of our favorite fat burning ingredients.
But there's a problem here: EVLution Nutrition has only added 100mg in LeanMode. The optimal dosage is shown to be 500mg for Green Tea Extract – meaning it might not work in LeanMode fat burner.
Ultimately, we wish that EVLution Nutrition had included a bigger 500mg dosage of Green Tea Extract here. But we respect that this company has tried to do the right thing – instead of adding potentially harmful ingredients such as Yohimbe.
---

---
Side Effects
One great thing about LeanMode fat burner, is that none of the ingredients have been reported to cause side effects.
Also, being stimulant free means there's zero risk of jitters and energy crashes. But Caffeine can improve your strength, endurance, focus and energy levels (which helps give you that 'push' when you're cutting calories).
For this reason, if we had to choose between a stimulant-free and stimulant fat burner, we would go with the fat burner that contained Caffeine everytime; this is because Caffeine helps keep your energy levels high while you cut carbs and calories from your diet – just make sure you're consuming under 100mg per serving to avoid jitters.
Still though, we respect that EVLution Nutrition have good intentions by making sure you stay safe.
---
LeanMode Fat Burner Review Conclusion
After analyzing the ingredients in LeanMode, it's definitely not the worst fat burner we've reviewed. However, it's not the best on the market either.
For this reason, we believe its 3 star rating is a very fair judgement. If this contained glucomannan and had an optimal dosage of Green Tea Extract inside, then it would've been placed in our top 3 fat burners list.
Ultimately, it's the little things that make the best supplements better than the others on the market. In an industry filled with countless gimmicks designed to take your money, LeanMode fat burner is a respectable product.
However, simply put, there are better alternatives available.
[wp-review]
Check Out The Best Fat Burners This Year!
Here's the best fat burners on the market for:
Faster Fat Loss
More Energy 
Suppressed Appetite
Raised Metabolism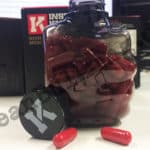 Click Here to See the Full List!