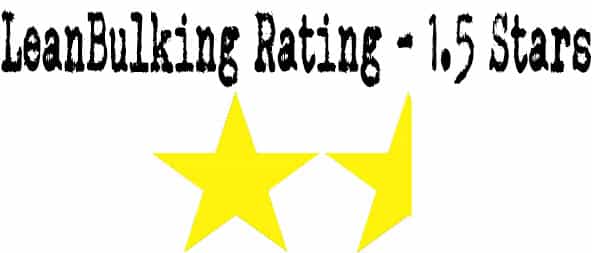 Pro's
L-Carnitine shown to reduce fatigue
L-Tyrosine can improve focus in the gym
Con's
Contains a high dosage of caffeine per capsule (120mg per capsule)
Synephrine is banned after causing harmful side effects (see side effects section for more info)
Choline known to cause side effects
Naringin not proven to be effective
Coffeeberry Coffee Fruit not proven to be more effective than Caffeine Anhydrous (don't fix something that's not broken)
---
---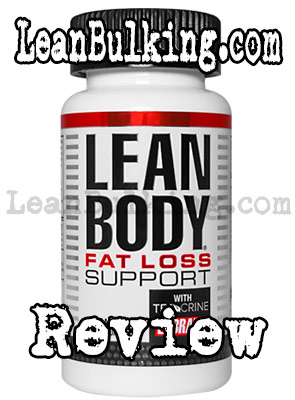 About The Product
Lean Body Fat Loss Support is a fat burner by IFBB Hall of Famer, Lee Labrada's company. It costs £39.99 and comes in 30 serving containers with a serving size of 2 capsules per day.
We prefer 3-4 capsule servings per day, so your body's always topped up with key nutrients needed to effectively burn fat.
Who are LABRADA Nutrition? 
As we've mentioned, LABADA was founded in 1995 by former IFBB Pro, Lee Labrada. This company markets a range of supplements  – from fat burners like this one, to protein powders (some of which are sponsored by female fitness icon, Jamie Eason).
However, you're here to learn more about Lean Body Fat Loss Support. So let's see which ingredients have been added in the section below….
---
Lean Body Fat Loss Support Ingredients Explained
Lean Body Fat Loss Support contains 8 main ingredients. However, straight away we have some bad news for you – Synephrine's been banned in numerous countries after causing harmful side effects, and Naringin hasn't been proven to work.
Not only that, we're disappointed to see that no tried-and-tested thermogenics (such as Green Tea Extract) have been added to this fat burner supplement. We believe that the addition of some ingredients would have helped make this a much better product worth trying.
Anyway, we don't want to seam like we're criticizing this product for no reason.
As a result, we'll take you through each ingredient inside this fat burner – so you know how good LABRADA's product really is.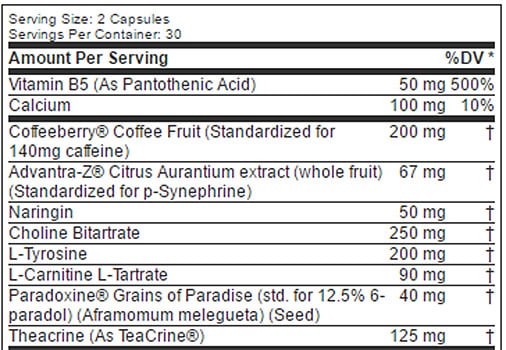 Here's Everything You Need To Know:
Coffee Fruit 
This is the fruit grown from the coffee beans that's claimed to contain 140mg Caffeine in Lean Body Fat Loss Support.
However, here's the problem: Coffee Fruit hasn't been researched much, making it unreliable. There's nothing wrong with having Caffeine Anhydrous (which is more commonly used in supplements), as it's proven to be both safe and reliable.
There's no need to try and fix something that's not broken. Call us old-fashioned, but we'd take Caffeine Anhydrous over Coffee Fruit any day.
Synephrine
Also known as Citrus Auranium or Bitter Orange Peel, this has shown to promote fat loss – but it's also been banned in numerous countries for causing harmful side effects (see side effects section for more info).
Naringin 
This is a fancy name for grapefruit. It's believed to promote fat loss, but there hasn't been enough studies on this ingredient to prove it does – making it an unreliable ingredient.
Choline Bitartrate
Choline is always the worst ingredient in any supplement, as it's not shown to provide any benefits. But it can cause fishy odors in your breath and sweat.
As a result, this is something that we try to avoid; we personally don't like smelling like salmon when lifting weights in the gym.
---

---
L-Tyrosine 
This has shown to improve your cognition, but it's more suited to a Nootropic supplement (as it's not shown to have any impact on body fat).
But even then, we are willing to consider L-Tyrosine as a great 'bonus' addition to this product.
L-Carnitine L-Tartrate
L-Carnitine is one of our favorite pre workout ingredients, as it's shown to reduce fatigue and improve focus in the gym.
However, we don't believe it's as effective in a fat burner – there are many better ingredients to have in here, but it's also not the worst ingredient in Lean Body Fat Loss Support either.
Grains of Paradise 
Also known as Aframomum melegueta, this is a spice that's found in West Africa. For this reason, we're guessing it's supposed to raise your metabolism like how Cayenne Pepper does.
But there's one big difference between this and Cayenne Pepper – Grains of Paradise hasn't been extensively researched, so it's simply not as reliable.
Again, call us old-fashioned, but we'll stick with what works instead of taking risks – especially when spending hard-earned cash.
Theacrine 
Theacrine is similar in structure to Caffeine and is also a stimulant. There's not been much research conducted on this ingredient, but early signs suggest that humans don't build a tolerance to Theacrine, which means it would be more powerful than Caffeine over long periods of time.
However, there's not enough evidence to prove this, or prove whether it's safe either.
---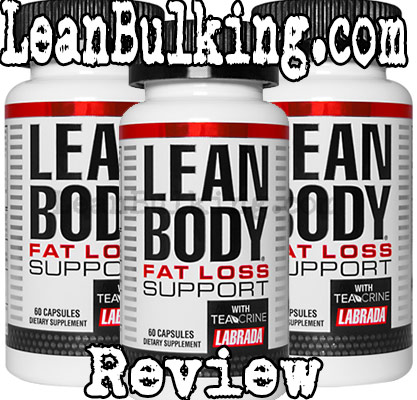 ---
Side Effects
There are 2 ingredients in Lean Body Fat Loss Support that have been reported to cause side effects – Synephrine and Choline.
However, there are ingredients in this fat burner that haven't been researched much (as of 2017), meaning no-one knows whether they're 100% safe (these are Theacrine, Coffee Fruit, and Grains of Paradise).
Here's the potential side effects from taking Lean Body Fat Mass Support: 
Nausea (Synephrine)
High Blood Pressure (Synephrine)
Rapid Heartbeat (Synephrine)
Fishy odors in breath and sweat (Choline)
---
Conclusion
We've given LABRADA supplements fat burner a 1.5 star rating.
This is because it's missing every key fat burning ingredient on the market (the ones that are proven to work without any side effects), and contains potentially harmful ingredients  – especially Synephrine which has been banned in numerous countries after causing dangerous side effects.
We don't want you to think we're being unreasonable though, We do respect that Labrada has tried adding unconventional ingredients such as Coffee Fruit instead of the usual Caffeine Anhydrous. However, ultimately, Caffeine Anhydrous has proven to be safe and effective for many years, so this is still our favorite and most reliable stimulant out there.
[wp-review]
Check Out The Best Fat Burners This Year!
Here's the best natural fat burners on the market for:
Faster Fat Loss
More Energy 
Suppressed Appetite
Raised Metabolism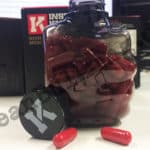 Click Here to See the Full List!