Pros
Zinc supports healthy testosterone levels
Ashwagandha can raise power output
Eurycoma Longifolia Root Extract can boost your libido
Cons
Missing key test boosting nutrients (eg. Vitamin D3)
Most ingredients don't have any impact on testosterone levels
Shilajit is banned in Canada and hasn't proven to raise T
---
---

About The Product
Ferodrox is a testosterone booster supplement made by Kaged Muscle, released in early 2018. It costs $59.99 for 30 serving containers, with a serving size of 2 capsules daily.
We personally prefer supplements that come with a 3-4 capsule serving size; this has shown to keep your body fuelled in T-Boosting mode in studies. But we also recognize that some people don't like swallowing capsules and prefer to consume less.
Anyway, from first glance, Kaged Muscle's Ferodrox looks like a very respectable testosterone booster. We're especially glad that none of its ingredients are hidden in any proprietary blends, and that it's not loaded with many unnecessary nutrients.
We'll expand on this as we analyze Ferdrox's nutrient profile for you in the next section. But first, we'll tell you more about the company behind it.
Who is Kaged Muscle? 
Kaged Muscle is a USA-based supplements company that's heavily promoted by CEO, Kris Genthin (previously the Editor-In-Chief of Bodybuilding.com).
They've produced some very high-quality supplements, with their pre-workout called Pre-Kaged being listed on our highest rated pre-workout rankings. So we're big fans of this company ourselves.
As well as being fronted by Kris Gethin, Kaged Muscle also sponsor high-level athletes including; Neil Hill, Fouad Abiad and Tawna Eubanks.
But you're here to learn more about Kaged Muscle's testosterone booster, Ferodrox. So let's see which ingredients have been added in the section below…
---
Ferodrox Ingredients Explained
Ferodrox contains 6 ingredients overall, which is a great number to have in a supplement; from personal experience, we've found that products with more than 10 nutrients are often under-dosed.
We're also very happy to see that there are no proprietary blends in Ferodrox, so you can see the exact dosages of each ingredient in this testosterone booster. This is great, as we can really analyze how good this product is (as the ingredients of products are like the engine of a car).
From first impressions, the outside of Ferodrox looks very shiny and impressive. But we'll take a look to see whether it's packing a tiny 1.0-liter engine or a v8 under the hood.
To do this, we'll take you through each ingredient Ferodrox. By the end of this review, you'll have a good idea of how safe and effective this testosterone booster really is.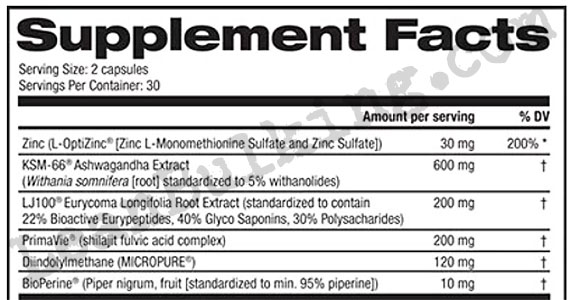 Here's Everything You Need To Know:
Zinc 
In case you don't know, Zinc is an essential mineral that plays an important role in sustaining your general health. But more importantly, it's shown to help support healthy testosterone levels in men.
For this reason, it's a 'no-brainer' to add to a natural testosterone booster like Ferodrox.
It's been dosed at 30mg per serving here, which is a good amount. However, one small warning we would give is to try and stay away from other supplements containing Zinc; this is because the TUL (tolerable upper level) for Zinc has proven to be 40mg before side effects.
But all-in-all, Kaged Muscle have dosed Zinc very well here. Good start for Ferodrox!
Ashwagandha Extract
Ashwagandha is a herb that's been used in Ayurvedic (Traditional Indian Medicine) for decades. It was once thought to improve your testosterone levels, but modern studies have shown that it's not capable of delivering this benefit.
That doesn't mean it's useless though; Ashwagandha has shown to have a positive effect on your power output in the gym. So we feel that it's more beneficial when added to pre-workout supplements.
But in our honest opinion, we would have preferred to see something tried-and-tested to boost your T levels, such as Vitamin D3 instead. With that being said, we do still consider Ashwagandha Extract to be a great 'bonus' addition to Ferodrox here.
Eurycoma Longifolia Extract 
Also known as Tongkat Ali & Longjack, this is another herb that's been used in Ayurvedic medicine for a very long time.
Again, it was once believed to raise T levels, but there simply isn't enough studies proving that it works to make it reliable (in our honest opinion). But the good news is that Eurycoma Longifolia Extract has shown to help boost libido.
For this reason, while it might not have any effect on your testosterone levels, a rise in libido is certainly positive. Although we w0uld have personally preferred to see something proven to boost your T, such as Vitamin D3 instead.
---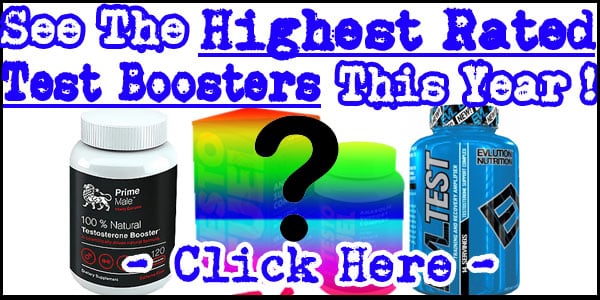 ---
PrimaVie 
This is a patented form of Shilajit, which is a fairly recently discovered mix of minerals. But the bad news is that it's hard to determine the exact amounts of minerals in Shilajit, which is the reason why it's been banned in Canada.
Not only that, Shilajit has only shown to reliably boost testosterone levels in infertile men. We couldn't determine whether it had the same effects on fertile men, so in our honest opinion, this isn't a reliable nutrient to add to a T-Booster supplement.
There will most likely be many more studies conducted on Shilajit's relationship to testosterone, so we'll keep you updated if there are any breakthroughs.
Diindolylmethane 
Also known simply as 'DIM', this is known for its ability to prevent testosterone from converting into estrogen (due to being an antiaromatase inhibitor).
In terms of its effects on T, DIM hasn't shown to raise your testosterone levels. Not only that, you won't be in any danger of your T converting into estrogen unless you inject yourself with more hardcore drugs.
The benefit of natural testosterone boosters such as Ferodrox is that there's no risk of side effects like gynecomastia (man boobs). So we don't believe that there's any need for antiaromatase inhibitors such as DIM, in our honest opinion.
BioPerine 
You're probably wondering what this is. Well, it's also known as Black Pepper Extract as it's literally extracted from the same black pepper that you add to your food.
Why? Well, Black Pepper Extract contains piperine, which has proven to improve your digestion and the absorption rates of other ingredients that its consumed alongside.
For this reason, we don't consider Black Pepper Extract to be a key addition to any test booster. But as it's able to improve the overall absorption of supplements, we consider it to be a useful 'bonus' to any product.
---

---
Side Effects
The good news is that Kaged Muscle's Ferodrox isn't likely to cause any side effects and doesn't contain any harmful nutrients.
But one thing we will point out is that you shouldn't consume any other supplements containing high amounts of Zinc; as Ferodrox contains 30mg Zinc, consuming more than 10mg in other sources puts you past Zinc's tolerable upper limit and at risk of side effects.
As we mentioned though, you shouldn't be at direct risk simply from taking Kaged Muscle's test booster, Ferodrox by itself.
---
Ferodrox Review Conclusion
We had great first impressions of Ferodrox after glancing at its container and ingredients. And after analyzed everything, we believe that it's a very respectable addition to both Kaged Muscle's line-up and the testosterone booster supplement market.
We're especially glad that none of Ferodrox's ingredients have been hidden in any proprietary blends and that there are no potentially harmful nutrients added to it.
However, one slight criticism we'll make is that it lacks tried-and-trusted ingredients that have proven to boost your test levels, such as Vitamin D3. So in our personal opinion, Pre-Kaged (their pre-workout supplement) remains our favorite Kaged Muscle product in their line-up.
[wp-review]
See The Best Test Boosters This Year!
Here are the best natural testosterone boosters on the market for:
Faster Muscle Gains
Quicker Recovery Time
Decreased Belly Fat
Enhanced Energy & Sex Drive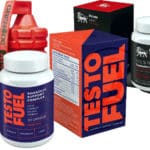 Click Here to See the Full List!