Pros
D-Aspartic Acid proven to boost testosterone levels
Bioperine can improve absorption of supplements
Bulbine Natalensis might raise T levels
Cons
Bulbine Natalensis also shown to potentially cause liver damage
Tribulus Terrestris might increase risk of enlarged prostate
Missing key T-Boosting nutrients (eg. Vitamin D3)
---
---

About The Product
Alpha Test Boost is a testosterone booster by ImSoAlpha. It costs $62.95 for 30 serving containers, offering 4 capsule servings per day; this is the perfect number of daily capsules to keep your body fuelled in T-Boosting mode, so great job by ImSoAlpha here.
From first impressions, we're happy to see that Alpha Test Boost contains D-Aspartic Acid, which is a key test boosting nutrient proven to work. However, we're not as convinced by Bulbine Natalensis, among others.
We'll expand on this as we analyze Alpha Test Boost's nutrient profile in the next section. But first, we'll tell you more about the company behind it.
Who is ImSoAlpha? 
ImSoAlpha is a USA-based supplements company founded by boxer and bodybuilder, Mike Rashid.
We're not sure how long this company has been around for, but we're aware that Alpha Test Boost was released in early 2018. As ImSoAlpha is run by online bodybuilding sensation turned boxer, it's only natural that the brand will gain popularity.
So we're interested in seeing how safe and effective Alpha Test Boost is – and whether it can compete with the highest rated testosterone boosters on the market. So let's see which ingredients have been added below…
---
Alpha Test Boost Ingredients Explained
Alpha Test Boost contains 5 ingredients overall, which is a great number to have in a supplement; we always find that products containing over 10 are usually under-dosed, so we'll be keeping a close eye on Alpha Test Boost's dosages.
As we mentioned at the start of this review, our first impressions of Alpha Test Boost are positive. We're especially happy to see a key T-Boosting nutrient, D-Aspartic Acid has been included in an optimal dosage.
However, it's not all good news. We're not fans of Tribulus Terrestris and Bulbine Natalensis is known to be quite an unreliable ingredient.
Anyway, we'll take you through each ingredient in Alpha Test Boost. By the end of this review, you'll have a good idea of how safe and effective this testosterone booster really is.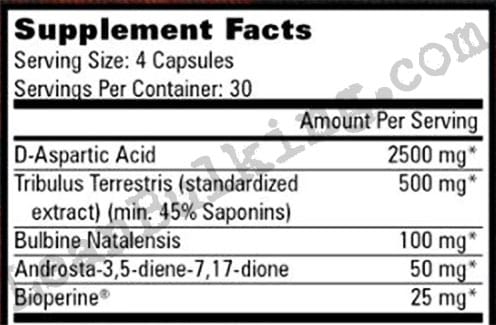 Here's Everything You Need To Know:
D-Aspartic Acid 
D-Aspartic Acid is something that we look for in every testosterone booster we analyze. This is because studies have shown that it's able to raise your test levels when consumed in the right dosage (between 2,000mg-3,000mg).
But we will warn that consuming over 3,000mg per day has shown to be unreliable and potentially cause the opposite effect.
The good news is that Alpha Test Boost contains a clinical 2,500mg D-Aspartic Acid, which is an optimal dosage. So great start by ImSoAlpha here!
Tribulus Terrestris 
Tribulus Terrestris is definitely one of the better-known ingredients. It's been used for decades in Ayurveda (Traditional Indian Medicine) and has shown to potentially raise your libido.
However, the bad news is that studies show that Tribulus Terrestris isn't able to boost your testosterone levels.
Not only that, this herb has also shown to be capable of causing prostate enlargement in some studies. This is a side effect that could lead to serious male health issues, so we personally try to avoid this ingredient when looking for T-Booster supplements.
We would have much preferred to see something tried-and-tested (and safer) such as Fenugreek Seed Extract; this is another ayurvedic herb but has shown to be reliable in countless studies.
---
---
Bulbine Natalensis 
In case you're wondering, Bulbine Natalensis is a herb that's native to Africa (Southern and South East Africa). It's known to have been used in traditional medicine as a libido enhancer, which is why modern research has begun trying to determine its effectiveness at raising test levels in humans.
But as of this year, Bulbine Natalensis hasn't been proven to be 100% reliable; this is because there haven't been enough studies to come to a conclusion, and there haven't been any clinical human studies at all.
So simply put, all successful studies involving Bulbine Natalensis have been conducted on rats. Not only that, this herb has shown to potentially cause liver and kidney damage, which is the reason why we personally try to avoid it.
If you're interested in seeing the study suggesting that Bulbine Natalensis might cause liver and kidney damage, you can see it here: https://www.ncbi.nlm.nih.gov/pubmed/19735182
Another issue is that the studies involving rats show that a 150lb person would need 550mg Bulbine Natalensis for it to work anyway. And there is only a tiny 100mg dosage in Alpha Test Boost, so it's not likely to work regardless.
So if you really are sold on Bulbine Natalensis, we would suggest looking for dosages upwards of 550mg. Personally, we believe that Vitamin D3 would have been a much better and reliable option in Alpha Test Boost (in our honest opinion).
Androsta-3, 5-diene-7, 17-dione
You might be confused by the scientific, chemical name of this ingredient. But you might understand it easier once we tell you that it's simply an anti-aromatase (aromatase inhibitor) that's been used to treat breast cancer in women.
So basically, Androsta-3, 5-diene-7, 17-dione has been added to try and stop you from suffering gynecomastia (man boobs). But the issue is that you'll never be at risk from man boobs with any natural testosterone booster supplement.
For this reason, we're not convinced that this nutrient is necessary in Alpha Test Boost. We would have much preferred to have seen something proven to raise T levels, such as Vitamin D3.
Bioperine 
Bioperine is a patented form of Black Pepper Extract. Yes, the same stuff that you sprinkle onto your food to enhance its taste.
But it's more useful than that; black pepper contains a molecule called piperine, which has shown to improve your digestion, as well as the absorption rates of supplements.
The slightly bad news is that Black Pepper Extract doesn't have any effect on testosterone levels. So while it's a useful 'bonus' addition to any product, it'll never 'make or break' a supplement.
---

---
Side Effects
As we've mentioned in the ingredients section above, there are a few ingredients in Alpha Test Boost that can cause some trouble. So in case you skimmed past, we'll give you a quick summary below…
Basically, Tribulus Terrestris is suggested to potentially cause prostate enlargement, which is a side effect that should be avoided at all costs. Also, Bulbine Natalensis has shown to be capable of causing liver and kidney in a study, which is also worrying.
Here are the potential side effects of taking Alpha Test Boost: 
Prostate Enlargement (Tribulus Terrestris)
Liver and Kidney Damage (Bulbine Natalensis)
---
Alpha Test Boost Review Conclusion
After analyzing Alpha Test Boost, it's clear to see that it's a very respectable testosterone booster supplement. Our favorite things about it are that it contains D-Aspartic Acid, and ImSoAlpha hasn't stuck with conventional ingredients and gone for less known nutrients instead (such as Bulbine Natalensis).
Of course, adding lesser-known ingredients also comes with unreliability; nutrients that have been commonly used for longer are much more reliable, as they've been tried-and-tested for years.
Our main concern with Alpha Test Boost is that 2 of its ingredients can potentially cause side effects (Tribulus Terrestris and Bulbine Natalensis). But again, we'll repeat that this is a respectable addition to the market.
[wp-review]
See The Best Test Boosters This Year!
Here are the best natural testosterone boosters on the market for:
Faster Muscle Gains
Quicker Recovery Time
Decreased Belly Fat
Enhanced Energy & Sex Drive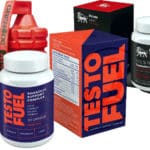 Click Here to See the Full List!