Pros
Fewer hunger cravings between meals – Hourglass contains an optimal dosage of Glucomannan, so you can reduce your calorie intake easier, making your fat burning journey more enjoyable.
Burn fat at an accelerated rate – This fat burner helps you tone up to attain your ideal shape and body weight faster than before.
Steady energy levels, even on a low calorie & carb diet – With sensible dosages of safe stimulants, you'll feel much less fatigued than normal while dieting.
Turn that frown upside down! – Vitamin D3 in Hourglass helps improve your mood, and you'll feel much better knowing your hard work actually results in reduced fat around your waist, thighs, and arms.
No pink 'girly' packaging – We hate when companies add some pink to their products and say it's for women. So we're glad Hourglass hasn't taken the same route!
Cons
It's aimed at women

– We prefer supplements that aren't targeted at a certain gender, but Hourglass is the best of the 'female only' fat burners.

Quite expensive

– At $50 per bottle, Hourglass isn't cheap. But we'd rather pay extra for natural, safe ingredients and not suffer any side effects!

We would prefer free shipping with 1 bottle

– We accept nothing comes free in life, but it would be an added bonus for 1 bottle orders to come with free delivery (although you do get free delivery with the 'perfect deal' package).
---
 See The Best Deals For
Hourglass Fat Burner At
»HourglassFit.com«
---
About Hourglass Fat Burner
Hourglass is a fat burner that was released in mid-2018 by Propura. In case you don't know, Propura is a very respected supplement company that's been endorsed by the likes of Dolph Lundgren. We're still waiting to see which female Hollywood Star they bring on-board to show-off this new Hourglass product, though.
Anyway, let's get-back-on-track. Hourglass costs $50 per bottle containing 30 servings, so it's a premium product – and the 'hourglass' shaped bottle certainly looks attractive to buy.
Not much is known about this fat burner, but it only took about 2 months on the market to gain great reviews. So as we needed to shift some weight and tone-up our booty, we thought that we'd give Hourglass fat burner a twirl.
We'll take you through the main aspects that we liked about this product from first impressions:
No Pink Packaging!
We're really big fans of the packaging. The container is hourglass shaped, and it really is these small details that make a difference in an industry filled with generic bottles.
Also, most companies simply cover their 'female only' fat burners with pink to try and target women into buying it. So we're glad that Propura hasn't taken this route, because the white and yellow combo looks totally sexy without being sexist!
I mean, in an age where us, females, are squatting more than most guys, we don't need pink to define our gender anymore…although we do like pink clothes and lipstick to be fair…you get the point, ladies.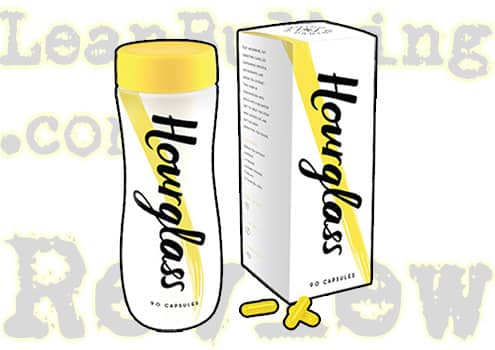 No Bullsh*t! 
One of the worst things about the supplements industry is all the smelly poo-poo coming from companies. There are SOOO MANY companies out there that lie to you, telling you that you can achieve your dream figure in like 2 days.
But let's be honest, it'll take a bloody miracle to remove the damage done from me stuffing my face with cookies during the off-season in 2 days. 8 weeks is a more realistic figure for me personally (it might be longer or shorter for you, depending on where you're starting from).
You can see on Hourglass's website that there hasn't been any bullsh*t to try and sell more products too. Here's a snippet below: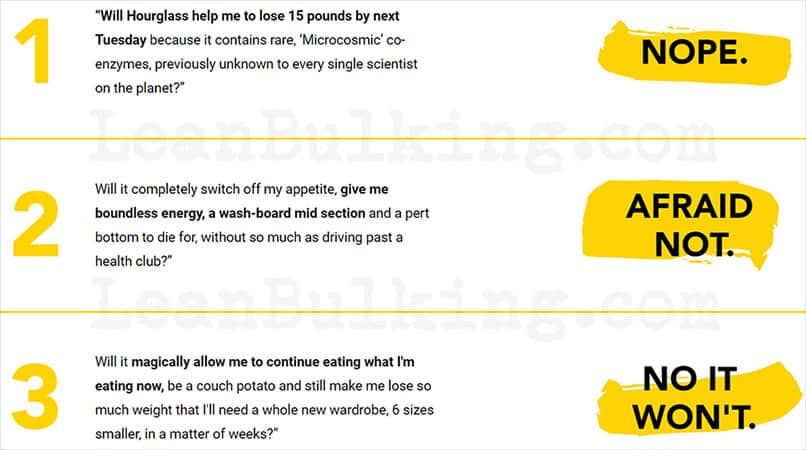 No Risks With Hourglass's 60-Day Guarantee! 
Whenever I buy a product, I always love having a money-back guarantee. It's always great to know that you can get cash back for that handbag if it falls apart – right, ladies?!
Well, we've found that the best companies show confidence in the quality of their supplements by providing a guarantee. And with Hourglass, you get a full 60-days; 2 months is more than enough time to see whether it actually works or not.
In fact, this 60-Day Guarantee played a big role in our decision to try Hourglass fat burner. We won't say too much so early in this review, but let's just say that Hourglass is like a tub of chocolate-chip-cookie ice cream…no guarantee needed.
Great Choice of Ingredients & No Proprietary Blends!
The amount of fat burners that we see containing potentially harmful ingredients is crazy. So it's great to see that Propura has done some research and only added tried-and-tested nutrients.
Most 'female only' fat burners contain Raspberry Ketones and other bullsh*t ingredients that had a moment in the spotlight. But the media didn't reveal that Raspberry Ketones didn't prove itself to work in scientific or human studies…
Ultimately, Hourglass contains some of our favorite ingredients that are found in our all-round favorite fat burner, Instant Knockout (that my male colleague reviewed, and is endorsed by the 'Queen of Workouts', Alexia Clark).
So Propura has done very well indeed. In fact, if Hourglass wasn't gender specific, we would have actually given it the full 5-star rating.
Anyway, we'll expand on this by analyzing the nutrient profile for Hourglass in the section below.
---
 See The Best Deals For
Hourglass Fat Burner At
»HourglassFit.com«
---
Hourglass Fat Burner Ingredients Explained
The ingredients inside a supplement are really what makes the difference and determines whether it has that 'WOW Factor'.
Either you're going to get a Christina Aguilera, or you're going to get a Rebecca Black. So you can see why we always analyze what's been added to fat burners before trying them – while we 'gotta get down on Friday', we don't enjoy that dreadful song.
Ultimately, 'You Are Beautiful' is an absolute classic. And we're happy to say our first impressions of Hourglass fat burner definitely sways it more towards bae – Chrissy Aguilera.
No harmful ingredients or overloads of stimulants 
One thing that we always avoid is consuming large dosages of stimulants at once. You've probably had one-cup-too-many of coffee during a tough day, so you'll know that masses of caffeine (or other stimulants) causes jittery side effects.
The good news is that Hourglass fat burner doesn't contain any crazy dosages. Instead, Propura has added a very sensible 100mg dosage of Guarana – so you stay safe.
We're also very happy to see that harmful nutrients, such as Yohimbe Bark Extract or Bitter Orange Extract, haven't been added to Hourglass. So first impressions are great.
Anyway, so you can get a bigger taste of what Hourglass is like, we'll take you through each ingredient in Hourglass fat burner. By the end of this review, you'll have a good idea of how safe and effective this product really is.
Here's Everything You Need To Know About Hourglass's Ingredients:
Vitamin D3 – 1000IU
Have you ever wondered why you're happier in the sun? It's because your skin is exposed to sunlight, which your body uses to create Vitamin D with.
In a nutshell, increased levels of Vitamin D = improved mood and better health. This nutrient can even help raise your testosterone levels to a healthy level; this can provide all kinds of benefits, such as helping to regulate your menstrual cycles, to helping you lose body fat faster too – without making you grow a mustache…
Let's get back to the point. Vitamin D3 isn't a key addition to fat burner supplements. It's much more effective in testosterone boosters, but to be fair, there have been studies showing that Vitamin D3 can promote fat loss – so no arguments from us.
Glucomannan 
For us, this is really the key player in Hourglass. Glucomannan is the Beyonce in the Destiny's Child here.
Why? Well, most fat burners don't contain Glucomannan, so it really helps a product stand out. Also, it's the most effective ingredient for reducing hunger cravings.
How does it work? Glucomannan is a fiber that safely expands in your stomach after consumption, helping you feel full for longer – without making you bloated.
Ultimately, fewer hunger cravings mean you'll snack less and stay away from your favorite candy bars. That leads to a reduced calorie intake, helping you lose fat around unwanted areas faster.
So, all the single ladies, if you like it then you should put Glucomannan on it (we admit that was a terrible joke).
Capsimax – 100mg
In case you're unaware, Capsimax is a patented form of concentrated capsaicin (this is what gives chili peppers their 'spice').
Basically, capsaicinoids are one of the best thermogenic nutrients available. No-one can deny that it can raise your body temperature and make you sweat – try eating a hot chili pepper if you disagree…
It's actually the boost in body temperature that boosts your metabolism; your body has to work harder to regulate its temperature to cool itself back down, resulting in your body burning more calories in the process.
In fact, a study concluded that consuming at least 2.56mg capsaicin per meal promotes fat loss. As Hourglass contains 100mg split into 4 servings, you're getting more than enough capsaicin to help you tone-up.
If you really don't believe me, you can see this study and scroll down to its conclusion: https://www.ncbi.nlm.nih.gov/pmc/articles/PMC3699483/
For this reason, Capsimax is a great addition to any fat burner supplement. But in all honesty, it doesn't matter whether a chili pepper extract is patented under a brand name or not, it's going to do the same thing (in our honest opinion).
---
 See The Best Deals For
Hourglass Fat Burner At
»HourglassFit.com«
---
Green Tea Extract – 500mg 
Green Tea Extract is another tried-and-tested thermogenic nutrient that you can't argue against. Even those that know nothing about nutrition know that green tea is 'good for you'. It's just something that's accepted because it's true.
So how does it work? Well, Green Tea Extract contains high amounts of catechins, which has proven to promote fat loss. You can see this study if you don't believe us: https://www.ncbi.nlm.nih.gov/pubmed/15640470
The study above showed that 690mg dosages of green tea catechins are effective at helping you lose fat. But in fairness to Proprura, other studies have shown that 500mg is enough to boost your chances of slimming down. So good job here.
Guarana Seed Extract – 100mg 
Guarana Seed Extract contains concentrated amounts of a stimulant that's very similar to caffeine in its effects. So the bottom line is that it's able to raise your energy levels.
So why is this useful? Well, we consider caffeine or Guarana Seed Extract to be a key addition to any fat burner; they keep you energized while you cut calories and carbs when you'd otherwise be very lethargic and tired all-the-time.
We're going to be completely honest here. We prefer Caffeine Anhydrous over this stimulant in Hourglass, mainly because we like to stick to what we know.
However, the good news is that the dosage of Guarana Seed Extract in Hourglass is very, very safe. So it won't make you feel jittery and I wouldn't feel uncomfortable consuming it.
Ultimately, we're glad that Propura hasn't made the classic mistake of adding both Caffeine Anhydrous & Guarana Seed Extract. There's no need to add more than 1, so full-points to Propura here.
You might even be able to enjoy your morning coffee while being safe from jitters with Hourglass. That's how sensible the dosage is here.
The 'Bonus' Ingredients: Vitamin B12 (10mcg), Chromium (125mcg), and Bioperine (5mg)
Right, so you might be wondering why we've listed these three ingredients as 'bonus'. Well, this is because they're not main features of Hourglass or any fat burner, but they are useful.
To quickly summarise, Vitamin B12 can improve your general health and encourage your body to create energy from dietary fat that you consume. But in all honesty, you can find Vitamin B12 in almost every multi-vitamin, so it's not going to cost companies much to add it.
Chromium can help prevent insulin spikes from carbs, which will keep you on-track to fat burning success. But it's naturally found in green vegetables such as broccoli, so that's why we consider this to be a 'bonus' – you should be eating your greens anyway!
Bioperine is a patented form of Black Pepper Extract; it contains concentrated amounts of piperine, which improves the overall absorption rate of supplements but doesn't directly promote fat loss.
So as you can see, all 3 of these ingredients are very useful. But they're not the Beyonce in Destiny's Child. They're more like Destiny Child's hit single, 'bootilicious' – still a great classic.
---

---
Hourglass Fat Burner Side Effects
One of the best features of Hourglass fat burner is that it doesn't contain any potentially harmful ingredients.
We're glad that Propura added a very sensible 100mg dosage of Guarana Seed Extract. So you won't be at risk of jitters, unless you drink tons of coffee while taking this fat burner for women.
Apart from that, we really don't have any issues in terms of side effects here.
---
Hourglass Fat Burner Best Deal
When looking at buying any product, you want to ensure that you're getting the best deal possible. No-one wants to buy something at full-price when there's a sale going-on elsewhere, right ladies?!
Well, Propura has made sure that the official Hourglass website (www.hourglassfit.com) is the only place to buy this fat burner. So that means no retailers, or any other site will sell this for cheaper.
Best Hourglass Fat Burner Deal: The 'Perfect Deal' Package 
Usually, 1 bottle of Hourglass fat burner will cost you $50. You'll also have to pay for shipping on top of that, making it around $60 for one bottle – not ideal.
However, we saw that there is a 'perfect deal' package that is much better value for money; this includes 4 bottles AND free shipping for $150, meaning each bottle costs $37.50.
For this reason, we believe that this is the best deal available. Don't forget you'll qualify for the 60-day guarantee too, so there's very little risk when spending the big $150 too.
And let's face it, we personally don't put a price on looking great in our favorite bikini on the beach!
---
Hourglass Fat Burner Review Conclusion
It's about time that I found a 'female only' fat burner that wasn't complete trash. Honestly, we've gone through tons of them that are covered in pink with no other real benefit to them.
That doesn't mean that I'm convinced that 'female only' fat burners are necessary though. To be honest, there's no reason to suggest that Hourglass fat burner won't be just as effective for men.
But if you do want a more 'feminine' product that really is likely to help you achieve the bikini beach body you've always wanted, then Hourglass isn't a bad choice.
Ultimately, that is the reason why we've given this 4.5 stars; if Hourglass wasn't just targeted at females, then it would have been 5 stars, without a doubt.
[wp-review]