Pro's
Caffeine can be a key pre-workout ingredient
Taurine shown to reduce cramping
Beta-Alanine can improve muscular endurance
Con's
HUGE dosage of caffeine (over 200mg per serving) can cause jitters or energy crashes
Beta-Alanine causes paresthesia (see side effects section for more info)
Contains a proprietary blend
Missing key pre-workout ingredients
Not good value for money
---
---

About The Product
Enter With Purpose (EWP) is a pre-workout supplement made by Run Everything Labs. It costs $39.99 on their website, for 30 serving containers in a choice of 4 flavors – Summer Crush, Watermelon, Cherry, or Grape.
Who are Run Everything Labs? 
Run Everything Labs are a supplements company founded by female bodybuilding icon, Dana Linn Bailey and Rob Bailey. They aim to market the best products, on the market – but we weren't really impressed by their fat burner called DTE Destroy The Enemy.
Enter With Purpose (EWP) sounds like a tasty pre-workout, so let's take a look at what's inside – because that's what counts in supplements.
---
Enter With Purpose Ingredients Explained
A supplement's ingredients are it's most important features – simply put, the best products contain the best ingredients in optimal dosages.
For this reason, we'll take you through each ingredient – to show you how good Enter With Purpose (EWP) really is.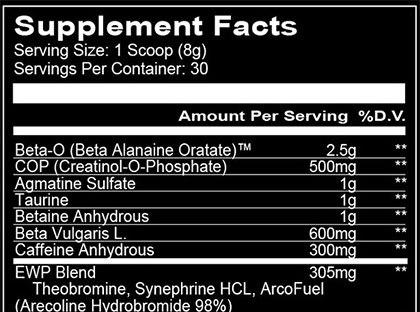 Here's Everything You Need To Know:
Beta-Alanine Oratate 
This is simply Beta-Alanine bonded to an Orotate molecule. This is believed to improve muscular endurance, but causes a side effect called paresthesia (see side effects section for more info).
Creatinol-O-Phosphate (COP) 
This is a synthetic form of creatine that's most effective when injected – this should set off alarm bells.
The bad news is, COP might not be effective when orally supplemented (studies are still being conducted to prove whether it is). For this reason, we prefer Creatine Monohydrate (which is the best and most reliable form of creatine that's been used since the 1990's).
Agmatine Sulfate 
Agmatine is extracted from L-Arginine and has shown to reduce pain and treat drug addiction. However, it's not been proven to benefit your gym session.
Here's why: Arginine has a poor absorption rate, meaning it's ineffective when orally supplemented. For this reason, Citrulline Malate is the best ingredient for pre-workout supplements (as it converts into Arginine in your kidneys, and also has a great absorption rate).
Taurine 
There's nothing bad about Taurine, but it's also not the most beneficial ingredient either. Basically, it's shown to reduce cramping when orally supplemented.
However, some believe that it boosts energy levels as it's found in energy drinks such as Red Bull. Unfortunately, Taurine has no effect on your energy levels, and can actually have the opposite effect by helping you to relax.
---

---
Betaine Anhydrous 
Betaine is one of the worst ingredients you can find in a pre-workout. Simply put, it hasn't shown to deliver any benefits – but it causes fishy odors in your breath and sweat.
Beta Valgaris 
Also known as Red Beetroot Powder, this is a great pre-workout ingredient. Basically, it contains high amounts of nitrates, which improves your blood flow and enhances muscle pumps in the gym.
Caffeine
Caffeine is our favorite stimulant in any supplement, especially in pre-workouts and fat burners. It's proven to enhance your strength, endurance, and focus in the gym – all great benefits to improve your exercise sessions.
However, one thing you have to watch out for, is the overall dosage of caffeine in pre-workouts. Simply put, Caffeine dosages over 200mg per serving can cause jitters and energy crashes, which will ruin your gym session.
As a result, we always make sure to consume between under 200mg Caffeine per serving in a pre-workout – to experience benefits without any side effects.
---

---
Side Effects
There are 2 ingredients in Enter With Purpose (EWP) that consistently cause side effects – Beta-Alanine and Betaine.
But that's not all. Although Caffeine is one of our favorite pre-workout ingredients when dosed under 200mg per serving, Enter With Purpose contains 300mg – this can cause jitters or energy crashes, especially to those sensitive to this stimulant.
Here's the potential side effects from taking Enter With Purpose: 
Paresthesia – tingling on the skin of your face and body (Beta-Alanine)
Fishy odors in your breath and sweat (Betaine)
Jitters (Caffeine dosages over 200mg per serving)
Energy Crashes (Caffeine dosages over 200mg per serving)
---
Enter With Purpose Review Conclusion
Enter With Purpose (EWP) has a very interesting ingredient list. After analyzing it, we believe that Run Everything Labs has tried to add 'newer' ingredients, but this is a problem – ingredients such as Creatinol-O-Phosphate aren't well researched, meaning they're unreliable.
For this reason, we prefer the tried-and-trusted ingredients such as Creatine Monohydrate (which has been used by bodybuilders since the 1990's). There are better pre-workouts for you to choose from, so we believe a star 2 rating is a fair judgement of Enter With Purpose (EWP).
Check Out The Best Pre-Workouts This Year!
Here's the best natural pre-workouts on the market for:
Energy Boosts 
Enhanced Strength & Endurance 
Increased Focus
Skin-Splitting Muscle Pumps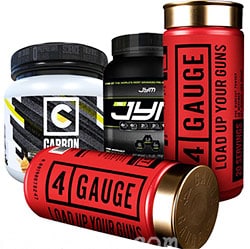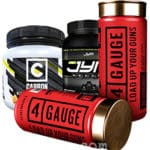 Click Here to See the Full List!