Pros
Tumeric (Curcuma Longa) can boost your metabolism
Curry Leaf Extract (Murraya Koenigii) might help keep blood sugar levels stable
Cons
Missing every key fat burning nutrient (eg. Green Tea Extract)
No ingredients to suppress your appetite
Only contains 3 ingredients overall
Every nutrient is part of a proprietary blend
Not good value for money, in our honest opinion
---
---

About The Product
Slimvance Non-Stim is a stimulant free 'core slimming complex' fat burner made by BodyDynamix. It costs $59.99 for 60 serving containers, which might seem great at first, but only offers 1 capsule serving per day.
Why is this bad? Well, studies have shown that 3-4 capsule servings keep your body fuelled in fat burning mode for longer. So we would have liked Slimvance Non-Stim to have offered more capsule servings daily.
Apart from that, we're glad that there are no potentially harmful ingredients in Slimvance Non-Stim. We'll expand on this when we analyze this fat burner's nutrient profile in the next section, but first we'll tell you more about the company behind it.
Who are BodyDynamix? 
We couldn't find any website associated with BodyDynamix, but we do know that this brand sells numerous supplements on GNC.com. For this reason, we believe that it might be GNC's own brand, although we can't confirm this.
This brand is gaining popularity after being promoted on GNC.com, with the stimulant version (which contains Caffeine) of this fat burner called Slimvance being one of their best sellers.
However, you're here to learn more about Slimvance Non-Stim. So let's see which ingredients have been added below…
---
Slimvance Non-Stim Ingredients Explained
We don't mind when companies don't add many ingredients into their supplements. In fact, we'd rather companies added under 10 nutrients and optimally dosed them.
But only having 3 ingredients in a fat burner priced $59.99 doesn't offer great value for money, in our honest opinion. Especially when there have been no key thermogenic nutrients such as Green Tea Extract or Green Coffee Bean Extract included.
Another negative is that all 3 ingredients in Slimvance Non-Stim have been added to a proprietary blend (we'll expand on this below).
PROPRIETARY BLEND WARNING…
Proprietary blends are mixtures of numerous ingredients that're only shown to you as 1 quantity. As you can see from the 'Slimvance Patented Blend' on this fat burner's ingredients list, the overall amount is 450mg – but you're not shown the dosages of each ingredient inside such as Curcuma Longa Root Extract.
This increases your risk of side effects, and also makes it uncertain whether Slimvance Non-Stim will work. For this reason, we try to avoid any supplement that contains proprietary blends.
So now you also know that the overall amount of ingredients in Slimvance Non-Stim is 450mg; to put into perspective how small this is, the optimal dosage for Green Tea Extract is 500mg on its own (although it's not included in here). Ultimately, 450mg of 3 ingredients together isn't going to deliver $59.99 worth of results, in our honest opinion.
Anyway, we'll explain more as we take you through each ingredient in Slimvance Non-Stim. By the end of this review, you'll have a good idea of how safe and effective this fat burner really is.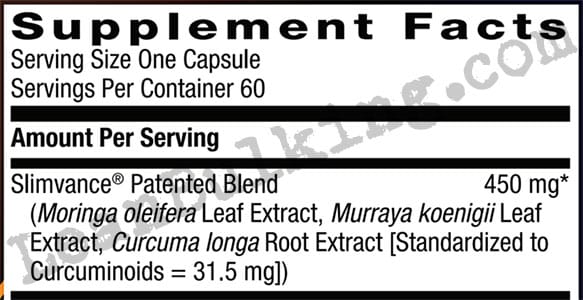 Here's Everything You Need To Know:
Moringa Oleifera Leaf Extract 
In case you're unaware, the Moringa Oleifera is a tree that's also known as the 'tree of life'; this is because it's able to survive in harsh, drought conditions and offers edible vegetables.
More relevant to this ingredient, the leaves of the Moringa Oleifera tree have a history of being used as medicine. It's believed to help keep your blood levels stable, which would be beneficial for diabetics.
However, the bad news is that there have been no successful human studies conducted. As a result, we consider this to be an unreliable addition to Slimvance Non-Stim here.
Ultimately, we would have preferred to see something tried-and-tested to promote fat loss instead, such as Green Tea Extract.
Murraya Koenigii Leaf Extract 
More commonly known as 'Curry Leaf', this is known for being used in Indian cooking.
So why has it been included in Slimvance Non-Stim? Well, like Moringa Oleifera Leaf Extract, Curry Leaf is also believed to help keep your blood sugar levels stable.
But we have the same problem again; there are no human studies that prove whether Murraya Koenigii Leaf Extract is able to help you burn fat.
For this reason, we have to also consider Murraya Koenigii Leaf Extract to be an unreliable addition to Slimvance Non-Stim.
Curcuma Longa Root Extract
While you might not know this ingredient by this official name, you'll recognize when it by it's more common name – Tumeric Root Extract.
Just in case you're still unaware, Tumeric Root is also used in Indian cooking to color and enhance flavor; it gives foods a distinct orange color that you simply can't miss in curries.
It's mainly known to be an anti-inflammatory, treat respiratory tract infections and improve your general health. But most importantly, it's the best ingredient in Slimvance Non-Stim when it comes to fat burning.
Why? Because it's the only nutrient in Slimvance Non-Stim that's shown promising results in studies – although there aren't many successful studies that've been conducted on humans.
In terms of spices, we believe that chillies such as Cayenne Pepper Extract offer the best thermogenic effects; you don't need to look at studies to know that chillies, work, as they'll make you sweat after eating them.
But as we mentioned, Curcuma Longa Root Extract is by far the best nutrient in Slimvance Non-Stim.
---
---
What are the best fat burning ingredients?
Right, we probably seem like we've heavily criticized Slimvance Non-Stim in this review, so we're going to justify our honest opinions in this section.
Basically, we're going to show you which ingredients that are safe and proven to actually help you lose your unwanted body fat – without suffering from any side effects too.
In all fairness to BodyDynamix, you can see that they've tried to create a unique ingredient and done their research. Call us old-fashioned, but we prefer sticking with tried-and-tested fat burning nutrients, rather than unproven ingredients that may or may not work.
Anyway, here's the list of nutrients that would have raised our ranking of Slimvance Non-Stim below:
Green Tea Extract – Everyone knows Green Tea Extract is beneficial and it's shown to benefit almost every organ in your body. But more importantly, Green Tea Extract is proven to promote fat loss due to being a thermogenic.
Cayenne Pepper Extract – You only have to eat a Cayenne Pepper to know that it works. You'll be sweating and asking for a cold drink to cool yourself down. This is because it contains capsaicin, which is responsible for its spice and what makes it a proven thermogenic nutrient in fat burners.
Green Coffee Bean Extract – This is one of our favorite thermogenic nutrients because it's proven to be very effective at promoting fat loss. Not only does Green Coffee Bean Extract promote fat loss, but it also benefits almost every organ in your body. Studies have shown that you consume more chlorogenic acid (the compound responsible for fat loss) in optimal amounts when Green Coffee Bean Extract is consumed in at least 100mg dosages.
Glucomannan – One benefit that all fat burners should offer, is appetite suppression. Think about it, you're less likely to reach for that chocolate bar or candy when you feel full, which will make it easier for you to lose fat (that's a fact). Glucomannan is the most reliable ingredient to supress your appetite, and it's even consumed commonly as food in Asia, and more increasingly in the west too as part of 'low-calorie & carb rice or noodle' products.
---

---
Side Effects
One of the best things about Slimvance is that it doesn't contain any ingredients that have shown to be potentially harmful.
So credit where credit is due; BodyDynamix clearly did their research and made sure to keep Slimvance Non-Stim side effects free.
---
Slimvance Non-Stim Review Conclusion
Slimvance Non-Stim is a respectable fat burner supplement. It's hard to create a fat burner without any stimulants, but BodyDynamix have done a great job here.
However, we don't believe it's necessary to completely avoid stimulants such as Caffeine Anhydrous. You just need to make sure supplements containing sensible dosages of Caffeine Anhydrous (under 100mg per capsule serving) to stay safe from jittery side effects.
The problem is that most companies add wayyyy too much Caffeine Anhydrous, along with other stimulants, into their supplements. So we do understand why you're looking for non-stimulant fat burners.
[wp-review]
Check Out The Best Fat Burners For Women!
Here's the best natural fat burners on the market for:
Faster Fat Loss
More Energy 
Suppressed Appetite
Raised Metabolism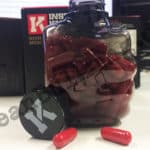 Click Here To See The Best Product!