Pros
Good dosage of Caffeine Anhydrous per capsule
Cayenne Pepper Extract boosts metabolism
Cons
Missing key fat burning nutrients (eg. Green Tea Extract)
No ingredients to suppress appetite
Garcinia Cambogia Extract shown to be ineffective
Not good value for money, in our honest opinion
---
---

About The Slimvance
Slimvance is a fat burner 'core slimming complex' manufactured by BodyDynamix, priced $59.99 on GNC.com.
It comes with a serving size of 2 capsules per day; studies show that 3-4 capsules spread throughout the day has shown to be more beneficial to keep your body fueled throughout the day, so this could have been better.
We first saw that this was a 'best seller' on GNC, so we were interested as to why it was outselling more popular brands and products. From first glance, the only real negative we can see is that it contains Garcinia Cambogia, which hasn't shown to be very effective at promoting fat loss.
We'll expand on this as we analyze Slimvance's nutrient profile for you in the next section. But first, we'll tell you more about the company behind it.
Who is BodyDynamix? 
Based in the USA, BodyDynamix is one of the lesser known supplement companies (with all due respect). So we're glad to see smaller brands competing with the giants of the industry such as MuscleTech and Optimum Nutrition.
We tried to look for their website, but we didn't have any luck. So we're not sure whether this is one of GNC's own brand. We're also not sure whether BodyDynamix have any other products on the market, or whether it's even new for this year.
Anyway, you're here to learn more about Slimvance. So let's see which ingredients have been added to this fat burner below…
---
Slimvance Ingredients Reviewed
Our first impressions of Slimvance weren't bad. It contained a sensible dosage of Caffeine Anhydrous per capsule, so it shouldn't cause jittery side effects.
Also, we're glad to see a key fat burning nutrient such as Cayenne Pepper Extract; this has shown to be an effective thermogenic and boost your metabolism.
But one thing we noticed, is that Slimvance contains a proprietary blend (we'll expand on this below).
PROPRIETARY BLEND WARNING…
Proprietary blends are mixtures of numerous ingredients that are only shown to you as 1 quantity. As you can see from the 'Slimvance Patented Blend' on Slimvance's ingredients list, the overall amount is 450mg – but you're not shown the dosages of each ingredient inside such as Moringa Oleifera Leaf Extract.
This increases your risk of side effects, and also makes it uncertain whether this fat burner will work. For this reason, we try to avoid any supplement that contains proprietary blends.
While we don't agree with companies adding proprietary blends into their supplements, we will praise BodyDynamix for not adding Caffeine Anhydrous into their blend; as you're shown the exact amount of Caffeine Anhydrous in Slimvance, you can determine whether it'll cause side effects with regards to your own tolerance to stimulants.
Anyway, we'll take you through each ingredient in Slimvance. By the end of this review, you'll have a good idea of how safe and effective this fat burner really is.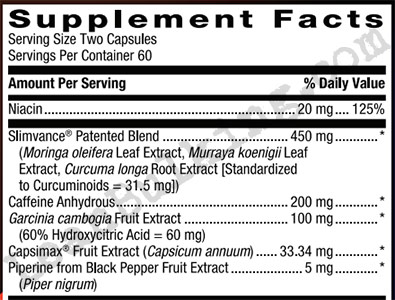 Here's Everything You Need To Know:
Moringa Oleifera Leaf Extract 
In case you're unaware, Moringa Oleifera is a tree that's referred to as the 'Tree of Life'; this is due to it being used for medicinal purposes in the past and can grow even in drought habitat.
The leaf of this tree possesses many health benefits, but we couldn't find any evidence that it's able to promote fat loss. For this reason, we don't consider this to be a necessary addition to Slimvance here.
But the worrying thing is, as it's in a proprietary blend, it could be taking up most of the space without you knowing.
Ultimately, we would have preferred to see something tried-and-tested to help you burn fat, such as Green Tea Extract instead.
Murraya Koenigii Leaf Extract 
We're not really sure why this has been added to Slimvance; there are studies that suggest Murraya Koenigii Leaf Extract might help prevent cancer, but nothing to prove it can promote fat loss.
Remember that this is a fat burner, so you ideally want to see more ingredients aimed at helping you shed body fat. So all in all, we don't have a good honest opinion of the 'Slimvance Patented Blend'.
Caffeine Anhydrous 
Here's where BodyDynamix has done a great job. Usually, we see fat burners containing way more Caffeine Anhydrous per capsule than is necessary.
The main reason behind having Caffeine in fat burners is to keep your energy levels stable while you cut calories (and maybe carbs) in order to lose weight.
Now, we always advise you to consume under 100mg Caffeine Anhydrous per capsule with fat burners; this will keep everyone safe from jittery side effects, without raising your energy levels too high while you're sitting at your office desk or day job.
There's 200mg Caffeine Anhydrous overall in Slimvance, which is split into 2 capsules. So if you don't consume too much coffee throughout your day, this should be a good dosage for most people.
---
---
Garcinia Cambogia Extract 
If you do a quick google search of Garcinia Cambogia Extract, you find articles titled 'lies about Garcinia Cambogia' etc. This pretty much sums up this ingredient.
Basically, Garcinia Cambogia Extract gained media attention for being some kind of 'miracle fat burning ingredient'. But since then, recent research has proven that it's actually ineffective at helping you lose body fat.
For this reason, we consider this to be an ineffective nutrient in any fat burner supplement. Again, we'll repeat that we would have preferred something tried-and-tested such as Green Tea Extract.
Capsimax 
Capsimax is a patented ingredient that contains high amounts of capsaicin; this is naturally found in chili peppers such as Cayenne Peppers, and it's what makes them 'spicy'.
You can't argue whether this works or not. Try eating a few chili peppers without sweating…
That rise in body temperature is exactly what boosts your metabolism. As your body is working harder to regulate its temperature, it burns more calories in the process.
Now, it doesn't matter whether a company adds this patented Capsimax or Cayenne Pepper Extract. Both have shown to be effective at promoting fat loss, so good job by BodyDynamix here.
Black Pepper Extract
Black Pepper Extract is basically the same stuff you sprinkle onto your food to enhance its taste. You'll probably have it sitting on your dining table or in your kitchen, right?
Well, it's actually more useful than simply making things taste better; Black Pepper Extract has shown to improve your digestion and the absorption rate of supplements it's added to.
So while Black Pepper Extract is never going to be a key addition to any supplement, it's certainly a useful 'bonus' addition to Slimvance here.
---

---
What are the best fat burning ingredients?
Right, we probably seem like we've heavily criticized BodyDynamix Slimvance fat burner here, so we're going to justify our review in this section.
Basically, we're going to show you which ingredients that are safe and proven to actually help you lose your unwanted body fat – without suffering from any side effects.
In all fairness to BodyDynamix, they've included one of the best thermogenic nutrients (Capsicin, naturally found in chili peppers), so we won't include this below.
However, we'll list the nutrients that would have raised our ranking of Slimvance fat burner below:
Green Tea Extract 

Everyone knows that Green Tea is healthy, as it can benefit almost every organ in your body. But a concentrated amount of catechins in Green Tea Extract make this a seriously effective thermogenic that's proven to kickstart your metabolism and promote fat loss. An essential addition to any fat burner supplement, in our honest opinion.

Green Coffee Bean Extract

This is one of our favorite thermogenic nutrients because it's proven to be very effective at promoting fat loss in numerous studies. It's shown to raise your metabolism, and help keep your blood sugar levels stable to help you lose more body fat. Studies have shown that you consume more chlorogenic acid (the compound responsible for fat loss) in optimal amounts when Green Coffee Bean Extract is consumed in at least 100mg dosages.

Glucomannan 

One benefit that all fat burners should offer, is appetite suppression. Think about it, you're less likely to reach for that chocolate bar or candy when you feel full, which will make it easier for you to lose fat (that's a fact). Glucomannan is the most reliable ingredient to suppress your appetite, and it's even consumed commonly as food in Asia, and more increasingly in the west too as part of 'low-calorie & carb rice or noodle' products.
---
Side Effects
The good news is that most ingredients in Slimvance are safe from side effects. And as you're shown the exact amount of Caffeine Anhydrous inside, you should also be able to see whether it suits your tolerance to it.
However, one ingredient that can cause side effects is Garcinia Cambogia Extract; we don't know whether you value Dr. Axe's words, but he says that Garcinia Cambogia can cause issues such as liver damage, headaches, diarrhea, and nausea.
WebMD also believes Garcinia Cambogia can cause the same issues, so we personally would prefer to stay away from this ingredient, in our honest opinion.
Here are the potential side effects of taking Slimvance: 
Liver Damage (Garcinia Cambogia Extract)
Headaches (Garcinia Cambogia Extract)
Diarrhea (Garcinia Cambogia Extract)
Nausea (Garcinia Cambogia Extract)
---
Slimvance Review Conclusion
Overall, we're happy with what we see with BodyDynamix' Slimvance. You can see that this company has really tried to make an effective fat burner, and it ticks some of our boxes.
But the main problem we have is that Slimvance is missing key fat burning nutrients such as Green Tea Extract. And it also doesn't contain any nutrients to suppress your appetite either (Glucomannan is an ingredient that delivers this benefit).
Also, we would have preferred it if Garcinia Cambogia wasn't included in Slimvance too, as it's not shown to be effective at helping you lose body fat in recent studies.
[wp-review]
See The Best Fat Burners This Year!
Here are the best natural fat burners on the market for:
Faster Fat Loss
More Energy 
Suppressed Appetite
Raised Metabolism