Pro's
Contains Fenugreek, a key testosterone boosting ingredient
Vitamin D3's proven to boost T-levels
Con's
L-Citrulline & L-Carnitine are more suited to a pre-workout
Vitamin D3 is significantly underdosed at 600IU
Tribulus Terrestris proven to be ineffective and can cause side effects
Seems ineffective overall
---
---

About The Product
Elevate Cyclo Test is a Testosterone Booster by Infinite Labs. It costs $49.99 for 90 capsules – with the serving size being 3 capsules per day.
Who's Infinite Labs?
Infinite Labs are a supplements company that was set up in 2001.
They market a range of products, from pre-workouts to testosterone boosters, and are well-established in the industry.
Can this T-Booster can live up to their reputation? Read on to find out.
---
Ingredients Explained
One thing we like about Elevate Cyclo Labs – it doesn't contain any proprietary blends, so you know exactly what you're getting.
This allows us to accurately analyze and review this product for you – to see if it works, or is a waste of money.
We've analyzed the most important ingredients below.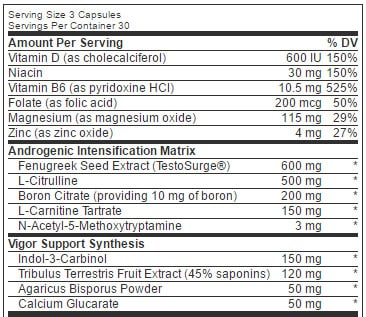 Here's Everything You Need To Know:
Vitamin D3
This is our favorite ingredient to boost testosterone; it's reliable and works.
But there's a problem here. It's been seriously under-dosed at 600IU.
What's the optimal dosage? Answer: 3,333-5,000IU.
Fenugreek Seed Extract 
Another great testosterone boosting ingredient. You'll find this in Indian food like curries, but you won't get enough of it.
That's why taking it in a supplement is the best way, to raise your T-levels.
L-Citrulline
We're not sure why this is in here. It's a great ingredient in a pre-workout, as it improves blood flow and muscle pumps.
But it has no effect on your testosterone levels.
L-Carnitine Tartrate 
This has shown to promote fat loss and focus, but has no effect on your T-levels.
Tribulus Terrestris 
A popular ingredient that's believed to raise your testosterone levels. But don't be fooled.
Tribulus has no effect on your testosterone levels – studies have proven this.
Not only that, it can potentially increase your prostate weight; which can lead to serious problems.
---
---
Side Effects
Can Elevate Cyclo Test cause side effects?
The Answer: Yes.
Tribulus Terrestris has shown to cause:
Increase in prostate weight.
---
Review Conclusion
We're disappointed by Elevate Cyclo Test, because it contains some great ingredients – Fenugreek and Vitamin D3.
It's a shame that Vitamin D3 has been under-dosed, so it'l be ineffective.
We recommend looking for a testosterone booster that has more key ingredients inside, that're proven to work.
Check Out The Best Test Boosters This Year!
Here's the best natural testosterone boosters on the market for:
Faster Muscle Gains
Quicker Recovery Time
Decreased Belly Fat
Enhanced Energy & Sex Drive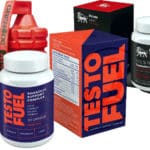 Click Here to See the Full List!