Pro's
Green Tea Extract is a key fat burning ingredient
Sensible dosage of Caffeine
Good serving size
Con's
Yohimbe known for causing numerous side effects
Missing key fat burning ingredients
No ingredients to suppress appetite
---
---

About The Product
Burning Man is a fat burner supplement made by Staunch Nation. It costs $39 for 30 servings, with a serving size of 3 capsules per day.
This is a good serving size, as 3-4 daily capsules ensures that your body is always topped-up with key nutrients needed to boost its metabolism and burn more fat (so you get the most for your money).
Anyway, we'll take you through the company behind Burning Man, before analyzing the ingredients inside this fat burner.
Who are Staunch Nation?
This is a good question…we'd never heard of this supplements company before.
And their 'about us' page didn't lead us to anywhere useful either…so we still don't know much about this company.
Simply put, it says alot about a company when they only focus on the design of their website – instead of actually adding quality information that tells you about them.
Anyway, we'll go to what we know – and that's the nutrient profile of Burning Man below.
---
Burning Man Ingredients Explained
Staunch Burning man contains 11 main ingredients that we'll be analyzing for you here. We always prefer fat burners with less than 10 nutrients, as they're usually dosed better.
However, Burning Man seems to be dosed quite well; there even seems to be an optimal 3,332IU (83mcg) dosage of Vitamin D3 in here (although it's not really needed in a fat burner).
Anyway, we'll take you through this fat burner's nutrient profile – so you can see how effective Staunch Burning Man really is.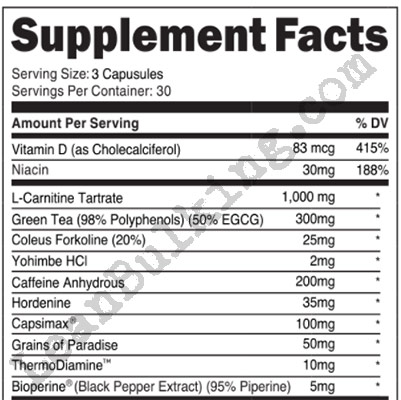 Here's Everything You Need To Know:
Vitamin D3
Also known as cholecalciferol, this hormone is created by your body after being exposed to sunlight. It's very beneficial for general health, improving your bone strength and even raising your testosterone levels.
However, not many fat burners contain Vitamin D3 for a reason – it's not really needed in these supplements.
Although Vitamin D3 is a key ingredient in testosterone booster supplements, it's not the best option in Staunch Burning Man.
L-Carnitine Tartrate 
This is naturally found in avocado's and can reduce fatigue while improving your focus in the gym; these benefits make it great in pre-workout supplements, but it's not a key ingredient in fat burners.
However, as it doesn't cause any side effects – there's no negatives to having L-Carnitine in Staunch Burning Man.
Green Tea Extract 
Green Tea is the first key fat burning ingredient in Burning Man by Staunch Nation. It's proven to boost your metabolism and promote fat loss (and it's one of the best thermogenic ingredients you can find).
Not only that; Green Tea Extract has shown to benefit almost every organ in your body. So you can see how good this ingredient really is.
We're always happy to see Green Tea Extract in fat burners. It's been dosed well, so great job by Staunch Nation here.
Coleus Forkoline 
We're not sure whether Staunch Nation has misspelled 'Coleus Forskohlii' on their ingredient list. But we haven't heard of Coleus Forkoline before.
If it is Coleus Forskohlii; this has shown to promote fat loss, so it's not a bad nutrient to have here.
However, as there hasn't been many studies on this ingredient – consider it an unreliable ingredient in Staunch Burning Man.
Yohimbe 
This is the first mistake by Staunch Nutrition here.
Yohimbe is an ingredient we always avoid in supplements; it's extracted from Yohimbine, which has been banned in numerous countries after causing harmful side effects.
For this reason, we advise you to stay away from products containing Yohimbe – to stay safe. We'll list the side effects in the section after this.
---

---
Caffeine Anhydrous 
Caffeine Anhydrous is dehydrated caffeine that's been added into supplements in powder form. And it's one of the best ingredients you can find in fat burners.
Why? Because a raise in energy levels when you're consuming less calories is great – which is exactly what Caffeine offers you.
The usual problem is that Caffeine has been over-dosed (which can lead to numerous problems). However, Staunch Nation has done well here – adding a sensible 200mg dosage spread out into 3 capsules – meaning there's 100mg Caffeine per serving.
This should provide enough energy boosts without causing side effects such as jitters and energy crashes.
Hordenine 
Hordenine is found in numerous plants and is believed to be a stimulant. But this isn't a good thing; we mentioned there was a good dosage of Caffeine in each capsule, but Hordenine could push you over the edge and cause jitters.
The good news is that Hordenine hasn't shown to work in any official studies – so you might be safe. But it's not worth the risk of suffering from side effects.
It's usually these small mistakes that new companies make. But we're sure that Staunch Nation will learn from this, and improve their formula in the future.
Capsimax 
This is basically a patented form of Cayenne Pepper. And Cayenne Pepper is a key fat burning ingredient, so this is good.
Simply put, this chilli pepper is proven to raise your body temperature (which directly boosts your metabolism). In fact, Cayenne Pepper is known as one of the best thermogenic ingredients for this reason.
It's proven to work, and you can't argue with it; we've all eaten spicy foods before and needed to cool down.
Grains of Paradise 
Like Cayenne Pepper, Grains of Paradise is also a spice that's believed to work as a thermogenic. However, it's only recently been added into supplements (since 2017), so there's not been many studies proving whether it works.
For this reason, we believe this is an unreliable ingredient (that could cause side effects).
ThermoDiamine 
Also known as Evodiamine, this is an chemical that's isolated from the unripe fruit of Evodia Ruatecarpa. Basically, it's an average ingredient that's been given a fancy name to make it sound better.
Anyway, there's no studies proving that ThermoDiamine actually helps you burn fat. So this is another unreliable ingredient in Staunch Burning Man.
Bioperine 
All you need to know about Bioperine, is that it's a patented form of Black Pepper Extract…yes, someone paid to protect black pepper…
But it's more beneficial than you think; Black Pepper Extract is able to improve your digestion and the absorption rate of other ingredients it's consumed with.
For this reason, although Black Pepper Extract is never a key ingredient – it's useful when consumed with key fat burning nutrients.
---

---
Side Effects
There's really only 1 ingredient in Stauch Burning Man that's likely to cause side effects; Yohimbe.
As we mentioned, Yohimbe is extracted from Yohimbine (which is banned in the UK & Canada, among others) after causing harmful side effects.
In fact, Yohimbe hasn't shown to be any safer than Yohimbine – so we believe it's only a matter of time before it gets banned too. For this reason, we recommend that you avoid any supplements containing Yohimbe (to stay safe from side effects).
Here's the potential side effects from taking Burning Man: 
Nausea
Anxiety
Upset Stomach
Insomnia
Rapid Heartbeat
---
Burning Man Review Conclusion
Considering we hadn't heard of Staunch Nation before; we're pretty impressed with Burning Man fat burner.
Why? Because Burning Man contains some key ingredients proven to work – and even the bonus of Vitamin D3 too.
However, the Yohimbe and addition of unreliable ingredients such as ThermoDiamine & Hordenine has let this fat burner down.
We only recommend fat burner supplements that contain 100% natural tried-and-tested nutrients shown to promote fat loss – without any side effects.
And unfortunately, Staunch Burning Man can cause numerous side effects due to containing Yohimbe.
[wp-review]
Check Out The Best Fat Burners This Year!
Here's the best natural fat burners on the market for:
Faster Fat Loss
More Energy 
Suppressed Appetite
Raised Metabolism