Pros
D-Aspartic Acid can boost test levels
Optimal Dosage of Vitamin D3
Boron supports healthy testosterone levels
Cons
Missing other key T-Boosting nutrients such as Fenugreek Seed Extract
Tribulus Terrestris can increase prostate weight
Shilajit isnt 100% proven to work and is banned in Canada
Some ingredients address the symptoms of low T without fixing the cause (eg. Longjack increases libido but doesnt raise T levels)
---
---

About The Product
JUST TEST ME is a testosterone booster supplement made by Tim Muriellos company, Spazmatic Supplements. It costs $44.99 for 30 servings, which in fairness is reasonably priced for a T-Booster.
From first glance, were happy that none of the ingredients in JUST TEST ME has been hidden in any proprietary blends. This product even contains some of our favorite test boosting nutrients, such as Vitamin D3 and D-Aspartic Acid. So its clear that this company knows what theyre doing.
However, one slight criticism is that JUST TEST ME comes with a huge 12 capsule serving size per day. Thats triple the serving size of normal supplements, and its simply not necessary.
We dont get why this product instructs you to consume 6 capsules at once either; they should at least made this product able to offer 4 separate serving sizes of 3 capsules-per-go, as we know many people that dont enjoy taking so many pills at once.
In fairness though, if you dont mind popping pills, then this wont be a problem. And its really not something that would put us, personally, off trying a testosterone booster supplement.
Anyway, well expand on this as we take you through JUST TEST MEs nutrient profile in the next section. But first, well tell you more about the company behind it.
Who Are Spazmatic Supplements? 
Tim Muriello is a big name in the fitness industry and commands a lot of respect from his fans. So it makes sense for him to enter the supplements market with his own products.
His company, Spazmatic Supplements, are still quite new compared to the big boys that dominate. But were glad that more and more people are willing to come-in and challenge the already established companies to keep things fresh and competitive. So we salute you, Tim Muriello.
One thing we really like about this company is that they dont charge ridiculous prices for their products. We actually think that all of their supplements are good value for money, regardless of whether theyre the best available.
But youre here to learn more about JUST TEST ME. So lets see which ingredients have been added below…
---
JUST TEST ME Ingredients Explained
Its clear that theres been a lot of time spent while formulating this product. It contains an optimal dosage of Vitamin D3, which is one of the main things that we look out for when choosing a testosterone booster supplement.
Not only that, Spazmatic Supplements has also added a big dosage of D-Aspartic Acid, which also gets a big thumbs-up from us.
In fact, there really isnt a lot wrong with this product. The only ingredient that we would have preferred not to have been included is Tribulus Terrestris; this is because some studies suggest that it can increase prostate weight, which is something that you should avoid at all costs (as it can lead to serious male health issues).
Well take you through each ingredient in JUST TEST ME so you can get a better feel for this testosterone booster. By the end of this review, youll have a good idea of how safe and effective this product really is.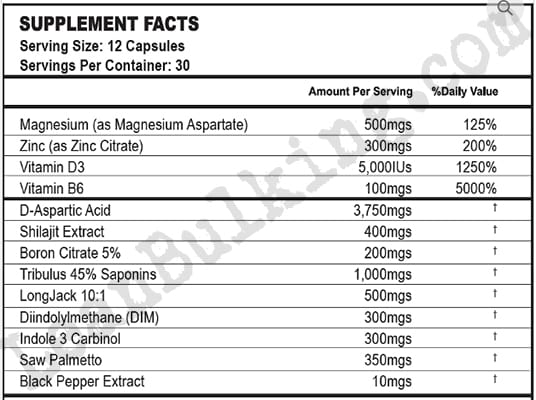 Heres Everything You Need To Know:
Vitamin D3
Were glad that more and more companies have started to add Vitamin D3 to their testosterone boosters. If we were to choose only one nutrient to supplement, then Vitamin D3 would be a strong contender for most of the year; this should show you how beneficial it really is.
What does it do? Well, Vitamin D3s benefits are almost endless. Its able to improve your general health, while also improving your mood too - theres a reason most people are happier in the sunshine.
Basically, your skin synthesizes Vitamin D3 when its exposed to sunlight. But most people dont get enough due to working in offices or living in less-sunny countries (not everyone is lucky enough to spend enough time on the beaches in California every day).
Earlier studies suggested that 400IU was enough to consume per day when supplementing Vitamin D3. But more recent studies show that dosages of 3,332IU and above are better at boosting your testosterone levels. The good news is that Vitamin D3 is safe to consume up to 10,000IU per day (although we wouldnt really advise you to go near this).
Ultimately, consuming between 3,332IU-5,000IU daily makes the most sense. So its great to see that Spazmatic Supplements has added an optimal 5,000IU in JUST TEST ME, which is rarer to see than you might think.
D-Aspartic Acid
D-Aspartic Acid is another great addition to any testosterone booster. So it should be becoming clear to you that Spazmatic Supplements know what theyre doing here.
Simply put, studies have shown that D-Aspartic Acid is capable of raising your T levels optimally when consumed in dosages between 2,000mg-3,000mg. JUST TEST ME contains 3,750mg, which is more than the dosages used in these studies.
Now, a slight concern is that some studies that used larger dosages than 3,000mg suggested that D-Aspartic Acid could have the opposite effect. You can see this study here: https://www.ncbi.nlm.nih.gov/pmc/articles/PMC4384294/
For this reason, we always play it safe and choose supplements containing a max of 3,000mg per daily dosage. However, the study weve linked to above used dosages as big as 6,000mg. So you should still be safe with the 3,750mg dosage in JUST TEST ME.
Shilajit Extract
Shilajit Extract is a fairly new addition to supplements. We like that companies have started using different ingredients to the ones more commonly found as it shows creativity in a sometimes stale industry.
Now, Shilajit Extract is believed to boost your testosterone levels and general health. However, its a mixture of many essential minerals and metals that is hard to quantify.
Its for this reason that Canada has banned this nutrient. But in fairness, we dont think that Shilajit seems likely to cause any harm.
That doesnt mean that we think it might work though. There simply hasnt been enough studies conducted on this ingredient to make it reliable yet, in our honest opinion.
Early studies are promising, but well be keeping an eye on future studies to determine Shilajit Extracts effectiveness. We will mention that if it does work, then itll become one of the best nutrients available on the market. So its easy to see why Spazmatic Supplements has added this ingredient to JUST TEST ME.
Boron Citrate 
Boron is a dietary mineral thats shown to help support healthy testosterone levels. This means that it can be beneficial to supplement, but its not shown to boost your T levels as high as other ingredients found in test boosters.
So whats Boron Citrate? Well, this is believed to be the most bioavailable form of Boron, meaning it should be absorped by your body alright.
However, studies have shown Boron to be most effective in dosages of 3mg or higher. As JUST TEST ME contains 200mg, it should be effective here.
---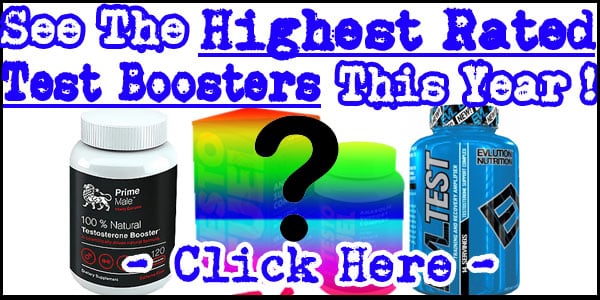 ---
Tribulus 
Also known as Tribulus Terrestris Extract, this isnt our favorite addition to any testosterone booster supplement; this is because studies have shown that its capable of increasing your prostate weight.
Not only that, studies have also shown that Tribulus Terrestris isnt actually able to raise your T levels. So basically, this makes this herb an ineffective inclusion in JUST TEST ME, in our honest opinion.
Ultimately, the addition of Tribulus Terrestris is one of the few things wrong with this testosterone booster. And we personally wish that it was left out.
LongJack Extract
LongJack is also known as Eurycoma Longifolia or Tongkat Ali. Its basically a herb thats been used for a long time in Ayurveda (traditional Indian medicine), due to the belief that it can enhance your libido.
Now, the good news is that modern research has backed LongJacks use as a libido booster. However, you might be disappointed to hear that it has no effect on your testosterone levels.
For this reason, we believe that LongJack treats a symptom of low testosterone and not the root cause; if you raise your T, then youll experience higher libido anyway.
But in fairness, wed take LongJack over Tribulus Terrestris any day. So this is still a useful addition to JUST TEST ME.
Diindolylmethane 
Also known as DIM, this is a compound thats believed to help keep your estrogen levels low, being an aromatase inhibitor (AI). Its naturally found in vegetables such as broccoli, so start eating your greens!
However, our main issue with this is that an aromatase inhibitor isnt necessary for a natural testosterone booster. In fact, one of the main benefits of taking a natural supplement is that youre not at risk from suffering gynecomastia (man boobs) or other estrogen related problems.
Why? Because no natural test booster is going to raise your T levels as high as injecting straight-up hormones does. So sorry to break the news that you wont be looking ready to step on the stage at Mr. Olympia after taking a natural test booster.
Now, thats not to say that natural T-Boosters cant help you pack on muscle mass - they can do that. Just not crazy amounts like synthetics do.
We went off on the wrong topic there, but you get the point. DIM can be useful, but its certainly not necessary as you wont be at risk from man boobs here anyway. We would have much-preferred something tried-and-tested to raise your T levels such as Fenugreek Seed Extract instead.
Indole-3-Carbinol
Indole-3-Carbinol is another compound thats found in vegetables such as broccoli. Its also believed to help keep estrogen levels low, and studies have shown that it can help do this.
But as we mentioned with DIM, AIs simply are not necessary in natural testosterone booster supplements such as JUST TEST ME. You can accept that its a good bonus addition here though.
Saw Palmetto
We often see Saw Palmetto added to supplements that contain Tribulus Terrestris; this could be because its shown to help support healthy prostate levels, and is believed to treat enlarged prostates.
As we mentioned earlier, Tribulus Terrestris has shown to be capable of causing enlarged prostate, so its good that Spazmatic has covered all bases here. But in our honest opinion, we would have just left Tribulus Terrestris and Saw Palmetto out of JUST TEST ME in place of a more useful nutrient.
Black Pepper Extract 
If theres one good bonus feature in a supplement, its Black Pepper Extract. This is because it contains high amounts of piperine, which has proven to boost the absorption rate of nutrients that its consumed with.
So while it cant raise your T levels or anything else, it can help make supplements more effective.
---

---
JUST TEST ME Side Effects
The main issue that we, personally, have with JUST TEST ME is that it contains Tribulus Terrestris; in case you skimmed past everything, Tribulus Terrestris has shown to be capable of causing an enlarged prostate.
There are also question marks over the safety of Shilajit, due to it still being quite mysterious. And the fact that Canada has banned it from being used in supplements sold in their country is worrying too.
However, youll be glad to hear that the other ingredients in JUST TEST ME havent shown to cause any side effects.
---
JUST TEST ME Review Conclusion
Although we do believe that there are a few issues with JUST TEST ME, its clear to see that its a respectable testosterone booster on the market. And well stick with our opinion that its good value for money at $44.99.
This is because JUST TEST ME contains optimal dosages of Vitamin D3 and D-Aspartic Acid, which we believe to be key-players in any T-Booster. In fact, if this product didnt contain Tribulus Terrestris, then it probably would have been the best value supplement that weve seen.
However, due to its small faults (in our honest opinion), we dont think that JUST TEST ME is better than other T-Boosters that weve tried on the market. We will be expecting massive things from Spazmatic though, which is still a new company among the more established companies in the industry.
Spazmatic Supps JUST TEST ME Review
Summary
Its clear that Spazmatic knows their stuff, and JUST TEST ME has some great highlights, such as the optimal dosages of Vitamin D3 and DAA.
However, due to small issues such as the inclusion of Tribulus Terrestris, we dont believe that it can compete with the highest rated test boosters on the market.
Check Out The Best Test Boosters This Year!
Here are the best natural testosterone boosters on the market for:
Faster Muscle Gains
Quicker Recovery Time
Decreased Belly Fat
Enhanced Energy & Sex Drive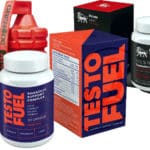 Click Here to See the Full List!