Pros
Grains of Paradise Extract might boost metabolism
Ashwagandha Root Extract can keep strength levels high
Cons
Missing key fat burning nutrients (eg. Green Tea Extract)
No ingredients capable of suppressing appetite
No stimulants to keep energy levels high while cutting calories
---
---

About The Product
Inferno is a fat burner supplement made by Sparta Nutrition. We're getting a sneak peak at their 60 serving container, which comes with a serving size of 1 capsule daily.
With regards to serving sizes, although 1 capsule is convenient to take, studies have shown that 3-4 capsules spread throughout the day keeps your body fuelled in fat burning mode for longer. As a result, we personally prefer fat burners that offer 3-4 capsule servings daily.
Anyway, we'll expand on this and more in the next section, when we'll analyze Inferno's nutrient profile. But first, we'll tell you more about the company behind it.
Who are Sparta Nutrition? 
Sparta Nutrition are a USA-based supplements company that offer a range of products, including a pre-workout and a fat burner.
However, we didn't learn much more about this product as there wasn't much information available on their website. But you're here to learn more about Inferno, so lets's see which ingredients are inside.
---
Inferno Ingredients Explained
Sparta Nutrition have kept things nice and simple with Inferno, only choosing to add 4 ingredients into Inferno overall; we like this, as many companies overload their products with unnecessary nutrients.
However, we have a few slight problems; there are no ingredients in Inferno that are capable of suppressing your appetite or raising your energy levels, which is important while you cut calories.
On a positive note though, we're happy that Sparta Nutrition hasn't hidden any ingredients into any proprietary blends. Also, Grains of Paradise Extract seems promising at boosting your metabolism.
We'll take you through each ingredient in Inferno in this section. By the end of this review, you'll have a good idea of how safe and effective this fat burner really is.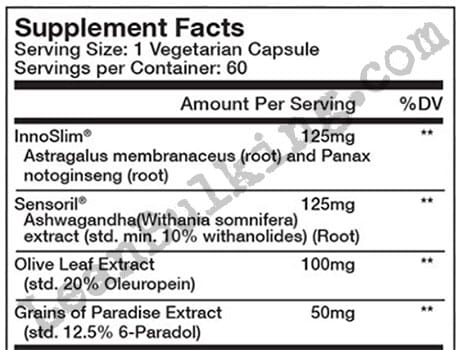 Here's Everything You Need To Know:
InnoSlim 
InnoSlim is a patented form of Panax notoginseng and Astragalus Membranaceus Root. It's marketed to boost your metabolism and help reduce glucose absorption.
Now, we personally don't have any experience with this ingredient, so we're unable to give a first-hand account.
But in our honest opinion, we would have preferred to see something tried-and-tested through the years, such as Green Tea Extract; everyone knows this is good for you, and countless studies have shown that it's able to promote fat loss.
Sensoril 
Sparta Nutrition have placed their trust in patented ingredients, which isn't necessarily a bad thing. But perhaps they could have lowered their production costs by choosing unpatented forms of the same nutrient (which might have positively affected the retail price of Inferno).
Anyway, there's nothing wrong with Sensoril on an effective level.
In fact, we like that Sparta Nutrition have added Ashwagandha Extract here; this herb is capable of increasing your power output, which could help you maintain strength while you cut calories.
Olive Leaf Extract 
This is the leaf extract from the same plant that produces olives that you have as part of your salads. But you might not know that the leaf extract contains phenolics, which are able to improve oxidation and even lower blood pressure.
However, the main problem is that there isn't enough evidence to prove whether Olive Leaf Extract is able to promote fat loss. As a result, we have to consider this to be an unreliable ingredient in Sparta Nutrition's Inferno fat burner.
Grains of Paradise 
In case you're unaware, Grains of Paradise is a peppery spice that acts in a similar manner to chilli; it's believed to raise your body temperature through thermogenesis, boosting your metabolism and helping to promote fat loss.
Now, we don't have much experience with using Grains of Paradise in fat burner supplements. But if you eat one, then it's pretty easy to see how it works (it definitely has a spice 'kick').
What are the best fat burning ingredients?
Right, we probably seem like we've heavily criticized Inferno here, so we're going to justify our review in this section.
Basically, we're going to show you which ingredients that are safe, and proven to actually help you lose your unwanted body fat – without suffering from any side effects.
In all fairness to Sparta Nutrition, they've included one thermogenic nutrient that's likely to be effective (Grains of Paradise).
However, we'll list the nutrients that would have raised our ranking of Inferno below:
Green Tea Extract – We've mentioned this nutrient throughout this review, because it's one of our favorites when it comes in fat burning. Not only does Green Tea Extract promote fat loss, but it also benefits almost every organ in your body. You can drink this as tea, but studies have shown that you consume more catechins (the polyphenol responsible for fat loss) in larger amounts when Green Tea Extract is orally supplemented.
Glucomannan – One benefit that all fat burners should offer, is appetite suppression. Think about it, you're less likely to reach for that chocolate bar or candy when you feel full, which will make it easier for you to lose fat (that's a fact). Glucomannan is the most reliable ingredient to supress your appetite, and it's even consumed commonly as food in Asia, and more increasingly in the west too as part of 'low-calorie & carb rice or noodle' products.
Green Cofee Bean Extract – A key thermogenic that Inferno is missing, Green Coffee Bean Extract contains high amounts of chlorogenic acid (which has proven to promote fat loss and boost your metabolism). As a result, Green Coffee Bean Extract is one ingredient we always look out for, when choosing a fat burner supplement.
Cayenne Pepper Extract – While Inferno contains Grains of Paradise, a more reliable and proven themogenic is cayenne pepper extract. Numerous studies prove that it works, and if you're in doubt, then try eating one of these chilli peppers without sweating…
---

---
Side Effects
One of the best things about Sparta Nutrition's fat burner, Inferno, is that none of its ingredients are likely to cause side effects. Of course, we can't rule out individual circumstances such as allergies, but generally speaking, you should be safe from side effects here.
This is down to Sparta Nutrition choosing not to add any proprietary blends, or potentially harmful nutrients such as Yohimbe Bark Extract or Bitter Orange Extract. Good job by them.
---
Inferno Review Conclusion
Sparta Nutrition's Inferno is far from being the worst fat burner we've reviewed. In fact, we're very happy that it doesn't contain any potentially harmful ingredients or proprietary blends.
The only criticism we have of Inferno, is this; we wish Sparta Nutrition had added more thermogenic nutrients such as Green Tea Extract, along with an ingredient capable of suppressing your appetite such as Glucomannan Extract.
[wp-review]
Here's the best natural fat burners on the market for:
Faster Fat Loss
More Energy 
Suppressed Appetite
Raised Metabolism