Pros
Green Tea Extract promotes fat loss
Vitamin D3 provides many benefits
African Mango might suppress appetite
Cons
No ingredients to raise energy levels while you cut calories
Contains unreliable ingredients (Raspberry Ketones & Garcinia Cambogia Extract)
Missing key fat burning nutrients (eg. Cayenne Pepper Extract)
Not good value for money, in our honest opinion
---
---

About The Product
SLIMIFY is a fat burner supplement made by SirenLabs. It costs $56.99 from their website for 30 serving containers, fitting nicely into the market.
Were impressed that SirenLabs has added a good amount of servings per day, with SLIMIFY offering 3; many fat burners only come with 1-2 capsule servings daily, which wont keep your body fuelled for very long.
Also, were happy to see that SirenLabs has also added a key fat burning ingredient - Green Tea Extract.
Anyway, well expand on this as we analyze SLIMIFYs nutrient profile in the next section. But first, well tell you more about the company behind it.
Who are SirenLabs? 
Siren Labs about us page on their website was extremely limited. We didnt learn much about this company at all, except that their products are all sold at GNC.
We would have liked to see which year Siren Labs were founded and whether their supplements are created under FDA & cGMP certified facilities in the UK or USA.
But youre here to learn more about SLIMIFY fat burner. So lets see which ingredients have been added below…
---
SLIMIFY Ingredients Explained
SLIMIFY contains 6 ingredients overall, which is a very good number of ingredients to have; we find that supplements containing over 10 nutrients are commonly under-dosed.
As we mentioned, were impressed that SirenLabs has provided a 3 capsule daily serving of SLIMIFY, which will help keep your body fuelled throughout the day.
Not only that, theyve added Green Tea Extract, which we consider to be a key fat burning nutrient. As well as African Mango, which has shown promising signs of suppressing your appetite - which is a key benefit we look for in all fat burners.
But there are some negatives; we personally would prefer it Raspberry Ketones and Garcinia Cambogia Extract wasnt included in SLIMIFY, as we dont consider them to be reliable ingredients (in our honest opinion).
Well take you through each ingredient inside SLIMIFY. By the end of this review, youll have a good idea of how safe and effective this fat burner really is.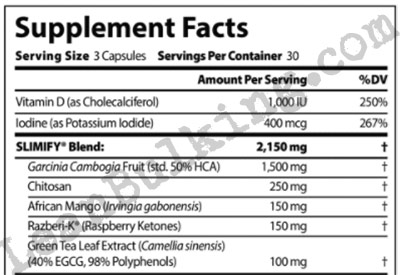 Heres Everything You Need To Know:
Vitamin D3 
Vitamin D3 is one of our favorite nutrients available. This is because it can raise your testosterone levels when consumed in dosages above 3,332IU, and improving your general health and lowering fatigue in lower dosages too.
Studies show that Vitamin D3 might even be worth taking in dosages as small as 500IU per day; this is only if youre
Garcinia Cambogia Extract 
You might have heard about Garcinia Cambogia Extract before, as the media advertised it as being some sort of miracle fat burning ingredient.
But remember if anything sounds too good to be true, it usually is. And this is definitely the case with Garcinia Cambogia Extract.
In fact, recent studies have shown Garcinia Cambogia Extract to be unreliable and mostly ineffective. The worst part is that this ingredient has also shown to be capable of causing side effects including liver damage, headaches, and nausea (according to Dr. Axe and other experts).
As a result, we personally prefer to avoid Garcinia Cambogia Extract when searching for an effective fat burning nutrient.
Chitosan 
Not much is known about Chitosan. But its known to be a soluble fiber extracted from the skeleton tissue of shellfish, which would have a positive effect on your digestive system and general health.
So if youre allergic to shellfish, you should stay away from this; in fairness, SirenLabs has added a warning that SLIMIFY contains shellfish, so we dont have any complaints here.
Its also used to treat some medical disorders. However, its shown to be unreliable at helping you lose fat in clinical studies.
For this reason, we personally consider Chitosan to be an ineffective addition to SLIMIFY here.
---
---
African Mango Extract 
Also known as Irvingia Gabonensis, this is taken from the seeds of the African Mango plant. Its added to supplements, as its believed to help suppress your appetite due to being able to expand on your stomach (in a similar way to how Glucomannan works).
In fact, for this reason, African Mango Extract is often used as a soup thickener. Studies have shown promising results, so were impressed that SirenLabs have added this into SLIMIFY.
The only slight improvement we would have made is adding Glucomannan instead; Glucomannan is much more researched and proven in clinical studies, in our honest opinion.
Raspberry Ketones 
We mentioned earlier that Garcinia Cambogia Extract was hyped-up in the media. The exact same thing happened with Raspberry Ketones, but recent studies have shown it to be ineffective too.
Raspberry Ketones are most commonly added to fat burners aimed at women, as it was advertised in female-targeted magazines etc. Were not actually sure whether SLIMIFY is targeted at females, but it would make sense after seeing this.
With a name like SLIMIFY and words such as trim down in its advertisement, we imagine that this is supposed to be a female fat burner.
Green Tea Extract 
Theres a high chance that youve consumed green tea at some point. Its universally known for being great for your general health, and studies have shown that its able to benefit almost every organ in your body.
More importantly, Green Tea Extract is proven to promote fat loss due to containing high amounts of catechins.
You cant argue with this. There have been countless studies showing its effectiveness as a thermogenic nutrient, so its a key ingredient we look for in every fat burner supplement.
The only issue we have is that SirenLabs have under-dosed Green Tea Extract in SLIMIFY; studies show you need at least 500mg for this to be effective, but there is only 100mg included here.
---

---
What are the best fat burning ingredients?
Right, we probably seem like weve heavily criticized SirenLabs SLIMIFY fat burner here, so were going to justify our review in this section.
Basically, were going to show you which ingredients that are safe and proven to actually help you lose your unwanted body fat - without suffering from any side effects.
In all fairness to SirenLabs, theyve included one of the best thermogenic nutrients (Green Tea Extract), so we wont include this below.
However, well list the nutrients that would have raised our ranking of SLIMIFY fat burner below:
Cayenne Pepper Extract - Youll know this works by eating a few of these chilies. Basically, the rise in body temperature is exactly what boosts your metabolism, promoting fat loss. All this is possible due to it containing capsaicin, which is responsible for Cayenne Peppers spice.
Green Coffee Bean Extract - This is one of our favorite thermogenic nutrients because its proven to be very effective at promoting fat loss. Not only does Green Coffee Bean Extract promote fat loss, but it also benefits almost every organ in your body. Studies have shown that you consume more chlorogenic acid (the compound responsible for fat loss) in optimal amounts when Green Coffee Bean Extract is consumed in at least 100mg dosages.
Glucomannan - One benefit that all fat burners should offer, is appetite suppression. Think about it, youre less likely to reach for that chocolate bar or candy when you feel full, which will make it easier for you to lose fat (thats a fact). Glucomannan is the most reliable ingredient to suppress your appetite, and its even consumed commonly as food in Asia, and more increasingly in the west too as part of low-calorie & carb rice or noodle products.
---
Side Effects 
SLIMIFY seems like a pretty safe fat burner for the most part. However, Garcinia Cambogia Extract has shown to be capable of causing worrying side effects such as liver damage and nausea (according to Dr. Axe and other experts).
Were not sure whether you trust WebMD or not, but it believed that Raspberry Ketones can cause side effects including jitters, increased blood pressure and rapid heartbeat. So this might be something to take into consideration too.
Here are the potential side effects of taking SLIMIFY: 
Liver Damage (Garcinia Cambogia Extract)
Nausea (Garcinia Cambogia Extract)
Headaches (Garcinia Cambogia Extract)
Diarrhea (Garcinia Cambogia Extract)
Jitters (Raspberry Ketones)
High Blood Pressure (Raspberry Ketones)
Rapid Heartbeat (Raspberry Ketones)
---
SLIMIFY Review Conclusion
Overall, SLIMIFY is a respectable fat burner. Were especially impressed that SirenLabs have added an appetite suppressant (African Mango) and Green Tea Extract.
We also would like to praise SirenLabs for choosing not to add any proprietary blends; this is something were passionate about and believe other companies need to do.
However, theyve made some mistakes by adding Garcinia Cambogia Extract and Raspberry Ketones Extract to SLIMIFY.
SirenLabs SLIMIFY Fat Burner Review
Bottom Line
SLIMIFY is actually better than many fat burners weve seen. And with a few improvements, it could be much better.
But due to containing ingredients that might cause side effects, we dont believe it can compete with the highest rated fat burners, in our honest opinion.
---
---