Pros
Great dosage of Vitamin D3
Fenugreek Seed Extract raises T levels & libido
D-Aspartic Acid is a key test boosting ingredient
Cons
DHEA banned by sports & can cause side effects
DIM can raise estrogen levels
Tribulus Terrestris can increase prostate weight
Not good value for money
---
---

About The Product
BOOM STICK is a testosterone booster made by RedCon1. It costs $64.99 for 30 serving containers with a serving size of 9 capsules per day; this is an unnecessary amount, and studies have shown that you only need 3-4 capsules daily.
Our first impressions of BOOM STICK are good. Were happy to see that Vitamin D3 has been well-dosed, along with D-Aspartic Acid and Fenugreek Seed Extract (which are also key test boosting nutrients).
However, RedCon1 have also included some controversial ingredients such as Tribulus Terrestris, DHEA and DIM. Well expand on this in the next section further in this review, but first well tell you more about the company behind BOOM STICK.
Who are RedCon1? 
There wasnt much information on the about us section of their website, but RedCon 1 are a USA-based supplements company. They market a range of supplements such as pre-workouts such as Total War, and this testosterone booster.
RedCon 1 are also known for sponsoring some up-coming fitness models such as Cass Martin. However, youre here to learn more about their test booster, BOOM STICK, so thats exactly what well give you below…
---
BOOM STICK Ingredients Explained
BOOM STICK contains 8 main ingredients, which well be analyzing for you today. This is a good number of ingredients, as we usually find products containing more than 10 nutrients to be mostly under-dosed.
As a result, were expecting the ingredients inside BOOM STICK to be well-dosed. And at first glance, this seems to be the case.
Just by looking at this testosterone boosters nutrient profile, you can see that Vitamin D3 has been dosed well at 3,300IU; while the optimal dosage of Vitamin D3 has shown to be between 3,332IU-5,000IU, this is a better effort than most other test boosters weve seen on the market.
Anyway, well expand on this as we take you through each ingredient inside BOOM STICK. By the end of this review, youll know how effective this testosterone booster really is.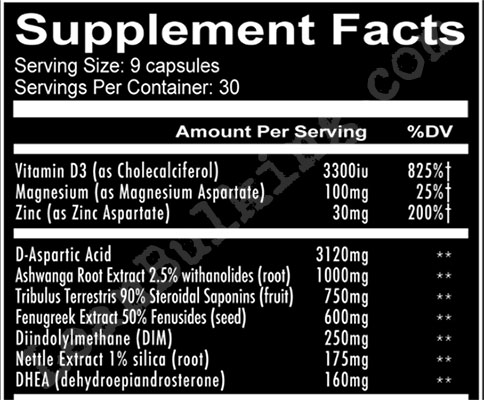 Heres Everything You Need To Know:
Vitamin D3 
We mentioned that RedCon1 have done well by dosing Vitamin D3 nearly correctly. Well, this is because many companies add in tiny dosages (usually ranging from 500IU-1,000IU).
You might be thinking, how is a vitamin so beneficial?. Well, this isnt just a vitamin; instead, its actually a hormone as your body produces it after your skin is exposed to sunlight.
This is why you feel happier and less fatigued when holidaying, spending most of your day on the beach or outside in general.
However, the most important thing, is that Vitamin D3 has proven to boost your testosterone levels in countless studies. For this reason, as well as being extremely beneficial to your general health, Vitamin D3 is a key test boosting nutrient when added to these types of supplements (in dosages between 3,332IU-5,000IU).
If we were being very critical, we would have preferred to see Vitamin D3 dosed over 3,332IU here. But again, the 3,300IU inside BOOM STICK is much better than most other testosterone booster supplements weve reviewed.
D-Aspartic Acid 
In case youre confused, this isnt the type of acid thatll burn your face off.
Instead, also known as DAA, this has shown to raise your testosterone levels when consumed in dosages higher than 2,000mg. As BOOM STICK contains a 3,120mg DAA, its been dosed optimally.
Great job by RedCon1 here again.
Ashwagandha Extract 
Ashwagandha is a herb thats been used in ayurveda (Traditional Indian Medicine). Its shown to raise your strength and anxiety, but as it has no effect on your testosterone levels, we dont consider this to be a key addition to any test booster.
But in all fairness, theres nothing bad about having this in a supplement either. So it can be a good bonus ingredient in any supplement.
Tribulus Terrestris 
Now, this is the first ingredient we have a problem with in BOOM STICK. We acknowledge that Tribulus Terrestris can increase your libido, but it comes with a nasty side effect.
Whats the side effect? Well, studies have shown that Tribulus Terrestris can cause an increase in your prostate weight (which can lead to serious male health issues that youll want to avoid).
Nothing is worth putting your long-term health at risk, so we personally stay away from supplements containing Tribulus Terrestris. But again, well repeat that we acknowledge this herb can increase your libido, so we understand why RedCon1 have added it into BOOM STICK.
---

---
Fenugreek Seed Extract 
Were back on track here with a key testosterone boosting nutrient; Fenugreek Seed Extract has proven to raise both your test levels and sex drive in numerous human studies.
In fact, studies have shown that Fenugreek Seed Extract is beneficial in dosages as small as 50mg per serving. Ultimately, this makes it one of the most efficient nutrients to add into test booster supplement too.
For this reason, were always happy to see Fenugreek Seed Extract in test booster supplements.
DIM 
Also known as Diindolyemethane, its known for being an AI (Aromatase Inhibitor), meaning it can prevent testosterone convering into estrogen.
However, its important to know that this side effect is only possible when taking steroids; this is because with steroids, youre literally pumping hormones into your body, which puts a serious amount of stress on your system.
But with natural testosterone booster supplements, youre only consuming herbs that encourage your body to produce more T - leaving you safe from this side effect.
So why is DIM added? Well, companies sometimes add DIM as a gimmick, to trick users into thinking its stronger than it is.
But the worst part is that DIM can actually encourage your body to convert T into estrogen when over-dosed; the worrying thing is that no-one knows what an over-dose of DIM is yet, so you cant be sure to consume a safe amount.
For this reason, we usually try to avoid testosterone boosters containing DIM.
Nettle Extract 
Also known as Stinging Nettle Root Extract due to being able to sting you from touch.
There are 2 main benefits from taking this herb; experiencing a slight increase in testosterone levels, and treating benign prostatic hypertrophy (enlarged prostate).
We believe that RedCon1 are fully aware of the potential side effect from taking Tribulus Terrestris, and have added Nettle Extract to try and combat it. However, we prefer to simply avoid Tribulus Terrestris altogether.
An increase in testosterone will naturally raise your sex drive anyway, so theres no need for nutrients to only deliver this benefit in BOOM STICK.
DHEA 
There isnt much known about DHEA, but its also known as Dehydroepiandrosterone. Its a hormone, but its not known as an anabolic steroid.
Saying that, if you watch soccer, you might have heard that former Liverpool defender, Mamadou Sakho, was banned after being found to take DHEA; yes, this has been banned from numerous sports, so stay away if youre a competitive athlete.
Anyway, on the surface, DHEA seems like the perfect ingredient. But remember that theres no such thing as this; DHEA has also shown to raise your estrogen levels, as well as T in numerous studies.
Ultimately, there still needs to be more research conducted on DHEA, but the initial signs are promising (apart from the fact it raises your estrogen levels).
---

---
Side Effects
The 3 main concerns with BOOM STICK are due to it containing Tribulus Terrestris, DIM and DHEA.
In case you skimmed past the previous section, well give you a quick summary; Tribulus Terrestris has shown to increase the weight of your prostate, DIM can potentially encourage your body to convert testosterone into estrogen. And DHEA can increase your estrogen levels to rise.
As you can imagine, these arent good side effects to suffer from. For this reason, we usually try to avoid Tribulus Terrestris, DIM and DHEA.
Heres the potential side effects from taking BOOM STICK: 
Increased prostate weight (Tribulus Terrestris)
Raised estrogen levels (DIM and DHEA)
---
BOOM STICK Review Conclusion
BOOM STICK is actually one of the better testosterone boosters that weve seen on the market. It contains a good dosage of Vitamin D3, which is rarer to find than you might think.
Also, were happy that RedCon1 has included 2 other key test boosting nutrients - Fenugreek Seed Extract and D-Aspartic Acid, both of which have proven to raise your test levels and sex drive.
However, by adding potentially harmful ingredients such as Tribulus Terrestris, DIM and DHEA into BOOM STICK, RedCon1s test booster has missed out on the highest rated T-Boosters rankings.
Ultimately, its the little things that make the difference between great products, and the best testosterone boosters on the market.
RedCon1 BOOM STICK Test Booster Review
Bottom Line
BOOM STICK contains some great nutrients in optimal dosages.
But it also has the potential to cause potential side effects, which youll like to avoid.
For this reason, wed prefer to choose one of the highest rated testosterone boosters instead.
See The Best Test Boosters This Year!
Heres the best natural testosterone boosters on the market for:
Faster Muscle Gains
Quicker Recovery Time
Decreased Belly Fat
Enhanced Energy & Sex Drive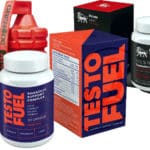 Click Here to See the Full List!