Pros
Contains Vitamin D3
Ashwagandha can improve power output
Shilajit Extract might promote test levels
Cons
Ashwagandha not shown to have any effects on testosterone
Shilajit isnt 100% proven to work yet
Missing key T-Boosting nutrients (eg. D-Aspartic Acid)
Not good value for money at $119.95, in our honest opinion
---
---

About The Product
Halovar is Purus Labs testosterone booster supplement, released in mid-2018. Its one of the more expensive products on the market, priced at $119.25 per 30 serving container; this puts a lot of pressure on this test booster, as its more expensive than our favorite products on the market.
From first impressions, were happy with what we see. Purus Labs has kept things simple by only including 4 main ingredients. And Vitamin D3 has been dosed very-near to optimal too, which makes Halovar more promising on first glance.
Anyway, well expand on this as we analyze Halovars nutrient profile in the next section. But first, well tell you more about the company behind it.
Who is Purus Labs? 
Purus Labs are a USA-based supplements company that is one of the lesser known brands on the market. Thats no disrespect either, but theyre simply not known on the same level as the more internationally known Optimum Nutrition or MuscleTech.
Weve had a look at their range of supplements, and they offer a fat burner too. We noticed that theyre all priced to compete with the premium products on the market, which places more pressure on this company to succeed.
After finding more about Purus Labs, we liked that they sponsor a range of different athletes, including UFC fighter, Andre Fili.
But youre here to learn more about their testosterone booster, Halovar. So lets see which ingredients have been added, in the section below…
---
Halovar Ingredients Explained
One thing that were very happy about, is that Purus Labs hasnt tried to pack their test booster with as many nutrients as possible. Instead, theyve kept the nutrient profile of Halovar concise, only adding 4 main ingredients overall.
Not only that, Purus Labs has also included a great 4,000IU dosage of Vitamin D3; this is quite rare to see, and definitely helps take Halovar to the next level.
But along with the positives, there are some slight negatives.
Well explain everything you need to know as we take you through each ingredient in Halovar. By the end of this review, youll have a good idea of how safe and effective Purus Labs testosterone booster really is.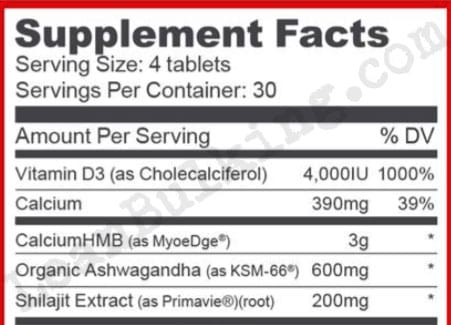 Heres Everything You Need To Know:
Vitamin D3
Vitamin D3 is perhaps the single most beneficial nutrient to add to your diet through supplementation - and were sure that many other nutritionists will agree with us!
What is it? Well, Vitamin D3 is the most bioavailable form of Vitamin D, which is naturally synthesized by your skin after being exposed to sunlight (technically making this nutrient a hormone).
Basically, Vitamin D3 has shown to improve your general health and mood. But more importantly, this nutrient has proven to raise your testosterone levels when supplemented in dosages over 3,332IU per day.
As Purus Labs has included an optimal 4,000IU dosage of Vitamin D3 to their T-Booster, Halovar, theyve done a really good job here!
Calcium HMB
The scientific name of this ingredient is calcium beta-hydroxy-beta-methylbutyrate. Its believed to improve muscle growth and strength in the gym, but there has been very mixed results in studies.
For example, one of the most prominent studies showing Calcium HMB to be ineffective concluded with the statement: Results indicate that 28 d of HMB supplementation during resistance-training does not reduce catabolism or affect training-induced changes in body composition and strength in experienced resistance-trained males (you can see this study here).
Ultimately, were not convinced that Calcium HMB is an effective addition to any testosterone booster at the moment. So until we see more studies proving that its reliable, we cant consider this to be a key addition to Purus Labs Halovar here.
Ashwagandha 
In case youre unaware, Ashwagandha is a herb that has been used in Ayurveda (traditional Indian medicine) for decades. Over the years, studies have shown that it can have a positive effect on your power output, making it a useful addition to a pre-workout supplement.
But the bad news is that Ashwagandha hasnt proven to have any effect on testosterone levels.
For this reason, while it can certainly be a useful bonus addition to any T-Booster, ultimately you buy these supplements to raise your test levels. So we cant consider Ashwagandha to be a key addition to Halovar either.
Shilajit Extract 
Shilajit is still quite a new discovery in the supplements industry. Its only started to have been added to supplements since around 2015, but that also means that not much is known about it.
The bad news is that Shilajit has been banned in countries such as Canada; this is due to it containing high amounts of minerals, which might push you over the recommended daily limit for safety reasons.
However, were quite excited by Shilajit. Its shown to potentially help raise testosterone levels, as well as promote fat loss too, in a few studies.
Now, were not saying that its 100% reliable, because it isnt - at all. But were keeping a close eye on future studies conducted on Shilajit. And if it is proven to work in the future, then its going to be one of the best additions to any supplement.
But for now, we have to state our honest opinion that Shilajit is still an unreliable addition to Halovar.
---

---
Side Effects
Halovar only contains 4 main ingredients, so the good news is that this test booster isnt likely to cause any side effects.
However, as we mentioned before, Shilajit has been banned from being sold in Canada due to potentially causing too-high amounts of minerals. So this is something you should take into consideration, in our honest opinion.
---
Halovar Review Conclusion
For the most part, were very happy with Halovar. It hasnt been overloaded with unnecessary ingredients, and the great dosage of Vitamin D3 is definitely a highlight of this testosterone booster.
But some negatives include that Shilajit is still an unreliable addition to any test booster for now. Also, we noticed that Halovar is missing many key test boosting nutrients, such as D-Aspartic Acid and Fenugreek Seed Extract.
Purus Labs HALOVAR Testosterone Booster Review
Bottom Line
The best thing about Halovar is the 4,000IU dosage of Vitamin D3.
But for the price of $119.25, were not convinced that it can compete with the highest rated test boosters available, which are priced much lower.
Check Out The Best Test Boosters This Year!
Here are the best natural testosterone boosters on the market for:
Faster Muscle Gains
Quicker Recovery Time
Decreased Belly Fat
Enhanced Energy & Sex Drive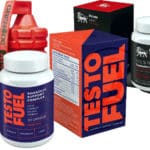 Click Here to See the Full List!