Pros
Caffeine boosts energy levels while cutting calories from your diet
L-Theanine can work in synergy with Caffeine to improve your focus
L-Tyrosine has also shown to be capable of increasing your focus
Cons
Missing key fat burning nutrients
Contains numerous sources of stimulants
Rauwolfia Vomitoria Extract linked with many side effects
---
---
About The Product: Pro Ripped MAX
Pro Ripped MAX is a fat burner supplement made by 1UP Nutrition. It costs $54.99 for 60 serving containers, putting it towards the premium price mark.
As a result, were interested in finding out whether it contains the right ingredients (in the right dosages) for it to be worth its price tag. Well take a look through its supplement facts in the next section, but first, well try to find out more about the company behind Pro Ripped MAX.
Who is 1UP Nutrition?
1UP Nutrition is a USA-based supplements company founded by 2 guys; Vadim Mordovin and John Hilton.
We like that theyre both fitness enthusiasts and wanted to add something positive to the industry. Apart from that, we didnt find out much else from their about us section, which isnt too much of a problem because youre here to learn more about 1UP Nutrition Pro Ripped MAX.
So, lets take a look at which ingredients have been added to this fat burner supplement in the section below…
---
Pro Ripped MAX Ingredients Explained
From first impressions, you can see that Pro Ripped MAX contains numerous sources of stimulants; this isnt always a positive, as consuming too many stimulants can lead to you suffering from jitters and energy crashes.
So, this fat burner isnt for those with a low tolerance for stimulants. However, as you can tell by its name, we dont believe that Pro Ripped MAX is aimed at these people. If youre interested in this product, then were assuming youre the kind of person who consumes 5+ black coffees per day and needs a serious kick of caffeine to feel any boost.
However, one slight issue we have is the lack of thermogenic nutrients (such as Cayenne Pepper Extract) in 1UP Nutritions Pro Ripped MAX. We personally would have preferred to see more thermogenics added here, but were also not here to complain and criticize this fat burner.
Anyway, well take you through each ingredient in Pro Ripped MAX. By the end of this review, youll have a good idea of how safe and effective this fat burner really is.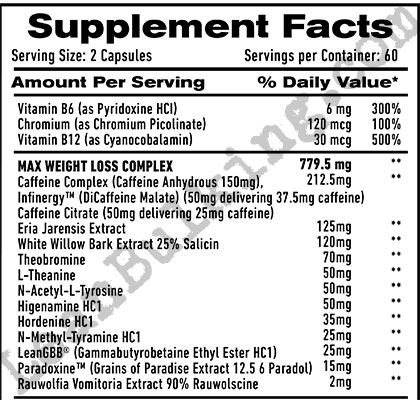 Here is everything you need to know about Pro Ripped MAX:
Caffeine Complex 
This blend contains 3 different sources of caffeine: Caffeine Anhydrous, DiCaffeine Malate and Caffeine Citrate.
The good news is that this isnt a proprietary blend, so 1UP Nutrition has shown you the exact dosages of each caffeine source here. This is something we will praise, as too many companies include unknown dosages of stimulants in blends (which can lead to people consuming large dosages of caffeine without knowing, ultimately leading to jittery side effects).
Now, the overall dosage of this Caffeine Complex is 212.5mg. Weve already mentioned that Pro Ripped MAX contains numerous stimulants in a fairly big overall dosage. But as 1UP Nutrition has shown you the exact dosages, we cant complain - you know what youre putting into your body with this fat burner.
As the overall dosage of all the 3 types of caffeine is 101.25 per capsule, this isnt bad at all (around less than a cup of coffee). So the problem is not here for us. Our personal issue is that Pro Ripped MAX contains even more stimulants, which well go through further down in this section.
Eria Jarensis Extract
In case you didnt know, Eria Jarensis is an ingredient thats believed to deliver similar effects as a stimulant. As a result, it has been linked with such side effects as jitters and anxiety in the past.
In our honest opinion, there simply hasnt been enough human research conducted on Eria Jarensis to make it a reliable addition to a fat burner supplement.
As a result, well admit that we prefer tried-and-tested thermogenics such as Cayenne Pepper Extract. But, we do respect 1UP Nutrition for taking risks and adding in less commonly added nutrients into Pro Ripped MAX.
The Other Stimulants 
There are at least 3 more stimulants in Pro Ripped MAX and we dont want you to be sat here all day reading this. Actually, we dont want to sat here typing all day either; its getting late and were pretty hungry…
Anyway, the other stimulants in Pro Ripped MAX are; Theobromine, Higenamine, Hordenine and Rauwolfia Vomitoria Extract.
As you can see, there are a lot of stimulants there. But the good news is that they havent been added in individual dosages above 70mg. So, the target audience should still be safe consuming this fat burner.
Ultimately, as we mentioned, youre only going to be interested in Pro Ripped MAX if youre really wanting a BIG kick from a fat burner supplement. So, were not going to complain about this.
But, at the same time, this does contain the same (if not more) stimulants than pre-workout supplements.
Not only that, Rauwolfia Vomitoria Extract has been linked with numerous side effects by past users. So, we do wish that this ingredient had been left out of Pro Ripped Max.
---

---
L-Theanine 
L-Theanine is a great addition to a pre-workout or nootropic supplement; this is because its able to provide calming effects and improve your focus. In fact, it even works in synergy with caffeine to improve your focus (as it forms a smart-caffeine).
So, its clear that 1UP Nutrition has done their research here.
However, for us, there is simply too many stimulants for L-Theanines calming effects to save us. But, for those that are very tolerant to stimulants, this is a nice addition.
L-Tyrosine 
This is a tricky one. L-Tyrosine is amazing in pre-workouts and nootropics because its proven to boost your focus and cognition in general.
However, for the purposes of a fat burner, its not really necessary; its not really shown to be beneficial for fat loss, especially compared to thermogenic nutrients.
Ultimately, you can consider this as a good bonus addition. But its certainly not a key ingredient in Pro Ripped Max.
N-Methyl-Tyramine
Well be honest, we dont know much about this ingredient. There havent been many studies conducted on N-Methyltyramine, so its hard to say whether its 10% reliable (in our honest opinion).
However, one thing we did find out is that its banned from competitive sports. As a result, you want to avoid this ingredient if you are a competitive athlete.
LeanGBB 
For those that dont know, LeanGBB is a precursor to L-Carnitine. Its actually linked quite heavily to fat loss, so again, this is proof that 1UP Nutrition has done their homework.
Not only that, LeanGBB has shown to provide many other health benefits too. So, this seems like a perfect addition to any fat burner and youll probably see this in more supplements in the future.
Grains of Paradise 
Weve mentioned that we wished Pro Ripped MAX contained Cayenne Pepper Extract in this review. Well, Grains of Paradise is a spice thats believed to deliver similar thermogenic effects.
What is it? Its a spice thats been commonly used in African cooking for a while now. Its fairly recently been added to supplements, so there havent been as many studies on this as capsaicin, but it looks very promising.
Again, were impressed that 1UP Nutrition has chosen less know nutrients that are believed to work. Its great to see.
---

---
Pro Ripped MAX Side Effects
This is the section where well take you through whether Pro Ripped Max can cause side effects or not.
Weve mentioned throughout this review that Pro Ripped Max contains tons of stimulants. So, if you have a low tolerance to stimulants, you might be at risk from jitters and energy crashes from this - but in 1UP Nutritions defense, this fat burner is aimed at those looking for a serious kick on their fat burning journey,
There are one or two other negatives, though; Rauwolfia Vomitoria Extract is known for being capable of causing side effects, as is Eria Jarensis Extract (in our honest opinion). #
Here are the potential side effects from taking Pro Ripped MAX: 
Jitters (Overload of stimulants, Rauwolfia Vomitoria Extract, Eria Jarensis Extract)
Energy Crashes (Overload of stimulants, Rauwolfia Vomitoria Extract, Eria Jarensis Extract)
Anxiety (Rauwolfia Vomitoria Extract, Eria Jarensis Extract)
---
Pro Ripped MAX Review Conclusion
All in all, we can see what 1UP Nutrition has tried to create here; a fat burner for those that want a bigger kick of stimulants than the average person. It does pretty well for that, as you can see from its supplement facts.
We also like that 1UP Nutrition has included some lesser known nutrients such as LeanGBB and Grains of Paradise. Its great to see the supplements industry progressing and looking for new alternatives to topple the older nutrients that have been around for decades.
However, a few issues that we personally have is that Rauwolfia Vomitoria and Eria Jarensis Extract can cause numerous side effects (as has been reported by past users). As a result, we do wish that these ingredients had been left out.
Check Out The Best Fat Burners Available!
Here are the best natural fat burners on the market for:
Faster Fat Loss
More Energy 
Suppressed Appetite
Raised Metabolism