Pro's
Contains Citrulline Malate and Caffeine.
Beta-Alanine can improve muscular endurance
Con's
Missing key pre workout ingredients.
Citrulline Malate under-dosed at 4,000mg (optimal amount is 6,000mg-8,000mg).
Caffeine dose is high at 350mg per serving  - recommended daily allowance is 400mg.
DMAE & DMAA have been banned in numerous countries.
Can cause numerous side effects.
Not good value for money.
---
---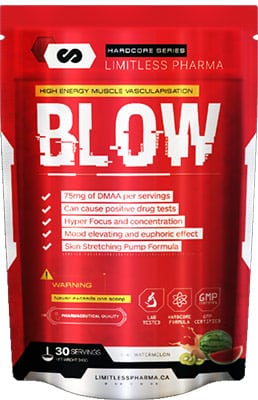 About the Product
Blow is a pre-workout supplement made by Limitless Pharma. Its priced at $49.99 for a 30 serving container, and comes with a warning: Due to extreme potency, never exceed 1 scoop in a 24 hours period. In order to get used to this product, begin with half a scoop.
But thats not the only issue with this product…
Blow contains a potentially hamrful ingredient (DMAA) which has been banned in the UK. But those of us from the USA arent safe either -  the FDA strongly advise you to stay away from DMAA too, in an official warning:
FDA is very concerned about DMAA and we advise consumers not to purchase or use any dietary supplement containing DMAA. - which you can see in this link (https://www.fda.gov/food/dietarysupplements/productsingredients/ucm346576.htm)
Who are Limitless Pharma?
Limitless Pharma are a Canadian supplements company, based in Quebec (Canada). They market a range of products, from pre-workouts, to BCAAs and Protein Powders.
However, there wasnt much other information available about them online. This is the first product weve seen from Limitless Pharma, so lets see whether Blow can help them gain a good reputation.
---
Limitless Pharma Blow Ingredients Explained
Limitless Pharma contains 9 main ingredients, with only 2 of them being key pre-workout ingredients proven to work (Citrulline Malate & Caffeine). However, even these wont be very beneficial, due to being incorrectly dosed in Blow.
Theres some potentially harmful nutrients in this supplement, so you wont regret reading this section. Well analyze each ingredient inside - so you can see how good this pre-workout really is.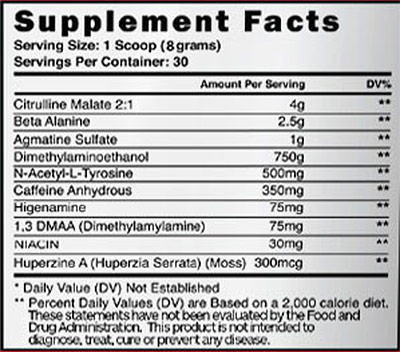 Heres Everything You Need To Know About Blow:
Citrulline Malate 
Citrulline Malate is one of our favorite ingredients when dosed correctly (between 6,000mg-8,000mg). Basically, its proven to enhance your muscle pumps - by raising your nitric oxide levels, which encourages more blood to rush to your muscles while you lift weights.
However, Limitless Pharma have under-dosed this ingredient in Blow, only adding 4,000mg here - meaning it might not work.
For this reason, we recommend checking whether pre-workouts contain an optimal 6,000mg-8,000mg dosage of Citrulline Malate.
Beta-Alanine
We have mixed opinions about Beta-Alanine, as it can enhance muscular endurance - but it causes paresthesia in doses over 0.8g-1g (see side effects section for more info).
Blow contains 2.5g of this ingredient, meaning youre almost certain to experience this side effect after taking this pre-workout. For this reason, we prefer Creatine Monohydrate, which offers the same benefit without causing side effects.
Huperzine-A
Huperzine As a herb extracted from the Huperziceae species of plant, and is believed to improve focus. But it hasnt been proven to work in any studies.
Not only that, Huperzine-As known to cause unwanted side effects (see side effects section for more info). We avoid ingredients that are consistently reported to cause side effects, so we stay away from Huperzeine A for this reason.
---

---
Dimethylaminoethanol (DMAE)
This is one of the worst ingredients found in pre-workout supplements. Its believed to improve focus, but its also shown to be teratogenic (meaning it can cause birth defects to unborn babies).
As a result, this is a side effect that should be avoided at all costs. 
For this reason, we strongly recommend that you stay away from products containing DMAE. If youre reading from Canada and Australia, you wont be able to get hold of Blow Pre-Workout anyway, as DMAEs banned.
Caffeine
Caffeine is a key pre-workout ingredient when dosed correctly (between 150-200mg in pre-workouts). In this dosage, Caffeines proven to improve your strength, endurance, focus, and energy levels - which are all great benefits to improve your gym session.
However, Blow contains a HUGE 350mg dosage of Caffeine per serving, which can cause jitters and energy crashes. To put this in perspective, this is equal to drinking 3 cups of black coffee at once (if youve ever had too much coffee in a short-period of time, youll know the unwanted side effects it can cause).
DMAA
This is another harmful ingredient in Blow. Basically, it can provide quick energy boosts as its classed as a stimulant - but its been reported to cause harmful side effects and has been banned in the UK, Canada, and even New Zealand as a result.
For this reason, we prefer Caffeine - as its tried-and-tested to be the safest and most effective stimulant on the market (as long as you consume below 200mg per serving).
Not only that, DMAA will show up as amphetamines in drug tests - so competitive athletes should definitely stay away from DMAA. For these reasons, we strongly recommend that you avoid products containing DMAA.
---
Did You Know
…Citrulline Malate is the best ingredient to enhance your muscle pumps? It works best in dosages of 6,000mg.
Click Here to see which pre-workouts contain Citrulline Malate!
---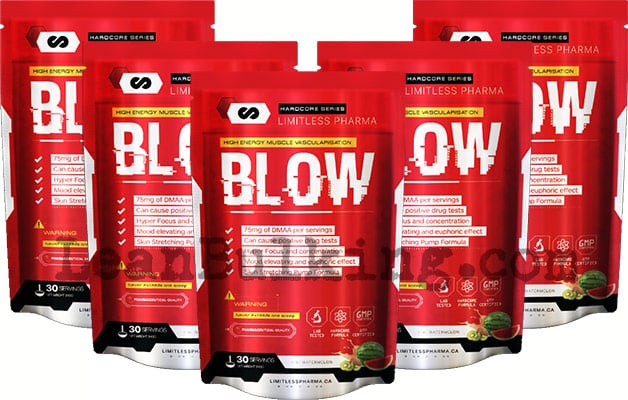 ---
Side Effects
Theres numerous ingredients that can cause side effects in Blow - DMAE and DMAA. Limitless Pharma have even made Caffeine potentially harmful by adding a HUGE 350mg dosage in Blow pre-workout (we make sure to consume below 200mg per serving in pre-workouts, to avoid jitters and energy crashes).
Not only that, Huperzine-A also increases your risk of suffering from side effects, with Beta-Alanine causing paresthesia (tingling sensation on your face and body). There are many ingredients thatre shown to work and dont cause side effects, so we prefer companies to use them instead (such as Creatine Monohydrate).
Heres the list of potential side effects from taking Blow:
Paresthesia - tingling on your face and body (Beta-Alanine)
Birth defects in unborn babies (DMAE)
Jitters (High 350mg dose of Caffeine)
Energy Crashes (High 350mg dose of Caffeine)
Rapid Heartbeat (DMAA)
Shortness of Breath (DMAA)
Raised Blood Pressure (Huperzine A)
Nausea (Huperzine A)
Diarrhea (Huperzine A)
Cramping (Huperzine A)
---
Limitless Pharma Blow Review Conclusion
Its clear that Limitless Pharma tried to create the strongest pre-workout on the market, but theyve added potentially harmful ingredients (such as DMAE & DMAA) to do this.
Not only that, the only good ingredients inside Blow (Caffeine and Citrulline Malate) have been dosed incorrectly, making them ineffective. This is a great example of how important dosing ingredients is.
Limitless Pharma Blow Review
Bottom Line
The 350mg dose of Caffeine, DMAE, and DMAA are very likely to cause you unwanted side effects.
As a result, we believe there are much better pre-workout supplements out there (which contain better ingredients that wont put you at risk of side effects).
For this reason, if youre spending your hard-earned cash on supplements, you should make sure youre getting the best available.
Check Out The Best Pre-Workouts This Year!
Heres the best natural pre-workouts on the market for:
Energy Boosts 
Enhanced Strength & Endurance 
Increased Focus
Skin-Splitting Muscle Pumps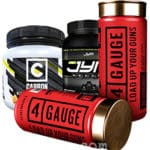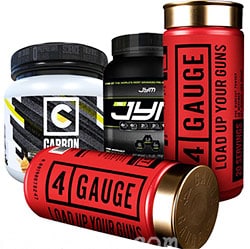 Click Here to See the Full List!