Pro's
Contains L-Citrulline
Creatine proven to boost strength and endurance
Con's
Beta-Alanine can cause paresthesia
Arginine Silicate Inositol is unreliable
Contains numerous proprietary blends – don't know exactly what's inside
---
---

About The Product
PMD Pump Fuel Insanity is a pre-workout supplement made by PMD Sports. It comes in 30 serving containers for $67.99, and in 6 flavors:
Ballistic Blue Razz
Gonzo Grape
Lunatic Lemonade
Outrageous Orange
Psycho Strawberry
Raspberry Lemonade
It sounds like a tasty product, but is it effective? Read on to find out.
---
Ingredients Explained
It's good that PMD Pump Fuel Insanity contains L-Citrulline and Creatine, which are 2 key pre-workout ingredients.
But it contains numerous proprietary blends. This is bad.
Why?
Because you don't know the exact ingredients inside each blend. Ultimately, you should know what you're putting into your body, to stay safe.
What's a proprietary blend?
Well, it's a mixture of numerous ingredients that are shown to you under 1 quantity – as you can see, the 'Rapid ATP v.4 Blend' is 3,000mg, but you don't know what ingredients are inside.
This is bad, because you could be allergic or sensitive to an ingredient inside, and you wouldn't know until you suffered side effects.
We've analyzed the ingredients that are shown on the ingredients list, to show you how effective PMD Pump Fuel Insanity really is.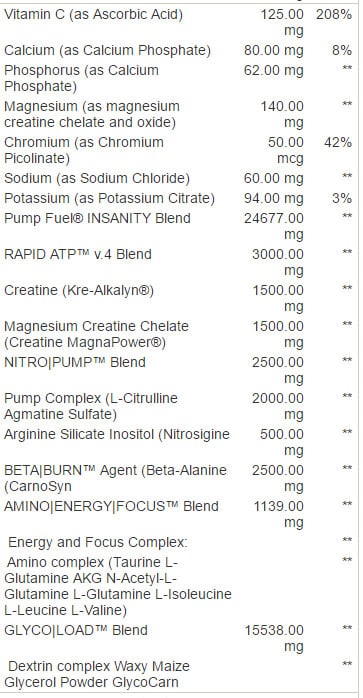 Here's Everything You Need To Know:
Creatine 
This is one of the best ingredients inside PMD Pump Fuel Insanity, that's shown on the ingredients list.
Creatine is proven to boost strength and endurance, which are great benefits of a pre-workout.
Magnesium Creatine Chelate
This is a mixture of magnesium and creatine, that's believed to be beneficial. However, there hasn't been enough research on this ingredient to prove it's effective.
So it's unreliable.
L-Citrulline 
This is a great ingredient to have in a pre-workout – it can improve your muscle pumps in the gym when you're bicep curling or leg pressing.
The problem is this: L-Citrulline's been underdosed here at 2,000mg.
The optimal dosage of L-Citrulline is 3,000mg (or 6,000mg if it's Citrulline Malate).
Beta-Alanine 
Beta-Alanine is in numerous pre-workout supplements, because it can improve muscular endurance.
But it can also cause paresthesia (see side effects section below for more info).
---

---
Side Effects
There's always an increased risk of side effects with products containing proprietary blends – which PMD Pump Fuel Insanity does.
As we don't know the exact ingredients in each of the blends inside PMD Pump Fuel Insanity, we can't say for sure exactly what side effects you could experience.
But we do know you could suffer from these side effects:
Paresthesia (a tingling on the skin of your face, chest, hands, fingertips and toes) – due to Beta-Alanine dose over 0.8g-1g.
---
Review Conclusion
For the price of $67.99, you could find much better pre-workouts.
Basically, we don't recommend products that contain any proprietary blends – you should know exactly what you're putting in your body.
But there are some positives about PMD Pump Fuel Insanity. It contains 2 key pre-workout ingredients (Citrulline & Creatine).
We simply believe that there are better pre-workouts on the market available.
To save yourself time researching, take a look at our favorite pre-workouts.
Check Out The Best Pre-Workouts This Year!
Here's the best natural pre-workouts on the market for:
Energy Boosts 
Enhanced Strength & Endurance 
Increased Focus
Skin-Splitting Muscle Pumps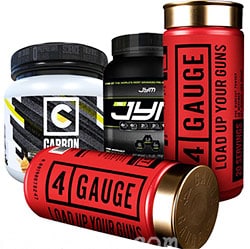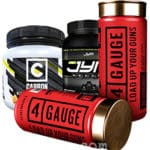 Click Here to See the Full List!