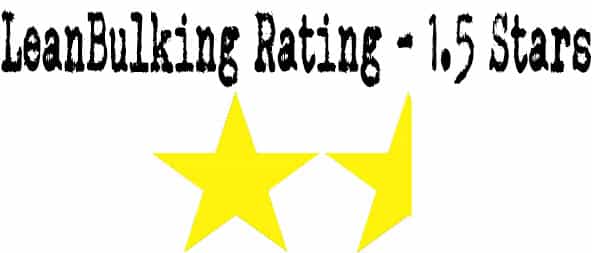 Pro's
L-Citrulline enhances muscle pumps
L-Citrulline optimally dosed
Con's
Missing ingredients to boost strength, endurance and focus
Contains ineffective ingredients
Not good value for money
---
---

About The Product
The PUMP is a pre-workout supplement made by Pitbull Labs. We've only seen this product in cherry limeade flavor so far, but we'll keep you updated when we know more.
From the name of this pre-workout, you can see that it's designed to improve your muscle pumps in the gym; this is a great benefit, but it shouldn't be the only benefit that a pre-workout delivers.
Basically, we always expect pre-workout supplements to deliver 4 benefits – enhanced strength, endurance, focus AND muscle pumps.
As a result, when a company creates a product only designed to deliver one of these benefits, it'll have no chance of competing with the highest rated pre-workouts on the market.
Anyway, well tell you more about this company behind The PUMP, before analyzing its nutrient profile.
Who Are Pitbull Labs?
Pitbull Labs are a USA-based supplements company, which we believe are relatively new, as we haven't seen any of their products before.
We like that Pitbull Labs have a "No BS" philosophy, and that they don't add any proprietary blends to their products; we personally don't like these blends either, as they allow companies to hide poor dosages of ingredients without you knowing.
In fact, with this philosphy, we're backing Pitbull Labs to create some market-leading products in the future. Because we also believe in a future without any proprietary blends in the supplements industry.
Anyway, after our "I have a dream"speech there, we'll cut the BS ourselves, and get straight into analyzing Pitbull Labs THE PUMP's nutrient profile below.
---
Pitbull Labs THE PUMP Ingredients Explained
Pitbull Labs THE PUMP contains 7 ingredients overall, but as we mentioned; this product is only designed to deliver 1 benefit – muscle pumps.
In all fairness to Pitbull Labs, this is a pretty good benefit to have in the gym. However, we believe the main selling point of a pre-workout is to give you that energy boost to motivate you to kick some *ss.
For this reason, we would have liked Pitbull Labs to have included a sensible dosage of Caffeine here. But we're sure they're saying 'haters gonna hate', and we agree (but remember we are a review website and we try to provide as much insight as we can).
We'll take you through each ingredient inside Pitbull Labs THE PUMP – to show you how effective this pre-workout really is.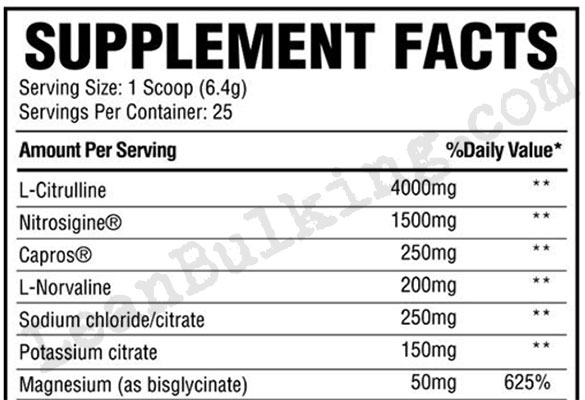 Here's Everything You Need To Know:
L-Citrulline 
This is the best ingredient inside this pre-workout. In fact, if Pitbull Labs removed every other ingredient inside THE PUMP, we're confident that you'd still experience enhanced muscle pumps in the gym.
How does it work? Well, L-Citrulline converts into L-Arginine in your kidneys, which then raises your nitric oxide levels (increasing your blood flow and enhancing muscle pumps).
Studies have shown that it works best in dosages of at least 3,000mg, so Pitbull Labs have dosed this well.
However, if we had to change a tiny thing; we would have chosen Citrulline Malate instead, as this improves your strength too (basically, Citrulline Malate is L-Citrulline with added Malic Acid).
But as we said, this is us trying to find something wrong here, as we're a review website. In conclusion, Pitbull Labs have done very well here.
Nitrosigine 
This is a patented form of Arginine and Silicon; on paper, this looks like an amazing ingredient to add into a pre-workout.
However, remember that studies of Arginine show that it has a poor absorption rate (meaning it's mostly ineffective when orally supplemented). Therefore, any ingredient containing Arginine is likely to have a poor absorption rate, like Nitrosigine.
For this reason, we don't consider Nitrosigine to be a key addition to any pre-workout supplement.
Capros 
Capros is another patented ingredient; it's made from Indian Gooseberries, which can help prevent insulin spikes after you eat high amounts of carbohydrates.
However, there's no evidence to prove that Indian Gooseberry delivers any benefits to improve your gym sessions; this makes it another ineffective ingredient inside Pitbull Labs THE PUMP.
We would have preferred to see Caffeine Anhydrous here instead; this stimulant has proven to boost your energy, strength, endurnace and focus in the gym, without any jitters when consumed in dosages under 200mg per serving.
---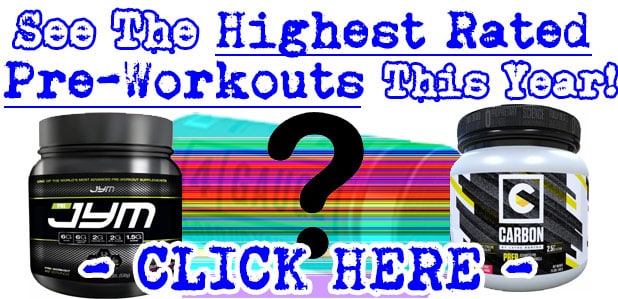 ---
L-Norvaline 
This is an amino acid that's believed to encourage your body to produce higher levels of nitric oxide (which would increase your blood flow and enhance muscle pumps).
However, there hasn't been enough reliable evidence to prove that L-Norvaline actually works.
Ultimately, this makes L-Norvaline another unreliable and potentially ineffective ingredient inside Pitbull Labs THE PUMP.
Sodium Chloride/Citrate 
This is basically just salt. Nothing more.
In fact, this is actually a bad addition to a product; if you already consume a high salt diet, then this will be harmful to your body – and there's no need to add salt to a pre-workout supplement.
If Pitbull Labs wanted to deliver electrolytes, they should have added coconut water powder instead.
Potassium Citrate 
This is actually a good addition to any product, and we wish more multivitamins contained this. Basically, Potassium is great for balancing your salt levels (if you consume too much salt one day, then just consume more potassium).
However, as Pitbull Labs THE PUMP contains 250mg of salt here, you would need an equal (or bigger) amount of potassium to balance it out.
Unfortunately, this pre-workout only contains 150mg Potassium – so you'd still need to eat a banana to balance your salt/potassium levels.
Magnesium
We wouldn't usually review magnesium in a product, but we'll do it for you this once, because we have the time.
Basically, Magnesium is a mineral that plays an important role in your bone health. And studies have also shown that magnesium is also beneficial for your testosterone levels (but if you're wanting a raise in test levels, then you'll be better off looking at testosterone booster supplements).
It's a good addition to any product, but it's not a key one; Magnesium can easily be found in multivitamins that you can pick up for $2.
---

---
Side Effects
One of the best things about Pitbull Labs THE PUMP is that it doesn't contain any ingredients that are likely to cause any side effects.
However, as it contains salt, we recommend that you keep an eye on your salt intake – to avoid consuming too much salt, which can lead to bad side effects (or eat more banana's to balance your salt/potassium levels).
---
Pitbull Labs THE PUMP Review Conclusion
After reviewing this product, our thoughts haven't really changed about Pitbull Labs The PUMP; this isn't worth paying for, especially as there are other pre-workouts that offer numerous benefits, such as enhanced endurance, strength, energy and focus – as well as muscle pumps.
Ultimately, this is a product that only offers one benefit, in a market filled with multi-talented products.
[wp-review]
Check Out The Best Pre-Workouts This Year!
Here's the best natural pre-workouts on the market for:
Energy Boosts 
Enhanced Strength & Endurance 
Increased Focus
Skin-Splitting Muscle Pumps