Pros
Fenugreek Seed Extract raises test and libido
Longjack can boost libido
Boron can positively affect testosterone levels
Cons
Missing key test boosting nutrients (eg. Vitamin D3)
Contains ineffective ingredients
---
---

About The Product
RISE is a testosterone booster by Outbreak Nutrition. This is an exclusive sneak peak, so we don't know the price of this supplement yet, but it comes in 30 serving containers.
We're surprised to see that its serving size is 6 capsules daily; this is more than needed, as studies show you only need daily serving sizes of 3-4 capsules.
But saying that, we'd rather have 6 capsules per day than 1-2, so there's not much point complaining here.
Anyway, we'll analyze RISE's nutrient profile for you, after telling you more about Outbreak Nutrition.
Who are Outbreak Nutrition? 
The 'about us' section of Outbreak Nutrition's website is very strange. It simply tells you of a scenario when a nuclear war has demolished the world, instead of key information such as when this company was founded etc.
We understand that branding yourself is important, but we don't want to read a short fictional story. You should want to find out how their products are made, and why they're better than other companies.
But fortunately, this doesn't impact the quality of RISE testosterone booster. So let's see which ingredients Outbreak Nutrition have added inside.
---
RISE Ingredients Explained
RISE contains 6 main ingredients overall, which is a good number to have. The products that contain over 10 nutrients are usually under-dosed, so we're hopeful that Outbreak Nutrition have added good dosages of their ingredients in RISE.
From first glance, we're happy that RISE doesn't contain any proprietary blends. And from looking at the dosages of ingredients, we can see that Outbreak Nutrition have spent their costs well.
We'll take you through the main ingredients inside RISE testosterone booster. By the end of this review, you'll know how safe and effective this supplement really is.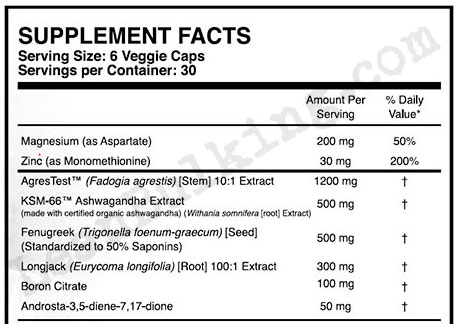 Here's Everything You Need To Know:
AgresTest
This is the first time we've seen 'AgresTest' in a supplement before. We're seen that others believe that it's Outbreak Nutrition's own formula, containing ZMA.
However, you're not given any other information at this point.
The good news is that Zinc & Magnesium are 2 essential minerals that play an important role in supporting healthy testosterone levels.
But next to AgresTest, it says 'Fadogia Agrestis' which is a shrubbery found in Nigeria. For this reason, we don't think it's a formula, but 1 ingredient.
Fodogia Agrestis is a herb used as an aphrodisiac, and shown to strengthen erections in rats. Scientists believe that Fadogia Agrestis could increase ejaculatory latency, which is good if you like old-school facials…
Anyway, the bad news it that Fadogia Agrestis has no effect on your testosterone levels; which is worrying, when this is the main ingredient inside at a big dosage of 1,200mg.
KSM-66
A patented form of Ashwagandha Extract, this is a herb that's been used in ayurvedic (Traditional Indian Medicine) for decades.
While it's shown promising signs of improving your strength, there's no evidence to suggest that it raises your testosterone levels; this makes it almost an ineffective nutrient in RISE.
If you wanted to increase your strength, then you only have to add Creatine Monohydrate to your protein shakes…
Fenugreek Seed Extract 
Again, this is another herb used in ayurvedic medicine. However, Fenugreek Seed Extract is one that's proven itself through modern research.
Simply put, scientific studies have shown that Fenugreek Seed Extract is able to raise both your test levels and libido – making it the perfect addition to a testosterone booster like RISE.
The good news is that Outbreak Nutrition have added a big dosage here too, so it's very likely to work.
But it's useful to know that Fenugreek Seed Extract is one of the few nutrients that are effective in dosages as low as 50mg per serving; this makes it one of the most efficient ingredients too.
---

---
Longjack Extract 
Also known as Eurycoma Longifolia, this is another herb used in Traditional Indian Medicine.
We have mixed opinions about Lonjack Extract, as it's shown to raise your libido, which is always a good thing. However, the bad news is that this herb has no effect on your testosterone levels.
Ultimately, the main benefit you want is a raise in T levels when buying a testosterone booster like RISE. For this reason, we're tempted to consider Longjack Extract almost as an ineffective ingredient here.
But we can't ignore that it does raise your libido, making it useful still. We would have much preferred to see a key test boosting nutrient such as Vitamin D3 instead though.
Boron Citrate
In case you're unaware, this is a mixture of Boron and citric acid. The good news is that Boron is a mineral that's shown to slightly boost testosterone levels when consumed in amounts higher than you would consume through food.
For this reason, it can be useful to consume upwards of 3mg Boron per serving. Studies have shown that you only need around 10mg Boron for it to work, and there's not been any research with the 100mg serving inside RISE.
Ultimately, the TUL (tolerable upper limit) for Boron is set at 20mg per day. So we wouldn't advise you to consume more than this amount.
Remember that Boron is a mineral, and minerals can accumulate in your body and cause side effects later on.
Androsta 3-5-diene-7,17-dione 
Not much is known about this ingredient, apart from the fact that it's a aromatase inhibitor (AI); this means that it's able to prevent your testosterone converting into estrogen.
However, companies only add AI's into their test boosters as a gimmick.
Why? Because natural test boosters aren't strong enough to cause this side effects to happen. Now, the good thing about this is that natural T-Boosters don't put you at risk from gynecomastia (man boobs) or liver damage either.
But remember that AI's are unnecessary additions to natural testosterone booster supplements. We would have been much happier if Outbreak Nutrition had added Vitamin D3 here instead.
---

---
Side Effects
The good news is that RISE shouldn't cause any side effects, as it contains mostly safe nutrients.
However, we're worried about the big 100mg dosage of Boron; considering the safe limit for Boron is 20mg daily, this is 5x over this limit, which could cause side effects.
However, we can't say for sure as we're not actually sure whether it will.
Here's the potential side effects from taking: 
Boron Poisoning (over 20mg Boron per day)
Diarrhea (over 20mg Boron per day)
Headaches (over 20mg Boron per day)
---
Review Conclusion
Ultimately, you can see that RISE has been carefully formulated by Outbreak Nutrition; it contains key test boosting nutrients such as Fenugreek Seed Extract, which is proven to raise your test levels and libido.
However, it's let down by the over-dose of Boron. The TUL (tolerable upper limit) of Boron is set at 20mg per serving, but RISE contains a massive 100mg dosage, which pushes you past this.
Ultimately, we've never personally over-dosed on Boron before, but we've listed the potential side effects that our medical friends have suggested above.
For this reason, we don't feel confident recommending this testosterone booster to you. It's unfortunate, as sometimes its the little mistakes that can ruin a supplement.
[wp-review]
See The Best Test Boosters This Year!
Here's the best natural testosterone boosters on the market for:
Faster Muscle Gains
Quicker Recovery Time
Decreased Belly Fat
Enhanced Energy & Sex Drive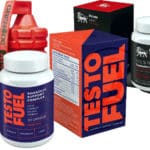 Click Here to See the Full List!