Pro's
Perfect dosage of Caffeine (150mg per serving)
Beta-Alanine shown to improve muscular endurance
Con's
Beta-Alanine can cause paresthesia (see side effects section for more info)
Arginine is ineffective when orally supplemented
Citrus Auranium (Synephrine) is banned in numerous countries & can cause side effects
---
---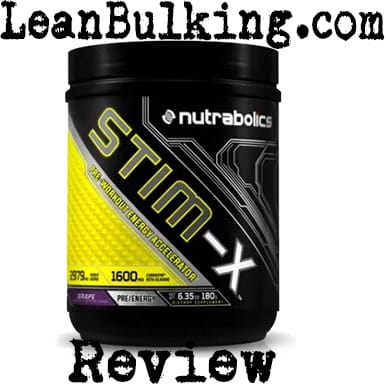 About The Product
Stim-X is a pre-workout made by Nutrabolics. It comes in 30 serving containers, in 5 different flavors – Grape, Candy Blast, Black Cherry Lime, Iced Raspberry, and Fruit Punch.
Who are Nutrabolics? 
Nutrabolics is a supplements company that were founded in 2002. They sponsor high-level athletes, such as Anderson Silva (a UFC fighter), and Batista (a professional wrestler).
They market a range of supplements, from fat burners to pre-workouts. Let's see whether Stim-X can live up to their reputation.
---
Stim-X Ingredients Explained
This is a fact: you can see exactly how good a product is by looking at its ingredient list. If it contains great ingredients in optimal dosages, then it's a great product.
However, many pre-workouts contain potentially harmful ingredients that can cause numerous side effects. After checking Stim-X's nutrient profile, it seems to contain some great ingredients, as well as worrying ones like Synephrine.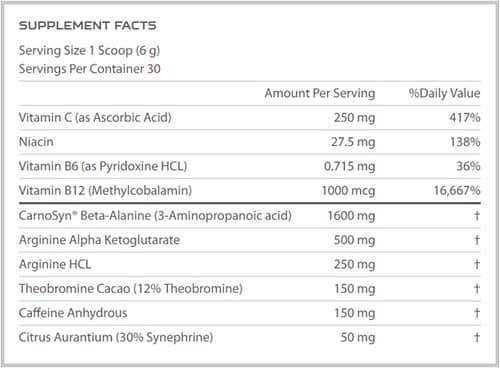 Here's Everything You Need To Know:
Beta-Alanine
We have very mixed opinions about Beta-Alanine. It's shown to improve muscular endurance, but it also causes paresthesia (see side effects section for more info).
Arginine Alpha Ketoglutarate (AAKG)
This is believed to support your Arginine levels in your body, which would raise nitric oxide production – leading to enhanced muscle pumps.
However, Arginine has a poor absorption rate. And because AAKG is extracted from Arginine, then it's likely to be ineffective when orally supplemented too.
Arginine HCL 
As we mentioned above, Arginine has a poor absorption rate – meaning it's ineffective when orally supplemented.
For this reason, it's not likely to benefit you much in Stim-X.
Theobromine 
This is a stimulant extracted from Cocao beans. It's responsible for that slight energy boost you feel when eating chocolate (as well as the high amounts of sugar).
However, caffeine is the best and safest stimulant available, so we advise that caffeine is the only stiumlant you consume in a pre-workout.
Caffeine 
This is one of our favorite pre-workout ingredients, as it can improve your strength, endurance, and focus – all key benefits to improve your gym session.
Nutrabolics have done well here, by dosing caffeine perfectly at 150mg per serving. This means you'll be safe from jitters and energy crashes, and will experience the benefits we mentioned.
Great job by Nutrabolics here. We wish they'd added more key pre-workout ingredients though.
Citrus Auranium (Synephrine) 
Synephrine is an ingredient we strongly advise you to stay away from. We've personally experienced bad side effects from it, and there's no need for a fat burning ingredient in a pre-workout supplement.
We'll list the potential side effects from consuming Synephrine below.
---

---
Side Effects
Nutrabolics have made sure you won't experience jitters or energy crashes by adding an optimal amount of caffeine in Stim-X (150mg per serving).
However, they've added in a potentially harmful ingredient that's banned in numerous countries – Synephrine. We've actually had bad experienced with synephrine before, and it's main benefit is promoting fat loss (which isn't needed in a pre-workout anyway).
There's the risk of paresthesia with Beta-Alanine inside Stim-X – but some people don't mind this side effect, although we'd rather not suffer from it.
Here's the potential side effects from taking Stim-X:
Paresthesia – tingling on the skin of your face and body (Beta-Alanine)
Nausea (Synephrine)
Headache (Synephrine)
Dizziness (Synephrine)
Nervousness or Anxiety (Synephrine)
---
Stim-X Review Conclusion
We'll give Nutrabolics credit for dosing caffeine perfectly at 150mg per serving – many companies add in too much caffeine, which puts you at risk of jitters and energy crashes.
However, this is where the bad news starts.
The worst ingredient in Stim-X is Synephrine, as it can cause numerous side effects (as you can see above), and is banned in numerous countries as a result.
Not only that, Arginine HCI, AAKG, and Theobromine aren't proven to benefit your gym sessions in studies – making them all unreliable ingredients.
For this reason, we recommend looking at better pre-workouts on the market – to get the best products available.
Check Out The Best Pre-Workouts This Year!
Here's the best natural pre-workouts on the market for:
Energy Boosts 
Enhanced Strength & Endurance 
Increased Focus
Skin-Splitting Muscle Pumps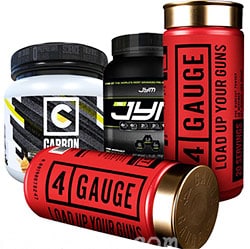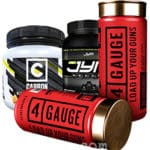 Click Here to See the Full List!