Pros
Fenugreek Seed Extract has shown to boost T and libido
Panax Ginseng Extract can raise testosterone levels
Horny Goat Weed Extract might improve libido
Cons
Tribulus Terrestris is linked with prostate enlargement
Horny Goat Weed has no effect on T levels
Missing key test boosting ingredients (eg. Vitamin D3)
Not good value for money, in our honest opinion
---
---
About The Product: MRI Testosterone Support
MRI Testosterone Support is a testosterone booster supplement made by MRI Performance. It costs $45.99 for 45 serving containers, so it's priced to fit in the middle of the market; it's neither cheap or premium priced.
While this product contains some effective ingredients such as Fenugreek Seed Extract, we are slightly concerned that it contains Tribulus Terrestris. This is because there have been recent studies potentially linking it to prostate issues, which is something all men should be trying to avoid at all costs.
If you want to learn more about its ingredients, then we'll cover everything you need to know in the next section. But first, let's find out more about MRI Performance.
Who is MRI Performance?
MRI (Medical Institute Institute) Performance was founded in 1997 and has been based in the USA ever since. They don't have a huge range of products; we like that they don't just release a new product every year like other companies.
Their most popular supplements seem to be their pre-workout and protein isolate. But you're here to learn more about their testosterone booster, MRI Testosterone Support. So let's see which ingredients have been added in the section below…
---
MRI Testosterone Support Ingredients Explained
In terms of ingredients, we're glad that there have not been tons of ingredients thrown into MRI Testosterone Support; we prefer fewer ingredients with optimal dosages than overloads that have been dosed too low.
From first glance, we're quite happy with what we see. MRI Testosterone Support contains some effective nutrients that are shown to be capable of boosting test levels such as Fenugreek Seed Extract and Panax Ginseng Extract.
However, as we mentioned at the start of this review, our main concern is that MRI Testosterone Support contains Tribulus Terrestris.
Another slight issue, in our honest opinion, is that MRI Testosterone Support only comes with a 2 capsule daily serving; studies show that 3-4 capsules spread throughout the day is better at keeping your body fueled with T-Boosting nutrients, so a 2 capsule serving isn't optimal.
Anyway, we'll expand on everything as we take you through each ingredient in MRI Testosterone Support. By the end of this review, you'll have a good idea of how safe and effective this test booster supplement really is.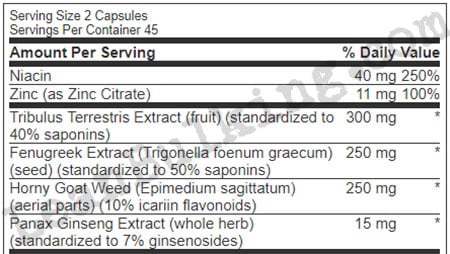 Here's Everything You Need To Know:
Zinc 
Zinc is an essential mineral that you should have at least heard about. It's known for being able to help support healthy testosterone levels, so it's not a bad addition to any T-Booster at all.
However, Zinc certainly is not a key feature of any product either; this is because almost every supplement that you find will contain Zinc, so you shouldn't be impressed by this.
Ultimately, the good news is that Zinc can help keep your testosterone levels healthy. But it shouldn't be a feature that helps to make up your mind about buying a supplement either.
Tribulus Terrestris 
Tribulus Terrestris is a plant that's dried into a herb. It's been used traditionally in Ayurveda (traditional Indian medicine) over the years, and it's since been added to many testosterone booster supplements.
Why? Because Tribulus Terrestris has been believed to improve testosterone levels in men. But it's strange that there aren't many clinical studies that reinforce this belief.
In fact, there are more studies showing that Tribulus Terrestris has no effect on T levels. The only real positive about this herb is that some studies have linked it with raised libido.
However, Tribulus Terrestris is something that we try to avoid at all costs when choosing a T-Booster supplement; this is because this herb has shown to be capable of increasing your prostate weight, which can lead to serious male health issues in the future.
For this reason, we can't consider Tribulus Terrestris to be a good addition to MRI Testosterone Support here.
It's definitely something that we wish had been left out; replacing this herb with Vitamin D3 would have been a great idea (as Vitamin D3 is tried-and-tested to raise test levels in numerous studies).
---

---
Fenugreek Seed Extract 
Similarly to Tribulus Terrestris, this is another herb that's been used in traditional Indian medicine for decades.
However, unlike Tribulus Terrestris, Fenugreek Seed Extract has proven to raise testosterone levels and libido in numerous studies. As a result, we consider this to be a great addition to any supplement.
So, great job by MRI Performance here. We have nothing to complain about with Fenugreek Seed Extract's inclusion in MRI Testosterone Support.
Horny Goat Weed Extract 
If you have not heard about this ingredient before, then you might be thinking that this is a strange name for a herb. Well, you're not wrong, but there is a good explanation for it.
Basically, Horny Goat Weed gained its name after it was found that goats who were eating it in fields were experiencing increased libido. As a result of this, this herb was the subject in many clinical studies shortly afterward and it was found to indeed boost libido in humans too.
Now, a rise in libido might be a key benefit you're looking for when buying a T-Booster such as MRI Testosterone Support. But you'll benefit more by raising your T levels, with a secondary benefit from this being increased sex drive.
For this reason, Horny Goat Weed only fixes a symptom and not the cause of low libido. And as this herb hasn't shown to be capable of increasing your test levels, we can't consider it to be a key addition to MRI Testosterone Support here.
We will conclude that Horny Goat Weed is a useful 'bonus' though, and it's much better than Tribulus Terrestris.
Panax Ginseng Extract 
Although there are many different forms of ginseng out there, Panax Ginseng is known as the 'true ginseng' as it's proven to be the most beneficial in numerous different ways.
Basically, Panax Ginseng has been used for centuries as it can improve your general health. But more importantly, more recent studies have linked this herb with raised testosterone levels and stronger erections.
For this reason, we are happy to consider Panax Ginseng Extract as a great addition to MRI Testosterone Support, and it's actually included in one of the highest rated T-Boosters called Prime Male too.
---

---
MRI Testosterone Support Side Effects
The good news is that the majority of ingredients in MRI Testosterone Support are safe from side effects.
However, as we've mentioned throughout this review, Tribulus Terrestris has been linked with prostate enlargement. Basically, this is something that we personally try to avoid.
What's even stranger is that MRI Performance has not added Saw Palmetto Extract to try and counteract Tribulus Terrestris' side effect; this is common to see in other test boosters containing Tribulus Terrestris.
Here are the potential side effects from taking MRI Testosterone Support:
Prostate enlargement (Tribulus Terrestris)
---
MRI Testosterone Support Review Conclusion
We can certainly see that there has been time spent on formulating MRI Testosterone Support. We appreciate that this company has the right intentions, as they've included some great ingredients such as Fenugreek Seed Extract and Panax Ginseng Extract.
However, we are slightly disappointed that these are the only 2 ingredients in MRI Testosterone Support that have shown to be capable of raising your T levels. Especially for a product that costs $45.99.
Basically, we would have liked to see more tried-and-tested nutrients in MRI Testosterone Support; for example, Vitamin D3 would have been a perfect replacement for Tribulus Terrestris.
Ultimately, we prefer to avoid Tribulus Terrestris due to this herb potentially increasing your risk of prostate issues in the future.
[wp-review]
Check Out The Best Test Boosters This Year!
Here are the best natural testosterone boosters on the market for:
Faster Muscle Gains
Quicker Recovery Time
Decreased Belly Fat
Enhanced Energy & Sex Drive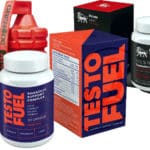 Click Here to See the Full List!