Pro's
Caffeine is a key fat burning ingredient
Cayenne Pepper is proven to raise metabolism
Rhodiola Rosea can reduce fatigue and boost focus
Con's
Rhodiola Rosea is better in a pre-workout supplement
Contains 2 stimulants (too many stimulants can cause side effects)
Alpha-GPC's reported to cause numerous side effects (see side effects section for more info)
Grains of Paradise not proven to be effective or safe
---
---
About The Product
Lipocalypse is a fat burner supplement made by Granite Supplements. It costs $37.99 on their website and comes in 30 serving containers, with a serving size of 2 capsules per day.
We always say 3-4 capsules per day servings are better, as this keeps your body topped up throughout the day – instead of just loading it with ingredients twice a day.
Who are Granite Supplements? 
Based in California (USA), Granite Supplements are a new company created by John Meadows in 2017. They market a range of supplements, from this fat burner to Intra-workout products.
They sponsor some rising stars of the fitness industry, such as Brigitte Goudz – but there wasn't much other information available about Granite Supplements.
Let's see whether Lipocalypse can put them on the map.
---
Lipocalypse Ingredients Explained
Lipocalypse contains 9 main ingredients, which is more than is necessary – we prefer a more streamlined ingredient list, to allow for optimal dosages.
However, just from looking at the ingredient list, we can see that Lipocalypse doesn't contain the right ingredients to compete with the best fat burners on the market.
We'll take you through each ingredient – so you can see how good Lipocalyse really is.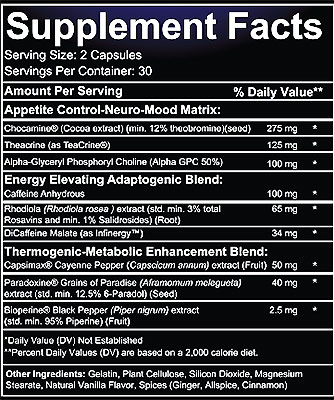 Here's Everything You Need To Know:
Cocoa Extract 
This is the bioactive compounds found in cocoa products. Basically, it's shown to increase blood flow, but there's no evidence to prove it promotes fat loss.
Theacrine 
This has recently been added to supplements and early studies seem promising. Simply put, Theacrine is believed to be better than Caffeine in long-term usage, as humans don't seem to build a tolerance to it.
However, as there's not been loads of research conducted on Theacrine, no-one knows the safe limit of this ingredient yet – making it both unreliable and potentially unsafe.
We suggest waiting until there's more studies conducted on this ingredient, before taking it in supplements.
Alpha-GPC 
Alpha-GPC is believed to improve strength and focus in athletes – however, no human studies back up these claims.
Not only that, Alpha-GPC's been reported to cause numerous side effects (See side effects for more info).
Caffeine 
Caffeine is our favorite stimulant in fat burners and pre-workout supplements. Basically, it's the most researched and safest form of stimulant (as it's consumed daily in tea & coffee), and proven to boost energy levels and strength in the gym.
The only thing you need to look out for is the dosage of Caffeine in supplements – we recommend staying under 100mg per capsule to avoid side effects such as jitters and energy crashes.
Granite Supplements has done well by providing a very safe 50mg dosage of Caffeine in this fat burner.
---

---
Rhodiola Rosea 
This is one of our favorite pre-workout ingredients, as it's shown to improve focus and reduce fatigue. However, for this reason, it's not as useful in a fat burner.
We'd prefer ingredients such as Green Tea Extract instead here, as it's proven to promote fat loss.
Dicaffeine Malate 
Dicaffeine Malate is simply Caffeine mixed with malic acid. However, as you know, there's already Caffeine Anhydrous in Lipocalypse – meaning there's now 3 stimulants in this fat burner (Dicaffeine Malate, Caffeine & Theacrine).
It's not good to consume too many stimulants, as this can result in jitters and energy crashes. You only need a Caffeine dosage of under 100mg per capsule to experience the benefits of consuming a stimulant, so there's simply no need for this overload.
Cayenne Pepper 
This is one of our favorite fat burning ingredients for one reason – it works.
Basically, Cayenne Pepper works by raising your body temperature, which boosts your metabolism and your fat burning potential. Great ingredient and perfectly suited to a fat burner.
Grains of Paradise 
This is an ingredient we've seen become more popular in 2017. Basically, it's an African spice that we believe works in a similar way to Cayenne Pepper.
For this reason, there's no need to have this in Lipocalypse as Cayenne Pepper is already inside. Not only that, Grains of Paradise is still an under-studied ingredient (meaning no-one knows whether it's 100% safe or effective).
Black Pepper 
This is a bonus ingredient, rather than a main one. Here's why: Black Pepper's shown to improve the absorption rate of other ingredients it's consumed with.
But for it to be very beneficial, it needs to be consumed with the best ingredients (which are mostly missing from Lipocalypse).
---
---
Side Effects
The main concern with Lipocalypse by Granite Supplements is the Alpha-GPC inside; it's reported to cause numerous side effects which we'll list below.
But that's not all – Lipocalypse contains ingredients that haven't been proven as safe or effective yet (meaning no-one knows whether the'll cause side effects or not for sure).
Here's the potential side effects from taking Lipocalypse: 
Heartburn (Alpha-GPC)
Headache (Alpha-GPC)
Insomnia (Alpha-GPC)
Dizziness (Alpha-GPC)
---
Lipocalypse Review Conclusion
Lipocalypse only contains 2 key fat burning ingredients proven to work – Caffeine & Cayenne Pepper.
Unfortunately, the rest of the ingredients inside Granite Supplement's fat burner haven't been proven as safe or effective (making them unreliable).
[wp-review]
Check Out The Best Fat Burners This Year!
Here's the best fat burners on the market for:
Faster Fat Loss
More Energy 
Suppressed Appetite
Raised Metabolism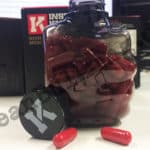 Click Here to See the Full List!