Pro's
Contains 2 key pre-workout ingredients in good dosages (Caffeine & Green Coffee Bean Extract)
Con's
Yohimbine's been banned for causing harmful side effects
Mostly filled with unreliable ingredients not proven to work
Missing key pre-workout ingredients
---
---
About The Product
Hydroxycut Hardcore Next Gen is a pre-workout supplement made by MuscleTech. It costs $35.99 for 50 servings, with a serving size of 2 capsules per day.
This might seem like a lot of servings per container for the price, but 2 capsules per day isn't likely to do much – it's better to consume 3-4 capsules spread throughout your day so your body's constantly topped up with key ingredients needed to burn body fat.
Who are MuscleTech? 
MuscleTech are a reputable supplements company that's been around for a while now. They're probably most well-known for their Hydroxycut fat burner series (which Hardcore NEXT GEN) is part of.
However, they also market other products, such as pre-workout supplements and protein powders.
---
Hydroxycut Hardcore Next Gen Ingredients Explained
Hydroxycut Hardcore Next Gen contains 7 main ingredients, but only 2 are key fat burning ingredients proven to work (Caffeine & Green Coffee Bean Extract). Unfortunately, the rest are unreliable, with Yohimbe considered potentially harmful in the UK and Canada (and been banned as a result).
So our first impressions of this aren't great, but let's take a deeper look and see if the this fat burner can change our mind.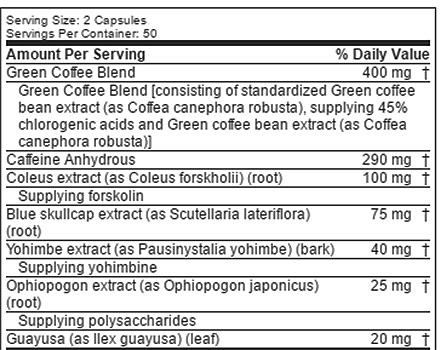 Here's Everything You Need To Know:
Green Coffee Bean Blend 
We're not sure why MuscleTech have called Green Coffee Bean Extract a 'blend', but this is simply one ingredient that they've tried to make look better. Which is strange as this is one of the few great ingredients in Hydroxycut Hardcore Next Gen.
Green Coffee Bean Extract is one of our favorite fat burning ingredients, as it raises your metabolism and encourages your body to burn body fat for fuel – and it's proven to work in countless studies.
We'd prefer a dosage of 500mg, but this 400mg dosage in Hydroxycut Hardcore Next Gen will still be effective.
Caffeine 
Another good job by MuscleTech by adding an optimal dosage of Caffeine here (anything near 300mg per daily serving is great). However, as Hydroxycut Hardcore Next Gen only has a seriving size of 2 capsules per day, this means you're getting a huge 145mg Caffeine serving per capsule.
To put this into perspective, this is a normal Caffeine dosage for a pre-workout (which is supposed to get you PUMPED for your workut. You don't want to be sat at your day job with this amount of caffeine per capsule, but it'll be good if you only use it before a workout…
For this reason, we prefer a Caffeine serving per capsule below 100mg – so you experience steady energy boosts without spiking and experiencing an energy crash.
---

---
Coleous Forskohii 
Apart from the second part of this ingredient being dangerously similar to 'foreskin', this actually seems like a promising ingredient. One or two studies have shown that it can promote fat loss and boost testosterone in 250mg dosages.
But there are 2 problems here:
The studies only used obese people (meaning it might not have the same effect on those not classed as obese).
This fat burner only contains an overall dosage of 10mg.
As a result, Coleous Forskohii isn't likely to do much in Hydroxycut Hardcore Next Gen – which is a shame, as this is the first ingredient that's not been consistently proven to work that we're actually slightly convinced might work in optimal dosages.
Blue Skullcap Extract 
Also known as Scutellaria Baicalensis, this has been used in traditional Chinese medicine to improve cognition and general health. However, no study has shown that it works – making this an unreliable ingredient.
Yohimbe 
This is the worst ingredient inside Hydroxycut Hardcore Next Gen as it's been banned in numerous countries after causing harmful side effects (see side effects section below for more info).
While it's shown to promote fat loss, it's not worth risking your health for – especially when there are better ingredients proven to work (such as Green Tea Extract, although it's not inside this fat burner here).
Ophiapogon Extract
Simply put, this is believed to positively affect blood glucose levels, but it hasn't shown to do anything in studies.
Polysaccharides
This is basically a carbohydrate molecule, so it'll probably improve your energy levels slightly (like consuming any carbohydrate source would). However, there's only 20mg of this in Hydroxycut Hardcore Next Gen, so it's not actually likely to do much in this tiny dosage.
---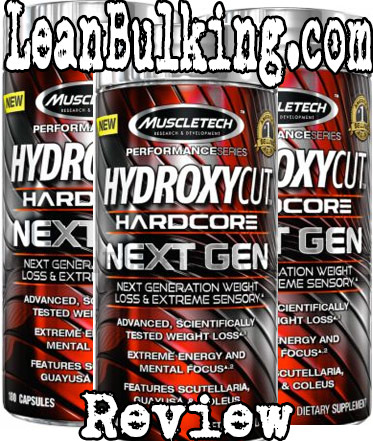 ---
Side Effects
There's one ingredient in Hydroxycut Hardcore Next Gen that consistantly causes side effects – Yohimbine. In fact, it's been banned in the UK and Canada for this reason, and we try to avoid it.
However, apart from Green Coffee Extract and Caffeine, the rest are unreliable and won't help you lose body fat.
Here's the potential side effects from taking Hydroxycut Hardcore Next Gen: 
Stomach Upset (Yohimbe)
Anxiety (Yohimbe)
Sleep Problems (Yohimbe)
High Blood Pressure (Yohimbe)
Rapid Heartbeat (Yohimbe)
Nausea (Yohimbe)
---
Hydroxycut Hardcore Next Gen Review Conclusion
For a company as reputable as MuscleTech, we were expecting a better fat burner.
We were disappointed that Hydroxycut Hardcore Next Gen only contained 2 tried-and-tested ingredients (Green Coffee Bean Extract & Caffeine), with the rest being unreliable to work – not forgetting Yohimbe, which has been reported to cause harmful side effects and banned in numerous countries.
[wp-review]
Check Out The Best Fat Burners This Year!
Here's the best natural fat burners on the market for:
Faster Fat Loss
More Energy 
Suppressed Appetite
Raised Metabolism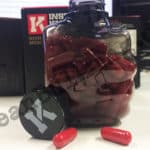 Click Here to See the Full List!