Pros
Contains L-Citrulline
Caffeine can raise energy levels
Beta-Alanine enhances muscular endurance
Cons
Contains overload of Caffeine (likely to cause jitters)
Missing key pre-workout nutrients (eg. L-Carnitine)
DMPA used more frequently as birth control, not in supplements
Not good value for money
---
---

About The Product
Destroyer is a pre-workout supplement made by Killer Labz. It costs €39.90 ($46) for 30 serving containers, and comes in a choice of 5 flavors – Watermelon, Pineapple Mango, Furious Punch, Cotton Candy, and Orange.
These sound like tasty options, but taste isn't what makes a product effective. So we'll be analyzing Killer Labz nutrient profile for you in the next section.
But first, let's find out more about the company behind it.
Who are Killer Labz? 
Killer Labz are a supplements company based in California, USA.
However, we have to point out that they had the worst 'about us' section we've seen yet; it didn't provide any useful information about the company, and instead they've used it to completely advertise their products instead, which was a turn-off.
This company also market other supplements, such as fat burners and testosterone boosters. So it'll be interesting to see whether Killer Labz Destroyer can become their best-selling product or not.
Anyway, the ingredients are what really matters in a supplement, so let's see what's been added inside Killer Labz Destroyer below…
---
Killer Labz Destroyer Ingredients Explained
Killer Labz destroyer contains 9 ingredients overall, which we don't consider too many; we prefer supplements containing under 10 nutrients, as these have a better chance of being dosed optimally.
We're also glad that there haven't been any proprietary blends added to this product – meaning you can see the exact dosages of each ingredient inside Killer Labz Destroyer.
However, one bad thing is that this pre-workout doesn't contain many key pre-workout nutrients, containing some unnecessary additions instead.
Anyway, we'll take you through each ingredient inside Killer Labz Destroyer. By the end of this review, you'll know exactly how safe and effective this pre-workout really is.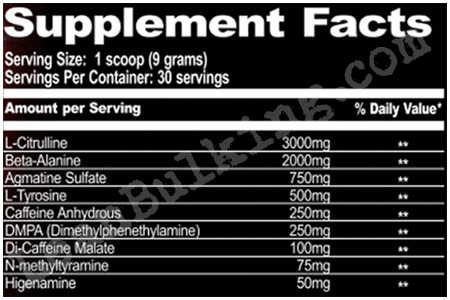 Here's Everything You Need To Know:
L-Citrulline 
L-Citrulline can be a great addition to any pre-workout, as it's proven to raise your nitric oxide levels.
What does this do? Well, it improves your blood flow and enhances your muscle pumps.
However, remember that no ingredient works if it's not been dosed optimally. So we recommend always checking the dosage of nutrients inside supplements you're interested in.
Fortunately, Killer Labz have done a good job here and optimally dosed L-Citrulline in Destroyer. But if we were to be overly critical, we would say that we prefer Citrulline Malate – as it's proven to improve your strength and endurance, due to raising your ATP levels too.
Beta-Alanine 
Beta-Alanine always gets mixed reviews, because it's both beneficial, but causes a side effect; it's shown to enhance your muscular endurance, but it's also shown to cause paresthesia (tingly & itchy skin).
Personally, we find this side effect very distracting when we're lifting weights in the gym. However, we know that this is subjective, so we'll leave it up to your personal preference.
But one thing we will say, is that we prefer Creatine Monohydrate; this offers the same benefit, without causing any side effects.
Agmatine Sulfate 
Agmatine is a metabolite of L-Arginine and it's most commonly used to relieve pain and treat drug addiction; as you can see, it's not exactly known for being a good addition to a pre-workout supplement…
So why has it been added into Killer Labz Destroyer? Well, it's believed to raise your nitric oxide levels, but it's not shown to be reliable in any study conducted on it.
For this reason, we consider Agmatine Sulfate to be an unreliable addition here.
---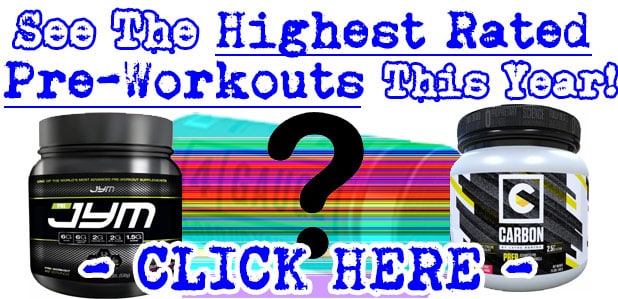 ---
L-Tyrosine 
L-Tyrosine is a 'brain booster' that's known for improving your cognition. However, you don't really need improvements to your memory while pumping iron in the gym.
For this reason, we believe that L-Tyrosine is better suited to nootropic supplements. But there's also no negatives to having this in Killer Labz Destroyer either.
Overload of Stimulants 
Caffeine Anhydrous is the best stimulant you can find in supplements; it's known for being the safest and most reliable form of Caffeine available.
However, you need to keep an eye on how much Caffeine you consume per serving; we recommend staying under 200mg Caffeine per serving when taking pre-workouts.
The problem is, Killer Labz contains 250mg Caffeine Anhydrous, along with 2 other stimulants – DiCaffeine Malate and Higenamine.
Ultimately, consuming 3 different stimulants will inevitably lead to you suffering from jitters and energy crashes.
DMPA 
Also known as Demethylphenethylamine, this is known for being used as a means of birth control.
In fact, we're confused as to why Killer Labz have added this into Destroyer, as there's no evidence to suggest it's beneficial to your workout at all.
We asked our friends in the medical department, and they said that DMPA is usually injected, being a 'very effective contraceptive'. So unless you're wanting to not have children anymore, we wouldn't recommend consuming this ingredient.
N-Methyltyramine
In case you're unaware, this is another stimulant that's believed to improve your heart rate and energy levels. Again, we'll repeat that there's no reason to add even more stimulants, as there's already an overload that's added into Killer Labz Destroyer.
So this simply makes it certain that you'll suffer from jittery side effects, which isn't something you want.
---

---
Side Effects
The main concern we have with Killer Labz Destroyer, is that it contains an overload of stimulants; consuming 4 different stimulants at once is almost certain to cause side effects such as jitters and energy crashes.
For this reason, we always advise you to choose pre-workouts containing only 1 stimulant – under 200mg Caffeine Anhydrous per serving, to stay safe.
However, as Killer Labz Destroyer also contains Beta-Alanine, you're also likely to suffer from itchy and tingly skin too.
Here's the potential side effects from taking Killer Labz Destroyer: 
Jitters (Overload of Stimulants)
Energy Crashes (Overload of Stimulants)
Itchy & Tingly Skin (Beta-Alanine)
---
Killer Labz Destroyer Review Conclusion
Ultimately, it's clear that Killer Labz tried to create the 'strongest' pre-workout on the market; they've added a serious overload of stimulants, which is almost certain to cause jitters and energy crashes.
Simply put, it's not wise to look for the 'strongest' product. Instead, look for a pre-workout that delivers clean and stable energy boosts (with under 200mg Caffeine per serving) – so you don't suffer any side effects.
[wp-review]
See The Best Pre-Workouts This Year!
Here's the best natural pre-workouts on the market for:
Energy Boosts 
Enhanced Strength & Endurance 
Increased Focus
Skin-Splitting Muscle Pumps