Pro's
Contains numerous key fat burning ingredients
Glucomannan is great for supressing appetite
Great dosage of caffeine & Green Tea Extract
Con's
Glucomannan under-dosed (at least 1,500mg is needed to experience benefits)
Garcinia Fruit Extract not shown to work in any studies
Tumeric not proven to promote fat loss
Wrong type of L-Carnitine for fat loss (ALCAR is the most beneficial for this)
---
---

About The Product
BurnerTEK is a fat burner supplement made by Tek Naturals. It come in 30 serving containers for $59.99, and contains some of our favorite fat burning ingredients.
TEK Naturals 
TEK Naturals is a supplements company based in the USA. They seem to have pretty much copied Roar Ambition's fat burnerand testosterone booster – as both TEK Natural products' contain almost identical ingredients.
However, we're not complaining as we like both products for this reason.
---
BurnerTEK Ingredients Explained
As we've mentioned, we liked the look of BurnerTEK's ingredient list – it contains numerous key fat burning nutrients that're shown to work.
So as long as TEK Naturals has dosed each ingredient optimally, this will be getting a place in our top 3 products in 2017. Let's see whether BurnerTEK can make the cut.
Here's Everything You Need To Know: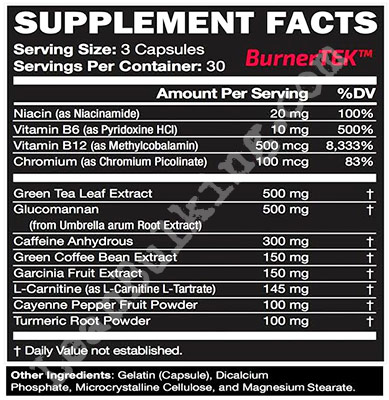 Green Tea Leaf Extract 
Great start by TEK Naturals. Green Tea Extract is one of our favorite fat burning ingredients for one reason – it works.
Basically, Green Tea contains catechins, which are proven to benefit every organ in your body. Not only that, it's shown to significantly promote fat loss in dosages upwards of 400mg per day.
BurnerTEK contains 500mg, so Green Tea Extract's been optimally dosed here. It doesn't matter whether you drink this as tea, or consume it in a supplement – but as some don't enjoy the taste of tea, it's easier to have it in a pill.
Glucomannan 
Also known as Konjac Root, this is out favorite ingredient in any fat burner. I've consumed this both as konjac noodles and in a fat burner supplement – and it worked in both.
I prefer consuming it in a pill, as it doesn't taste great as noodles (you can't beat pasta).
What does it do? Well, it suppresses your appetite – making it easier for you to lower your calorie intake, and therefore lose body fat easier.
But TEK Naturals has made a mistake here. Simply put, you need at least 1,500mg (1.5g) of Glucomannan to experience it's benefit.
Unfortunately, BurnerTEK only contains 500mg, so it's not likely to keep you full for long (if at all).
---

---
Caffeine 
Caffeine is the best stimulant you can find in any supplement. It's shown to improve your strength, endurance, and focus.
Just watch out for the dosages of caffeine – many products contain an overload, which can lead to jitters or energy crashes.
BurnerTEK contains an optimal 300mg per day (split through 4 separate servings), so you'll avoid any side effects while experiencing the benefits.
L-Carnitine 
L-Carnitine can be a great addition to a fat burner, and it's actually part of our favorite pre-workout of 2017. However, we can tell that TEK Naturals hasn't done their research here.
Basically, L-Carnitine L-Tartrate improves your focus, but hasn't shown to be great at promoting fat loss (which is what we want here).
The better option would've been including ALCAR (Acetyl-L-Carnitine), as the main benefit of this form is to boost your fat burning potential.
An easy mistake to make, but it's cost BurnerTEK the top spot in our top 3 fat burner rankings.
Cayenne Pepper 
If you've eaten a chilli before, you'll know that it's spice can make you sweat. Well, this is exactly what helps you burn belly fat,
How?
Answer: Cayenne Pepper raises your body temperature as it's a thermogenic ingredient, which boosts your metabolism. In a nutshell, the higher your metabolism is, the easier it is for you to lose fat.
It's been dosed well, so no problems here.
Turmeric Root Powder
This is the worst ingredient inside BurnerTEK. It's not shown to benefit you in any studies.
---

---
Side Effects
The good news is that BurnerTEK doesn't contain any ingredients that're likely to cause side effects. We recommend avoiding supplements that contain potentially harmful ingredients such as Synephrine – to stay safe and get the most for your cash.
---
BurnerTEK Review Conclusion
BurnerTEK is very similar to our favorite fat burner Instant Knockout – but this isn't a bad thing. In fact, this is why BurnerTEK is beign placed 2nd on our top 3 fat burners list.
Ultimately, this fat burner contains some of our favorite ingredients. However, not all ingredients have been dosed correctly (especially Glucomannan).
Check Out The Best Fat Burners This Year!
Here's the best natural fat burners on the market for:
Faster Fat Loss
More Energy 
Supressed Appetite
Raised Metabolism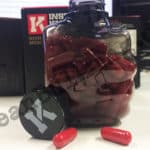 Click Here to See the Full List!