Pros
Green Tea Extract has shown to promote fat loss
L-Carnitine can reduce muscle fatigue & damage
L-Tyrosine can improve your focus in the gym
Cons
Contains HUGE 300mg dosage of stimulants overall (might cause jitters)
Missing key pre-workout nutrients (eg. Creatine Monohydrate)
---
---

About The Product
Insane Labz #BURN is one of the products in this company's 'hashtag' series of products. It costs $59.95 for 30 serving containers, so it's being priced to compete with some of the premium fat burners and pre-workouts on the market.
We were confused at first, because a supplement named '#BURN' seemed like a fat burner, right? Well, this is actually a pre-workout that's supposed to promote fat loss too.
Now, in our previous experience with hybrid products, they don't usually work as well as they're designed to. So we personally prefer buying specialist fat burners when aiming to lose fat and just use pre-workouts to improve our performance in the gym.
But saying that, we've also taken a look at Insane Labz #PRE, which is Insane Labz' other pre-workout in this 'hashtag' series. And from first glance, #BURN seems like the better option between the two (in our honest opinion).
We'll analyze Insane Labz #BURN's nutrient profile for you in the next section. But first, we'll tell you more about the company behind it.
Who Is Insane Labz? 
Insane Labz is a USA-based supplements company that has gained a good reputation over the years. They've become known for their strong pre-workout supplements that contain huge dosages of stimulants.
It's for this reason that we usually don't choose to supplement Insane Labz' products, as we don't have an extremely high tolerance to stimulants. So we believe that Insane Labz' fans are those that consume tons of coffee on a daily basis!
One thing is for sure – Insane Labz sell a lot of supplements, so they're clearly doing something right. But you're here to learn more about Insane Labz #BURN, so let's see which ingredients have been added below…
---
Insane Labz #BURN Ingredients Explained
Insane Labz #BURN contains 8 ingredients overall, which is a good number to have in a pre-workout; from personal experience, we've found that supplements containing over this number are often under-dosed.
As we've already mentioned, from first glance Insane Labz #BURN seems to be a great product. It contains some key pre=workout ingredients such as L-Carnitine and L-Tyrosine, so it's clear that Insane Labz has done their research while formulating #BURN.
However, one negative for us is that this supplement contains a huge dosage of stimulants. So this might put those that don't consume tons of coffee every day at risk of jitters.
Anyway, we'll expand on this as we take you through each ingredient in this pre-workout/fat burner hybrid. By the end of this review, you'll have a good idea of how safe and effective Insane Labz #BURN is.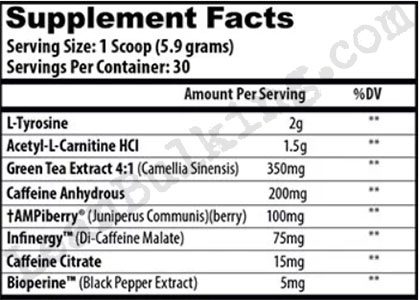 Here's Everything You Need To Know:
L-Tyrosine
L-Tyrosine is a 'brain booster' that is known for improving your focus.
While this is more beneficial in nootropic supplements, it's also useful in pre-workouts at strengthening your mind-muscle-connection; this can help you make the most of your time in the gym, so we consider L-Tyrosine a key pre-workout nutrient.
Great start by Insane Labz here.
L-Carnitine 
L-Carnitine is a great addition to any pre-workout. It's shown to help reduce muscle fatigue and damage in dosages of 500mg and above.
As Insane Labz #BURN contains 1,500mg L-Carnitine per serving, it's going to work. You can't really argue against it.
Green Tea Extract 
Everyone knows that green tea is good for you. In fact, green tea benefits almost every organ in your body – not bad, eh?
Why? Green Tea contains many antioxidants including catechins, which has shown to promote fat loss in high dosages. This is where Green Tea Extract comes in; this contains concentrated amounts of catechins, and studies have shown that it's able to boost your metabolic rate.
However, studies have shown that Green Tea Extract dosages of 500mg are optimal for fat loss. Not only this, in the same studies, this amount was split in separate dosages throughout the day. This is why the best fat burners offer 3-4 servings daily.
As Insane Labz #BURN only contains 350mg Green Tea Extract, it's slightly under-dosed here. Not only that, this supplement only offers 1 serving per day, which isn't optimal either.
So you should be beginning to see why we prefer to consume specialist fat burners when we're trying to lose body fat. And not pre-workout/fat burner hybrid supplements.
---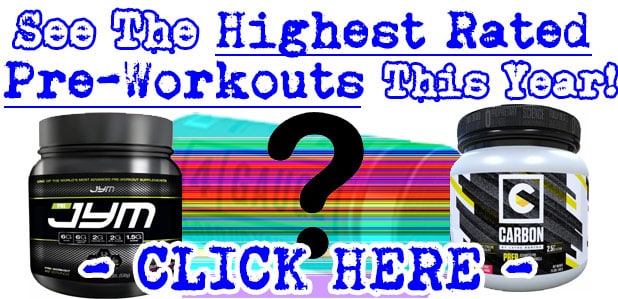 ---
Caffeine Anhydrous 
When it comes to raising your energy levels, Caffeine Anhydrous is the best stimulant to get the job done safely. This is because everyone knows that it works, or you wouldn't love coffee or tea otherwise!
When consumed in sensible dosages, Caffeine Anhydrous will give you an energy boost to take your training session to the next level, without side effects.
But think about the last time you consumed too much coffee; you would have felt jittery and perhaps a bit sick. The same thing happens when you consume too much Caffeine Anhydrous in pre-workout supplements.
For this reason, we've found that 200mg is the maximum we can handle without suffering from jittery side effects. Now, as Insane Labz #BURN contains 200mg, it would be safe on its own. But the bad news is that this product contains 2 other stimulants (which we'll analyze below).
Infinergy 
This is basically a patented form of DiCaffeine Malate, which is another stimulant.
Now, usually, Infinergy would be a useful addition to pre-workout supplements. But as we mentioned, Insane Labz #BURN already contains a 200mg dosage of Caffeine Anhydrous.
Ultimately, consuming multiple stimulants in supplements increases your risk of suffering from jittery side effects. So we would have preferred Insane Labz to have only included 1 stimulant in #BURN.
Caffeine Citrate 
You've probably guessed that Caffeine Citrate is another stimulant that's in Insane Labz #BURN. We don't want to waste your time, so we'll just repeat that consuming more than 1 stimulant in supplements increases your risk of side effects.
Personally, we believe that Caffeine Anhydrous is the safest and most reliable stimulant, and is all that's needed in pre-workout supplements.
AMPiberry 
In case you're wondering, AMPiberry is a patented form of juniper berry – the same stuff that's used to make the alcoholic beverage, gin.
There really isn't any need for this to be in Insane Labz #BURN in our honest opinion; juniper berries contain antioxidants that are known to improve your general health. But it hasn't shown to improve your performance in the gym.
For this reason, we consider AMPiberry to be a 'bonus' addition to Insane Labz #BURN here.
BioPerine 
Speaking of 'bonus' ingredients, BioPerine is definitely another. It is basically Black Pepper Extract, which contains a concentrated amount of piperine; this has shown to boost the absorption rate of supplements that it's added to, but won't 'make or break' any supplement by itself.
---

---
Insane Labz #BURN Side Effects
In terms of side effects, only the large overall amount of stimulants will be a risk to some people; this is because large dosages of stimulants can cause jittery side effects to those with a low tolerance.
The average person probably doesn't consume over 6 cups of black coffee per day. So we wouldn't be comfortable consuming 3 different stimulants in 1 serving (in our honest opinion).
Here are the potential side effects of taking Insane Labz #BURN: 
Jitters (More than 1 stimulant)
Energy Crashes (More than 1 stimulant)
---
Insane Labz #BURN Review Conclusion
Insane Labz #BURN is a good product by Insane Labz. In fact, it's actually one of the best pre-workouts that we've seen them create; we have to praise them for choosing not to add any proprietary blends into this pre-workout/fat burner hybrid.
Not only that, we believe that Insane Labz #BURN is better than the other pre-workout in their 'hashtag' series of supplements.
However, in our honest opinion, Insane Labz #BURN contains an unnecessary amount of stimulants. We simply don't believe that it's necessary to have more than what's equal to 200mg Caffeine Anhydrous per serving.
[wp-review]
See The Best Pre-Workouts This Year!
Here are the best natural pre-workouts on the market for:
Energy Boosts 
Enhanced Strength & Endurance 
Increased Focus
Skin-Splitting Muscle Pumps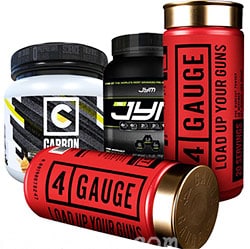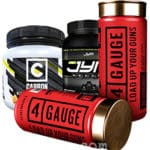 See The Best Fat Burners This Year!
Here's the best natural fat burners on the market for:
Faster Fat Loss
More Energy 
Suppressed Appetite
Raised Metabolism