Pro's
Contains Green Coffee Extract
Green Tea Extract shown to work
Caffeine & capsicum proven to boost metabolism
Not likely to cause any side effects
Con's
Missing Glucomannan - my favorite ingredient in a fat burner (it suppresses appetite)
Green Tea Extract under-dosed (optimal dosage is 400-500mg)
---
---

About The Product
OnPoint is a fat burner supplement made by HALEO. We found this product costing $59.99 for 60 servings, with a serving size of 2 capsules per day.
We prefer supplements that allow you take spread the servings out with 3-4 capsules per day - this ensures that youre body is always topped up with key nutrients to boost its metabolism and help you burn body fat.
Who are HALEO? 
HALEO is a supplements company that were founded in 2005, in Japan. It was started by a man called David Halton, and began by penetrating the Japanese market.
Now, HALEO have tried to take their products worldwide, by selling and delivering to the USA among other countries.
---
OnPoint Ingredients Explained
This fat burner contains 5 ingredients - which is a good thing. We prefer supplements that contain fewer ingredients (as long as theyre effective).
Just from looking at the ingredient list, we can see that HALEO has done their research here. However, we wouldve liked this product even more if it contained Glucomannan (were suprised it doesnt contain this ingredient, as its popular in Japanese cuisine).
Well explain what each ingredient does, and whether theyre dosed correctly.
Heres Eveything You Need To Know: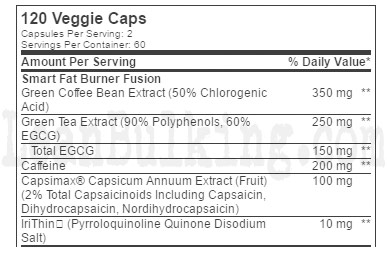 Green Coffee Bean Extract 
This is basically unroasted coffee beans. Its shown to be effective in promoting fat loss due to containing chlorogenic acid (which offers similar benefits to green tea extract).
For this reason, we enjoy seeing this in fat burner supplements. No problems with the dosage in OnPoint, so its a good start by HALEO.
Green Tea Extract 
Weve just mentioned that Green Tea Extract is also beneficial in promoting fat loss, so heres why: It contains catechins, which are proven to raise your metabolism in numerous studies.
However, theres a problem with the dosage in OnPoint; this fat burner only contains 250mg Green Tea Extract. Studies have shown that dosages between 400-500mg provide the best results.
Caffeine 
Caffeine is the safest and most reliable stimulant available, which is why its found in countless products like tea & coffee.
OnPoint contains 200mg overall caffeine dosage, which isnt bad. Personally, we prefer to have 75mg Caffeine in each serving (which is the equivalent to half a cup of coffee) - but others prefer less caffeine so this is purely subjective.
Not a bad dosage, but for us wed prefer a tiny bit more (you might prefer the lower dosage though, depending on how much caffeine you consume normally).
---

---
Capsicum 
This is taken from chillis such as Cayenne Pepper. Its responsible for the spice you taste in hot food (like curries).
This spice raises your body temperature, which increases your metabolism. As you know, an increase metabolism results in higher fat burning potential - making it easier for you to lose body fat.
Capsicum is proven to work, and is a great ingredient in any fat burner supplement.
IriThin
This is a patented form of Pyrroloquinoline Quinone Disodium Salt. Youre probably wondering what this is, and for good reason - this isnt commonly seen in supplements.
Basically, Pyrroloquinoline Quinone Disodium Salt is quite a mysterious molecule thats not been studied that much yet (im writing this in 2017).
However, there has been some research on this ingredient, which have found that it might reduce fatigue in older adults and reduce stress levels.
But the bad news is, Pyrroloquinoline Quinone Disodium Salt hasnt proven to promote fat loss or raise your metabolism (so its not much use here).
---

---
Side Effects
As OnPoint only contains 5 ingredients, its easy to see how safe it is. Fortunately, this fat burner doesnt seem likely to cause any side effects.
The only slight concern is with the IriThin (Pyrroloquinoline Quinone Disodium Salt) - as its not been extensively researched, its still unknown how safe it is, or whether it even works.
But the good news is this: Pyrroloquinoline Quinone Disodium Salt hasnt been reported to have caused any side effects yet (as of 2017).
---
OnPoint Review Conclusion
OnPoint ticks a lot of our boxes, as it doesnt contain any proprietary blends, and contains mostly beneficial ingredients thatre shown to promote fat loss - exactly what you want in a fat burner supplement.
However, not all ingredients have been dosed correctly, meaning its not as good as it could be (and not the best weve seen). Basically, the Green Tea Extract has been under-dosed (optimal dosages are between 400-500mg), and we prefer having 300mg Caffeine.
We must admit that the caffeine dosage is very subjective and is just what we prefer - if you dont usually drink much coffee or other products containing caffeine, then you might prefer this 200mg dosage.
For us, there are better fat burners on the market.
Check Out The Best Fat Burners This Year!
Heres the best natural fat burners on the market for:
Faster Fat Loss
More Energy 
Supressed Appetite
Raised Metabolism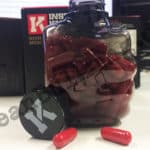 Click Here to See the Full List!