Pros
Contains Citrulline Malate.
Taurine can prevent cramping.
Good dosage of Caffeine Anhydrous.
Cons
Missing key pre-workout nutrients (eg. Creatine Monohydrate).
Citrulline Malate slightly under-dosed.
Not great value for money, in our honest opinion.
---
---

About The Product
One Punch is a pre-workout supplement made by Fusion. It costs $44.99 CA (making it around $35 USD) but its overall serving size depends on the user; you have the option of using 1 scoop, which would provide 40 servings or 2 scoops with 20 servings.
In terms of flavors, it comes in Cherry Blaster, Rocket Pop or Sour Green Apple – sounds pretty tasty, right?
From first glance, we're glad to see that Fusion had completed some research by adding one of our favorite ingredients, Citrulline Malate. Also, they haven't made the common mistake of over-dosing Caffeine Anhydrous with 1 scoop (although the 2 scoop servings will be too much for us personally).
Anyway, we'll expand on this as we take you through One Punch's nutrient profile. But first, we'll tell you more about the company behind it.
Who Is Fusion? 
Fusion is a Canada-based supplements company that was founded in 1998. They offer a range of supplements to suit everyone; whether your aiming to boost your testosterone levels or lose body fat.
With One Punch though, Fusion have tried to create a pre-workout supplement to help take your training to the next level – so you see results, faster.
Ultimately, you're here to learn more about this product, so let's stop wasting time and take a look at the ingredients inside One Punch, in the next section…
---
One Punch Ingredients Explained
One Punch pre-workout contains 5 main ingredients overall. This is a good number to have in a supplement; from experience, we find that products containing over 10 are usually under-dosed.
As a result, we definitely prefer companies to add fewer nutrients in optimal dosages. For the most part, we're happy that One Punch has been dosed well, with a sensible dosage of Caffeine Anhydrous being a particular highlight (when consumed in 1 scoop servings).
However, one small issue is that the dosage of Citrulline Malate is lower than optimal with 1 scoop.
We'll explain all of this in more detail as we take you through each ingredient in Fusion's pre-workout, One Punch. By the end of this review, you'll have a good idea of how safe and effective this supplement really is.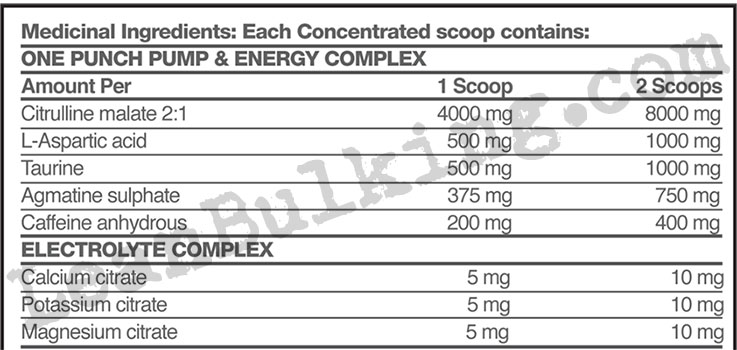 Here's Everything You Need To Know:
Citrulline Malate 
In case you're unaware, Citrulline Malate is simply L-Citrulline bound with Malic Acid; the Malic Acid allows it to improve your strength and endurance, due to it raising your ATP levels.
So what does the L-Citrulline do? Well, it's proven to raise your nitric oxide levels, which increases your blood flow – leading to intense muscle pumps while you lift weights.
Ultimately, there's not much better than the sensation of seeing your arm inflate while bicep curling. If you lift, then you'll know what we mean.
For this reason, Citrulline Malate is an ingredient that we always look for in pre-workout supplements.
But the bad news is that Fusion has slightly under-dosed Citrulline Malate in One Punch; the optimal dosage has shown to be 6,000mg in studies, but there is only 4,000mg in this pre-workout.
So we're slightly disappointed, but in fairness, we're just happy that One Punch contains Citrulline Malate in a respectable dosage anyway (making it better than many other pre-workouts simply for this reason).
L-Aspartic Acid 
We've been working in the supplements industry for a pretty long time now. And this is the first time we've seen L-Aspartic Acid in a supplement (it's more common to see D-Aspartic Acid).
L-amino acids are known for helping to form proteins and detoxify ammonia in your body. So it's clear that they play an important role in your body.
However, when it comes to improving your performance in the gym within 30 minutes of consuming, L-Aspartic Acid isn't the best choice.
Think about it. You consume Caffeine Anhydrous and you feel its effects within 20-30 minutes. That's what you really want from pre-workout supplements.
Ultimately, there's a reason why bodybuilders aren't seen consuming L-Aspartic Acid – it's not really necessary, as y9our body produces a reasonable amount naturally.
For this reason, we would have much preferred to have seen something more beneficial at raising your game in the gym. Something like Creatine Monohydrate, which everyone knows works.
---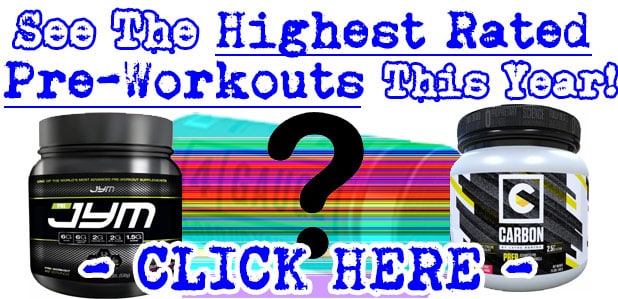 ---
Taurine 
Most people know Taurine due to it being added to energy drinks. It's actually for this reason that many mistakenly believe that it's able to boost your energy levels.
The bad news is that Taurine hasn't shown to have any impact on your energy levels in any study.
That doesn't mean it's useless though; Taurine has shown to help prevent cramping and actually work as a slight relaxing agent (which is the real reason why it's added to energy drinks).
So while it's not going to 'make or break' a pre-workout supplement, there's no denying that Taurine is a 'bonus' addition to any product. But if we're being very critical, then we would have preferred to see Taurine removed and the dosage of Citrulline Malate increased to 6,000mg per serving.
Agmatine Sulfate
If you've had a look at numerous different pre-workouts, then you'll have no doubt seen Agmatine Sulfate before. So you might be surprised to hear that Agmatine Sulfate isn't actually very beneficial.
Why? Because it's not shown to be 100% reliable in studies, due to having a poor absorption rate, in our honest opinion.
What is it supposed to do? Well, some companies believe that Agmatine Sulfate is able to raise your nitric oxide levels, in a similar way to Citrulline Malate, due to it being a derivative of L-Arginine.
Ultimately, we would have simply preferred Fusion to have removed Agmatine Sulfate and increase the dosage of Citrulline Malate instead (as Citrulline Malate is tried-and-tested to work).
Caffeine Anhydrous 
It's quite sad to see an increase of people searching for 'non-stimulant' pre-workouts. This is definitely a consequence of companies adding massive dosages of this stimulant, which leads to jitters and energy crashes.
But think about it. If you consume too much coffee, then you'll suffer the same side effects, so what do you do? Answer: drink less coffee.
As a result, we believe companies should add a sensible dosage of Caffeine Anhydrous to their pre-workout supplements. There's simply no need to add over 200mg Caffeine Anhydrous per serving, as you'll still get an energy boost with dosages as low as 100mg.
We're really glad to see that Fusion hasn't been stupid and chose to add 200mg; this should keep Fusion safe for everyone and still give them that 'kick' that they want to smash their gym session.
They do give you the option of consuming 400mg with their double serving. But we personally wouldn't choose to consume this, as we believe it would cause us to suffer jitters. So 1 scoop will be more than enough for Caffeine Anhydrous.
---

---
Side Effects
One of the best things about Fusion's One Punch is that it doesn't contain any ingredients that are likely to cause side effects in 1 scoop.
However, if you choose to consume the 2 scoop serving size, then remember that you'll be putting a massive 400mg Caffeine Anhydrous into your system at once (which is the recommended daily allowance for your full 24 hours).
So personally, we would only consume the 1 scoop serving of One Punch to stay safe.
Here's the potential side effects of taking One Punch in 2 Scoop Serving Size: 
Jitters (Over 200mg Caffeine Anhydrous)
Energy Crashes (Over 200mg Caffeine Anhydrous)
---
One Punch Review Conclusion
Overall, it's clear to see that Fusion has produced a very respectable pre-workout supplement. It certainly deserves its place on the market.
However, once you start analyzing the smaller details, you can see whether small mistakes have been made; the thing we're most dissapointed by is the under-dosed Citrulline Malate dosage in One Punch.
Ultimately, small issues can make the difference between great pre-workouts and the best products on the market.
[wp-review]
See The Best Pre-Workouts This Year!
Here are the best natural pre-workouts on the market for:
Energy Boosts 
Enhanced Strength & Endurance 
Increased Focus
Skin-Splitting Muscle Pumps